Surviving in the Boardroom

Wednesday, 1 October 2014 from 09:00 to 18:00 (BST)

London, United Kingdom
Event Details
Surviving in the Boardroom
Making a positive impact in the boardroom is the key to making a difference - to your organisation and to your career.
Many technical managers and numbers' people consider presenting in the boardroom a necessary evil. Whether it is to pitch an idea or present update reports, getting the execs' buy-in is essential - yet, too often presenters leave the boardroom wondering where their message got lost in the questions and interruptions.
As experienced executives, we understand the boardroom environment and guide you on developing your personalised boardroom survival strategy.
Because board room presentations are very different in nature to classic stage-type presentations and one-2-one conversations, we teach you the simple steps to create effective and engaging presentations for the boardroom.
As chartered accountants and business advisors we speak fluent business and help you convert data
into meaningful messages for the boardroom that get you the support you want.
What we cover in the course:
Understanding boardroom culture and dynamics 

Calming your nerves and using body language to make an impact

The 5 most common mistakes when presenting in the boardroom and how to avoid them

How to structure your presentations and use storytelling for maximum impact in the boardroom

Simple professional design techniques to create professiona looking designs in less time

3 ultimate persuasive language tricks to deal with questions and keeping the conversation on track

 
Benefits attending the course:
Enhance your credibility with key decision makers by presenting your messages with impact

Learn the tricks to feel confident and relaxed when delivering presentations in the boardroom

Expand your sphere of influence by obtaining support from executives and senior managers
M

anagers an

d Senior managers

New board members

Existing board members who want to improve 

their influencing skills

Technical professionals who attend senior 

meetings on a regular basis.
What others say about our  workshops:
"Thank you to @MiriamRGilbert & @IanJSeath for running a great event #BigDataStories this morning. Offering real, practical solutions."
"Whether you are looking for help making dry material more accessible or to crystallize your vision Miriam from Storytelling with Numbers is the consultant to speak to." The Guardian

"Miriam organised an informative and practical workshop for the finalists of the 'Global K-Startup Programme 2013′ – a co-operation of the UK Department of Trade & Industry and Korea's Ministry of Science, ICT and Future. Her skills and material were commended by the organisers." BizStuff.co.uk

"Miriam's training workshop was fun and interactive! She focused on the practical aspects, making it easy to see how I can apply them in real business scenarios." PopUp Concept Events

"A day well spent: the workshop was a perfect mix of theory and practice, ideas and application" Royal Bank of Scotland

"This was a very insightful experience. I can see how applying these principles to our different situations, the results will be very beneficial."
What we offer goes beyond generic soft-skills training. Our unique approach combining collaboration and communication skills focuses on the specific needs of professionals who work with numbers, complex data and "dry" subject matters and who regularly have to communicate their knowledge to lay people. 
We enable these professionals turn their messages into compelling stories, show them how to develop their personal management and communication styles that work for them, their teams and their clients. 
If you want to know more before you book, contact us at miriam@storytellingwithnumbers.com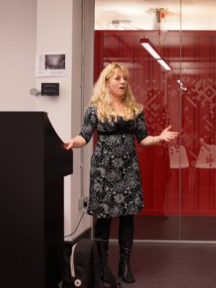 When & Where


London
London

United Kingdom
Wednesday, 1 October 2014 from 09:00 to 18:00 (BST)
Add to my calendar
Organiser
Miriam Gilbert - Storytelling with Numbers
I am Miriam Gilbert - the MD and founder of Storytelling with Numbers
I work with groups and organisations to make them more effective - particularly when it comes to establishing collaborative working, problem solving and decision making. Working primarily with professional firms and organisation with strong technical background, such as finance professionals, engineering, and project management, I help them to engage with their stakeholders and clients, improve efficiency, reduce bureaucracy and make collaboration more effective.

My clients are executives, leaders and on-going teams, across technical disciplines who look for sustainable approaches to effective collaboration and communication.
The proof is in the pudding…
I have successfully:
● pitched for businesses investment, ranging from £5,000 to £200,000;
● secured funding for major projects up to £500m;
● removed internal bureaucracy saving operating costs betwen 5%-25%; and
● resolved team performance issues.

all through using effective, persuasive communication and collaboration.
_
__
Storytelling with numbers by MG&G Consulting is a boutique consultancy dedicated to make your organisation more effective, collaborative and removing bureaucracy.

I offer group facilitation, specializing in communication and collaboration skills, using storytelling and principles of data visualisation, to enhance change projects, conflict resolution and consensus building. I help groups and organizations create shared meaning, solve complex problems, make strategic decisions collaboratively, build relationships and work together effectively. 

To improve effectiveness, I help technical groups manage information and use analytical tools to resolve conflicts, remove bureaucracy and break down silos. Where necessary, I call on my network of professional experts from other disciplines. 

Organisations I have worked with include RBS, London Underground, the BBC, HMRC, Aviva, transport Scotland, and UKCP.

As an association, we work with executives, ongoing teams and ad-hoc collaborative groups, across disciplines. We provide training in communication, group facilitation, information management, team coaching and storytelling.