| | |
| --- | --- |
| Why 12 Week Transformation Diets Are Unsustainable | |
Event Details
We have been brainwashed to accept that 12 week transformations (often repackaged as 3 month or 90 day transformations) as the standard time frame for fat loss, because this is what the weight loss industry offers. We In order achieve such dramatic changes in 12 weeks, a customised meal plan must be followed. There is no room for deviation, nor time for trial and error to find something that works for you in the long term.
Only 1 in 10 clients can follow a customised meal plan for more than a few weeks. Maybe you are one of the few who can successfully follow the meal plan. That's great. But how long can you (or will you want to) follow a specific menu? A year? 10 years? 25 years? What happens when you are faced with life's activities? Eating out at a restaurant on a business lunch? Meals out, birthday celebrations, weddings, family members who get ill, children's timetables. Meal plans don't work with the reality of people's busy lives. Chances are, you know this already.
The result is fluctuating weight gain, depending on when you are on or off a diet. Those who successfully followed their meal plan often find themselves trapped. What happens when they start eating normally? They find they can't reduce their five or six days a week of exercise without regaining weight.
Sooner or later something goes. You either fall ill from pushing your body without getting enough rest, or something snaps and you start eating all the food you denied yourself. This can lead to binge eating, and low self esteem due to perceived lack of control over food. 
Many of us continue to follow 12 week plans because there isn't an alternative. We know that losing weight slowly is the way forward, yet we don't know how to go about doing it in a systematic way. Without a method to follow, it's all too easy to slip back into old habits.
There is an alternative!
Nutrition coaching is much more effective than a diet plan. It provides accountability, ownership, consistency, bespoke programming, mindset changes and reflection.
Unlike meal plans that demand you stick rigidly to the meal plan, nutrition coaching is fluid process that works in conjunction with your lifestyle. When life gets in the way, nutrition coaching helps you manage your stress whilst continuously working towards your health and fitness goals.
Every successful businessman or woman has a business coach to help them achieve their business goals. Nutrition coaching helps you successfully reach your health and body goals.
Jenny has experienced both poor coaching and good coaching. Poor coaching compounded negative eating patterns she didn't know she had. After experiencing the powerful effects of good coaching, it completely changed her life.
Jenny is frustrated by the number of people who still receive poor coaching from inexperienced coaches. The problem is, most of these people don't know any better. She wants to help change this and raise awareness in others of the benefits of nutrition coaching.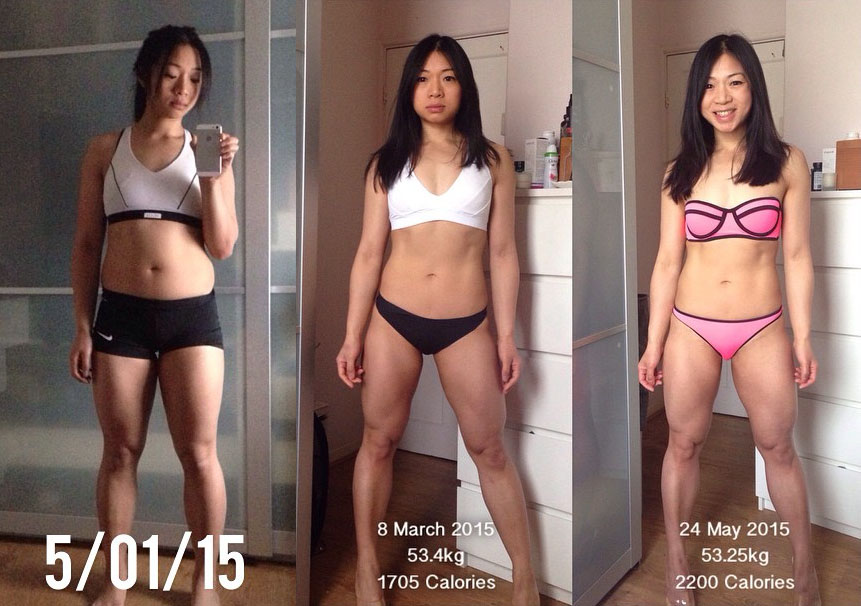 Jenny's mission is to help more people find their balance in nutrition. In this jam packed workshop, Jenny uses case studies and real samples of food to help you identify you nutritional level, and how to recognise when you are ready take your nutrition knowledge to another level.
You will find out how to calculate your own calories and macros (carbs fats and protein). You will learn the benefits of reverse dieting, and how you can increase your daily calorie intake without gaining fat. She will show you how this long term method will help you lose body fat whilst freeing you from the restrictions of dieting.
Sign up today and gain control of your body and life. For the rest of your life.
What You Will Learn:

Why 12 Week Transformations Are Unsustainable

How to Eat More Calories, Exercise Less, and Still Lose Fat

What is your nutritional level?

Online Macro Calculators Are Just A Guideline

Calculating your own calories and macros (interactive session)

How to Count Macros (real food samples)

How to Analyse Food Labels (interactive session)

What is Flexible Dieting?

The Pros and Cons of Flexible Dieting

The Benefits of Reverse Dieting

Why Nutrition Coaching is More Effective than a Diet Plan

How to Identify A Good Nutrition Coach
Plus more! 
Limited to only 20 people per seminar. Book your spot today!
When & Where

Shaping Change Gym
St Bedes Hall
Second Floor Studio
NW1 4EE London
United Kingdom


Organiser
Leaner Stronger You
Jenny Nim is a Personal Trainer and Nutrition Coach, with over 6 years experience in the health and fitness industry. She follows a holistic, pragmatic approach towards training and nutrition, encompassing the four dimensions of health - physical, emotional/spiritual, intellectual and social.
Jenny works with busy, successful entrepreneurs and executives, aged between 35-50. She works with people who have a body fat percentage of 25% or over, who are stuck in the destructive yoyo and restrictive dieting cycle and have grown fed up of being on/off a diet. They are ready to let go of quick fixes and embrace a method that will keep the fat off. For good.
Testimonials:
"Since starting work with Jenny I have seen significant improvements in my approach to nutritional goals. Being accountable to someone helps immeasurably with making sure that macro and calorie requirements for the day are met, and Jenny has made me realise that a consistent yet simple approach to creating a small energy deficit can have excellent results. At no stage have I felt that I am on a diet and am able to enjoy social situations (which may have been problematic in the past) with ease. Jenny is highly approachable and excellent at developing a strong working relationship to maximise results; I can't recommend her highly enough."
Will Balkwill
"Jenny has been working with me for just under a year now. As someone with a full-on career, family (3 teenagers) and the wrong side of 40, finding time to look after myself is always going to be a challenge. Jenny seems to be able to find the balance between pushing me hard enough to me to meet my goals whilst understanding the practicalities of work/life balance (or imbalance). She is incredibly knowledgeable and I find the science that she brings to the development process fascinating. She is suitably empathetic when I'm tired and equally pushy when she knows I'm just not trying hard enough. Without a doubt Jenny has contributed to my overall performance; both physical and mentally."
Rachel Sanders
"Jenny is one of these trainers who genuinely cares about what she does, the people she trains and the principles behind it all. She is able to show you the minutest small detail which will literally transform how the most 'basic' movement is executed - like the squat. With these small adaptations I could squat deeper and heavier than I've done for years. Getting on the rower was like a torture ritual, but again, she simplified and demonstrated the movement and virtually changed the mechanics - I know how to row now! She's learnt it all the hard way-through sweat, dedication and perseverance and it shows through her knowledge and experience. She is incredibly strong and tough but at the same time approachable and encouraging. Her experiences echo those of so many (women/girls), you feel like she is the inner voice inside you."
Lema Haddad
"Jenny doesn't fit the personal trainer stereotype - she doesn't jump around and she doesn't do the whole cheerful motivation thing. She is very down to earth and completely honest about what it takes - time, discipline, commitment and hard work. What I find extremely motivating is that she is on her own journey, faces challenges of her own and works hard to find solutions and break through them. This gives me hope that I too can achieve my goals. Jenny and I started from zero and in just over two months she has taught me what exercises I need to do to achieve my goals, how to do them correctly so that they are effective and I don't injure myself, she has taught me all about nutrition and has completely shifted the way I look at food. Her support has been invaluable at times when I have really struggled and/or have been frustrated. A simple 'Just one more!' has gotten me through a tough set when I'd thought I couldn't go any further. And sharing her own frustrating experiences has helped me realise that I am not alone and it is all part of reaching my goals. Because of her own experiences Jenny understands exactly what I am going through and has always been very flexible to accommodate my needs. We are always talking and analysing what works and what doesn't.
I find Jenny extremely easy to get along with, she is fun and I absolutely love my time with her. It feels like working out with a buddy who just knows that much more than you do. I have already seen changes in the way my body looks (which is unbelievable!) and I couldn't recommend her highly enough."
Katerina Ruseva
Why 12 Week Transformation Diets Are Unsustainable