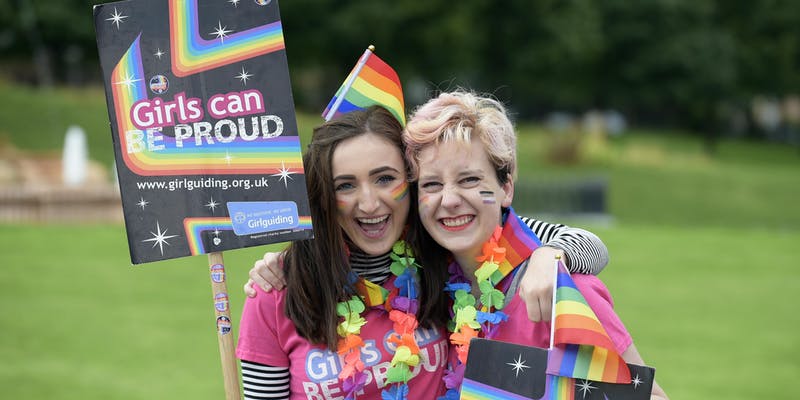 10 Fab, Fun and Fearless UK Pride Events
Summertime is Pride time. Rainbow colours will be on display up and down the country during July and August with around 150 Prides taking place in 2018 – including London's iconic Pride parade on July 7.
Around these official parades and marches, there will be a host of other events, from comedy and drag shows to sports and arts. Whether you're part of the LGBT community or just want to show your support, there's something for everyone.
To give you a flavour of what's on offer, we've picked out 10 events celebrating Pride, which are coming up this week or later in the month. Take a look, grab your (eco-friendly) glitter, and get ready to have a good time!
1.Pride in London Festival – LGBT+ Bowling with Pride, July 4, London
For an evening of great bowling, banter and beers with members of the LGBT+ community, get your tickets for this tenpin bowling event. It's billed as an opportunity to  socialise, have fun and make some new friends in an "attitude-free and clique-free group."
You will get to play two games of bowling at Palace Bowling in Elephant & Castle Shopping Centre while enjoying a great playlist of tunes. The £13 entry fee includes a strip of raffle tickets to win a £50 bar tab at Village Soho, among other prizes. Participants are welcome to come on their own or with friends and there's no need to be worried about your bowling ability – you can bowl people over with your personality instead!
Secret Sunrise x Pride, 5 July, London
Join Secret Sunrise for a special guided dance session dedicated to celebrating Pride. Instead of dreaded gyms and treadmills, these group dance sessions are a unique way to energise your day. Through headphones, you will hear an epic playlist and fun instructions to help you put your inhibitions aside and unleash the happiest and freest version of yourself.
The event is taking place in St. John's Park at 7.30pm and is for all ages. Organisers of the event, Secret Sunrise, say: "We firmly believe in coming together as a community beyond our differences, and sharing the joy across all genders, sexualities, races, nationalities, ages, backgrounds and faiths". Dancers are encouraged to come dressed in rainbow colours and 75% of the profits from the event will go to an LGBT+ anti-violence charity.
Taking place at The Cavendish Arms in South Lambeth, Zeal presents some of the most exciting queer improvisers from London to Edinburgh and even The Netherlands performing improvised comedy, theatre, musicals and drag.
Opening night (5 July) features the incredible Christian Adore & Eaton Messe's Dragprov Revue, Baron Sternlook's Improvised Musical and The Delight Collective. July 6 welcomes Mara Joy's two-person show Me Plus One with special guest Maria Peters, improvised musical Some Sing About Mary and Netherlands duo Going Dutch. Closing Night (7 July) presents The Rainbow Warriors all the way from The Netherlands, drag king act The Bareback Kings and Extreme Championship Improv.
4. GUNS & BUNS Charity Workout for Pride @ Sweat It, 6 July, London
Kickstart your Pride celebrations with a 50-minute GUNS & BUNS session at Sweat It Studio in the heart of Holborn. The workout has been created exclusively for Pride. Expect rapid fire supersets to work your shoulders, biceps and triceps, fused with explosive lower body intervals to tone the perfect peachy behind.
Get your sweat on to banging beats as trainer Taofique Folarin puts you through your paces with a touch of glitter. The event is sponsored by Impulse London, a volunteer group of actively gay men, and there will be gift bags for everyone, along with a post-workout prosecco. All profits from the event go to GMFA (The Gay Men's Health Charity).
Jake, London's most influential gay professional network, is organising two parties to make one big weekend of celebration. On Saturday, it's the Bottomless VIP Pride Party at The Soho Collective. There's unlimited prosecco throughout the whole party and what might be the best view in Soho during London Pride, overlooking Old Compton Street. You can stay for the duration or just pop in and out whenever takes your fancy.
Partygoers can extend the fun, with free entry to The Ned's Pride Party from 8pm to 3am. And then on Sunday, there's the VIP Pride After-Party at Fitz's bar in the Principal Hotel on Russell Square. Jake is taking over the whole of Fitz's with a DJ, entertainment and a special cocktail menu. From 2pm until late.
Reclaim Pride is a free, retro-themed Pride party being held in aid of the small LGBTQ+ charities that provide much-needed support for the community. Taking place at the Seven Dials Club in Covent Garden, it will celebrate over 40 years of Pride marches and wild parties. Prepare to party to music from the first London Pride march in 1972, through to Clause (Section) 28 in 1988 and continuing to Gay Marriage in 2014.
Fun 80s band Rubix 80s will be performing much-loved songs from the 80s and fantastic DJs Jo Bunny (from Wotever) and Shady Lady (from POUT), will be turning up the heat on the dancefloor. Donations to East London Out Project, London Friend, and UK Lesbian and Gay Immigration Group will get you drinks and goodies.
Girlguiding Scotland will be taking part in Pride Glasgow and they want you to join them. Help them champion Girlguiding Scotland as an organisation for all by parading with them in Glasgow on 14 July from 10am-1pm.
The organisers say: "Pride events are a brilliant way to reach out to new communities, engage potential volunteers and celebrate diversity. We really hope you can join us – with over 200,000 participants at Pride Glasgow, this is a great opportunity to spread the message that guiding is for all girls and to show what a fantastic organisation we are!" Under 16s must be accompanied by an adult.
Eastbourne's Devonshire Collective welcomes director Mark Crane with his remarkable film Heaven's Rage, currently showing at eight international film festivals, alongside Leslie Tate, author of the transgender memoir that inspired the film.
The session will cover the creative and technical process of screening a book including props, music, LGBTQ issues and a question and answer session. The event will take place in the beautiful surroundings of the new DC1 Cafe & Gallery.
Penguin Pride comes to Brighton for the first time ever this July with an awe-inspiring line-up of LGBTQ writers, poets, musicians and activists to celebrate the city's incredible diversity and to shine a light on new voices in the community. Hosted by award-winning poet and playwright Toby Campion, this multi-arts festival-style event will showcase published authors alongside local writers and performers in what promises to be a truly inspiring evening of queer talent.
Names on the bill include award-winning poets Jay Bernard and Dizraeli, writer Matthew Todd, musician Paul Diello and trans activists Fox Fisher and Owl. The event takes place at Komedia Brighton and £1 per ticket sold will go to The Albert Kennedy Trust, a national LGBTQ youth homelessness charity.
Social networking and dating app HER will host a party to kick off Pride celebrations in Liverpool. It promises to bring together the city's queer scene under one roof for an unforgettable night. Taking place at The Navy Bar, there will be dancers, a surprise performance that you won't want to miss and DJ Jade Jaxon dropping tunes from start to finish.
Get there early for pre-drinks with the HER team and some amazing drink promos to quench your thirst. The event is open to all (over 18), billed as "a safe space for all LGBTQ+ and allies who want to start 2018 Pride in style."
Conclusion

Pride is for everyone, so get involved. Wherever you live, there's bound to be something going on in your area. Visit Eventbrite.co.uk to see our full calendar of Pride events in the UK, Ireland and everywhere else.