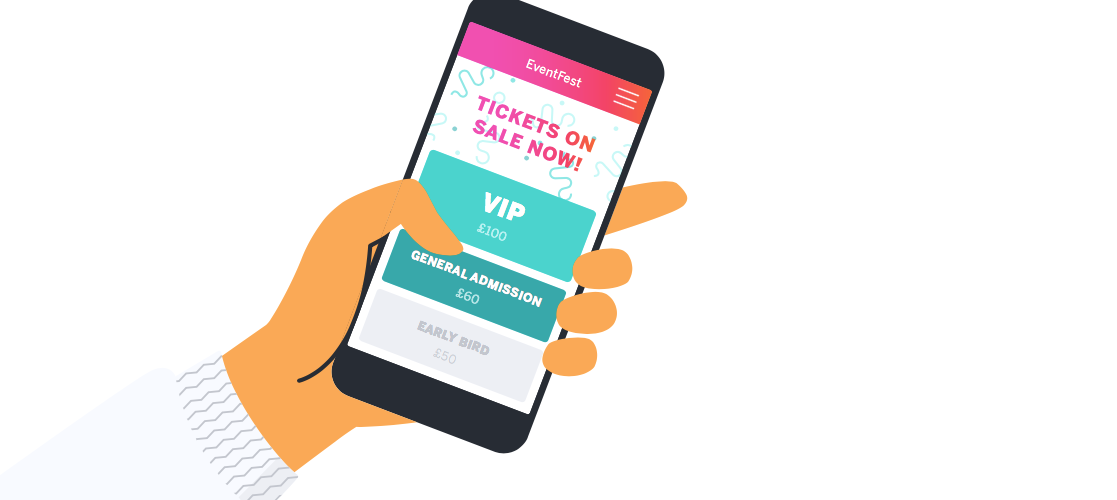 6 Things You Might Not Know About Eventbrite's Ticket Fees
Our event creators are a wonderful and diverse bunch – from hip-hop brunches to weekend-long design festivals, and from B2B conferences to intimate gigs, we ticket events of all sizes and with varying ticket types.
Some events are free to attend, but some carry a fee per ticket. Every penny counts when organising an event, so paying fees for ticketing and registration can challenge your budget. We understand that.
But regardless of the type of event, isn't there always a ticket fee? Not always.
Surprised? Read on for more facts that you may not have known about Eventbrite's ticket fees.
We don't charge fees for free events
This means if you're running a free event, you can promote your event on Eventbrite and provide tickets without having to pay a fee. This allows first-time event creators to get started without having to factor ticket fees into their budget and allows attendees to have an amazing experience free of charge!
As events grow, it is sometimes advisable to charge a small fee to ensure a low no-show rate, but the option remains to run a free event for free.
2. Eventbrite has a flexible fee structure
So, how can you make it work best for you? First, you need to know the fees that Eventbrite charges when your event is not free.
The fees charged depends on what package you've opted for. If you're on the Essentials Package, you'll pay 4% of the ticket price + £0.49 per paid ticket. On the Professional Package, the cost is 5.5% of the ticket price and £0.49 per paid ticket, while the Premium Package has custom pricing.
3. You can avoid paying fees yourself, even for paid events
If you decide to charge for your tickets but want to receive the full ticket price for each ticket sold and avoid paying the fee, this is possible by choosing to pass on the fees to the ticket buyer. This option is available to all creators using Eventbrite Payment Processing.
When the ticket buyer checks out, they will view their order summary detailing the cost of the tickets, the fees being added and the total price to be paid. Eventbrite will deduct the fees charged before making payment to you, meaning you receive exactly what you expected.
Passing fees on to the customer can make it simpler to manage your budget since you don't have to work out what will be deducted. It can also help streamline your accounting post-event.
Top tip: You can choose whether or not to pass on the fees for each individual ticket type, allowing you to provide relief for concessionary tickets, for example.
…what about charity events?
If you are charging for tickets to your charity event, as well as being able to offset these fees, Eventbrite offers fundraisers a range of tools to help them maximise the amount of money raised. These range from our donation ticket type, which enables attendees to pay generously for tickets, through to our marketplace of apps.
Apps for fundraisers include everydayhero, which lets you create a fully branded fundraising campaign, Fundly for collecting additional donations from ticket buyers and JustGiving, which enables attendees to set up their own fundraising pages. We also have integrations with Kindly and NeonCRM to automatically add attendees to your donor database.
4. Charging ticket buyers a fee isn't a turn-off
It is common practice across the industry to charge fees on tickets, so it is generally well accepted by buyers. However, Eventbrite helps to manage customers' expectations by displaying ticket prices inclusive of fees on your main event page. Once customers proceed to select tickets will they see the fee stripped out.
The fees charged are generally small, for example £1.25 on a £10 ticket, so buyers are usually not deterred.
5. You can still offset ticket fees, even if you don't pass your fee on to the buyer
Even if you choose to absorb fees so that your customer is not charged, you can still offset them through your ticket price structure.
For example, if you have calculated that you must realise £8 from the sale of each ticket, you can set a ticket price of £10 to cover fees (learn more about setting your ticket price).
The fees payable will be deducted by Eventbrite before you receive your payout. Working out in advance what fees will be deducted on each ticket type and factoring them in when you set your ticket price will ensure they don't come as a surprise.
Being clear on how much profit you will achieve means you can manage your event budget more effectively. Meanwhile, from the customer's perspective, the pricing is simple and easy to understand.

Top tip: Absorbing fees gives you more control over pricing, enabling you to charge a rounded off price i.e. £12.00 rather than £12.08.
6. Eventbrite charges one consistent fee for all card types
Eventbrite charges one consistent fee for all card types and we don't charge any fees for processing refunds or chargebacks. What you see is what you get, with no additional set-up fees or monthly account fees payable.
So, that's the fees covered! If you want to learn more about payment processing, you can find out how to get paid by Eventbrite or check out any other topic in our Help Centre.
Ready to set up your first (or next!) event, let's get started!