Promote Your Event on LinkedIn: Inside Tips From the LinkedIn Team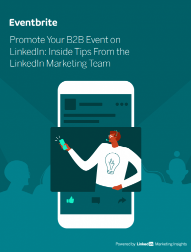 LinkedIn is the place to find B2B audiences online. In fact, 74% of B2B buyers use LinkedIn to research purchasing decisions and 80% of marketing leads from social media come from LinkedIn.
So how can you use the platform to expand the reach of your event marketing? No one knows better than the LinkedIn marketing team. They host multiple in-person or digital events every week and use LinkedIn's promotional tools and sophisticated targeting to draw the right audience to each one.
Download this ebook for a behind-the-scenes look at:
The strategies that the LinkedIn team uses to solve B2B event marketers' most common challenges
How to use Sponsored Content, Sponsored InMail, and Dynamic Ads on LinkedIn to drive buzz and registrations
Why email shouldn't be your primary channel to get decision-makers and key customers in the room