Amplifying Voices in a Pandemic: How Event Creators United the Black Community
When George Floyd died during an arrest in May, racial injustice became a chief discussion around the world. The issue of systemic racism was thrust into the spotlight once again with people across the globe committing to listen and learn.
These tragic events and difficult conversations came during the height of the COVID-19 lockdown – a time when many people were already feeling anxious and isolated. The pandemic created a new challenge for the black community, and many event creators recognised it. By using online platforms like Eventbrite, they stepped up to bring people together and create safe spaces in the virtual world.
Once the Black Lives Matter movement regained the spotlight, interest in online racial equity workshops spiked – Google Trends indicates heightened interest in the search term 'equity workshop' from June onwards. While these events tackled the tough issues, like white fragility and cultural appropriation, others offered lighter spaces for black people to get together, chat, and enjoy themselves. There were online speed dating events for young professionals, networking groups for fathers, and fun fitness classes.
And then there was Black: The Literary Salon – a partnership between agency A+F Creative and Cassava Republic Press, a Nigerian publishing house focusing on writers from the African diaspora. Held quarterly, each event involves a panel discussion with authors of colour. Rather than focusing on topics of race, the team ensures the literary events serve to amplify black writers and the merits of their work.
Going global
Black: The Literary Salon was dreamed up at the start of 2020 as an in-person event, but only one edition took place before lockdown. Not to be deterred, A+F co-founder Frankie Reddin and her partners used Eventbrite to bring it online. For a small team of five, the events platform was a godsend. "It would have been really difficult and financially crippling to start our own platform for ticketing," Reddin notes, adding that "it's really useful" to be able to communicate directly with attendees without using the media or a complicated website backend. 
Although the physical salons had a unique energy, running events online allowed the team to open the discussion up to a global community. Reddin describes the new format as "like a radio show. People can just have it on their laptops in the background, relax, chill, and listen to the conversation."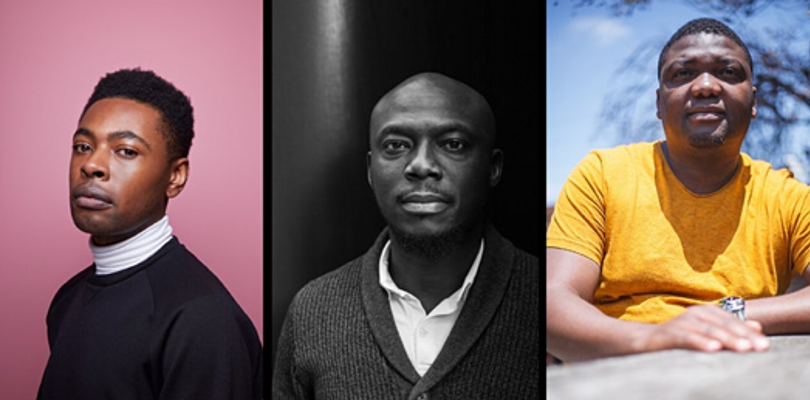 This slightly more relaxed format hasn't made the sessions any less engaging. The latest event, for example, dealt with themes of masculinity, maleness, and selfhood, raising interesting ideas around black identity. When asked about the intersection of masculinity and ethnicity, author Elnathan John explained that he doesn't identify as a black man, but as a Nigerian. This serves as an important reminder that the black community isn't homogenous – a black person from London will live through different experiences to a black person from Lagos.  
Talk of tokenism
Reddin believes there isn't enough diversity and inclusion at UK events. Tokenism, where a single member of a minority community is included to satisfy an invisible quota, has been a long-time problem. "What we've found in the past is there's usually only one person of colour on panels or salons," Reddin says. Often, this can have a negative effect on the discussion. "I don't think people want to go and be announced as, 'Hi, I'm a black writer.' They want to be announced for what they are and ultimately their reason for being there," she states.
This has spurred black creators to do things on their own terms. Events set up by and for the community offer a physically and emotionally safe space where guests can relax and be themselves. As Reddin explains, it's all about "feeling confident enough to express yourself without your ethnicity being your main identifier."
That said, there has been a positive shift in events that aren't reserved solely for minorities. "People are starting to wake up to understand the real human emotional effects of feeling like a token," notes Reddin, meaning that tokenism is being recognised and rightfully discarded.
Creating your future
But, when it comes to progress, Reddin believes only time will tell. "In terms of accountability and real change, you can only really measure that by reflection," she says. "I think in a year's time when we can look back on the anniversary of COVID-19 or even the anniversary of George Floyd's [death], people will be able to reflect on how much progress we've made." As for now, it is hoped that the current push for diversity in general society will last long beyond October's Black History Month. 
Ultimately, though, Reddin believes that if you want something done, you need to get out there and do it yourself. "The decision-makers and gatekeepers aren't necessarily from ethnic minorities and don't necessarily have that exposure to different cultures," she says. "In order for people to have those platforms, we need to create them. Because they're not going to be created by the people that are already in power."
With so many important conversations taking place, both online and off, it certainly looks like the tide is shifting towards full inclusion. But there is still much work to be done. Event creators can help push this vital message through topical events and diverse audiences. And no matter how big or small your idea is, Eventbrite can help you get started.  
The next virtual edition of Black: The Literary Salon takes place on October 22, and will be covering the theme of Writing Stories, Making Histories.