10 Do's & Don'ts to Sell Out Your Supper Club
10 Do's & Don'ts to Sell Out Your Supper Club
Whether you're hosting an intimate meal at home or occupying the hippest loft space in East London, supper club hosts all worry about the same thing…"Will anyone show up?"
To make sure your next supper club is a sell out success we gathered top supper club hosts Lauren McLean of The Last Secret Supper Club, Michael Sanders of E7 Supper Club (and 2014 Master Chef semi-finalist) and Eddie Shepherd of The Walled Gardens Supper Club to share their 10 Do's and Don'ts to sell out your supper club.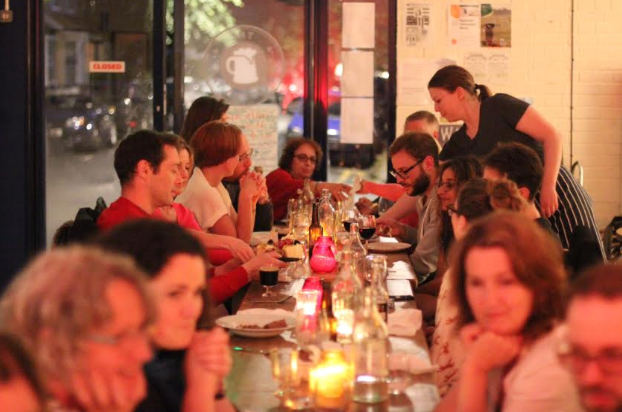 Photo courtesy of Michael Sanders
1. Do something different
Spend time defining the concept of your supper club and most importantly focus on what makes it unique.  Creating a concept that is interesting and shareable is the first step to getting the press and foodies talking about your supper club.  
If it's photo shares and instagram followers you are seeking (and who isn't?) don't skimp on ensuring you can execute on your concept in a visual and shareable way.  Many supper clubs do by this by featuring a unique venue, incorporating an interesting theme or by looking to pop-culture for inspiration!
"Having a unique approach is vital to a successful supper club, if you want to last in this competitive market. What makes us different from the rest is that you don't know what you are going to eat until you arrive. It's like a game of meal roulette!"  – Lauren
2.  Don't rush It!
It might be tempting to get started right away, but making a strong first impression is vital to running a supper club that has longevity.  Give yourself plenty of time to test out your concepts and to build initial interest.  
Go to other supper clubs to get an idea of how the event should run.  While you're there talk to other diners about your plans and hear thoughts from supper club lovers!
Most importantly give yourself the time to make sure you have a good, tested product by doing a practice run for your most honest (but encouraging!) friends to work out the kinks and get feedback.
"I did a test run of my supper club for friends and family first so I could test out the event and make sure it all ran smooth before I invited paying guests. I think it's important to make a really good first impression so a practice run was a good investment of time for me." – Eddie
3.  Do use social media through a long-term community-building lens
Now that you've got a great concept it's time to start using social media to build a community. Lucky for you, food & drink content leads social media platforms due to its popularity and visual appeal.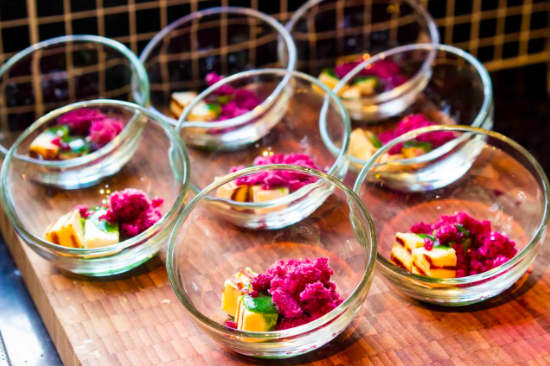 Photo courtesy of Eddie Shepherd
When you are just getting started don't worry about not having many followers or feel pressured to utilise every social media channel.  Start with your friends and colleagues and pick a couple platforms that work well for you to start communicating your story.  Make sure your content is unique and genuinely interesting to your audience.     
"Use social media, but not just as an advertising tool, it's way more important as a tool to build a community that you engage with on a regular basis. For food businesses Instagram, Twitter and Facebook are fantastic platforms to showcase recipes, pictures from your events and talk to new and existing customers about what you are up to." – Michael
4.  Don't forget about word-of-mouth
Good old fashioned word-of-mouth remains one of the most effective way to build awareness for your supper club.  Tap into your local community and ask your friends and family to spread the word.
Getting local vendors involved can help to spread the word and lower your costs.  Consider working with your local butcher to source your proteins and you can both benefit – have them tell their customers about your supper club and you can feature them on your menu.
"If the venue that you use for the event has existing clientele for other events, then try and tap into those. They already visit the venue for other reasons so they are a warm lead in terms of convincing them to come to your event." – Michael
5.  Don't be cheap with the press
Getting press around your event can give you a huge boost in awareness and ticket sales.  Look to your local neighborhood press and figure out who writes for Food & Drink or Local Events.  In the e-mail personally invite them to your next supper club and put together a concise press release that quickly shows off your concept along with links to your website and social accounts if they want to learn more.
"Invite some bloggers or local press to your events. Giving away a free seat here or there isn't ideal, but if the reviews gain you some exposure to other potential attendees and help you sell tickets then it should pay for itself in no time." – Michael
6. Do reward your biggest fans
Everyone enjoys feeling like an insider in a community.  So find unique ways to engage with and reward your most loyal diners.  Set up insider newsletters where you can tempt this group with insider-only perks.  Early access, clues to your secret menu, and premier seating are great ways to reward this group.  
Our favorite tip is to collect birthdays from your attendees and surprise your guests with a cake at the supper club closest to their birthday.  Other diners will take notice and will come back for the special treatment!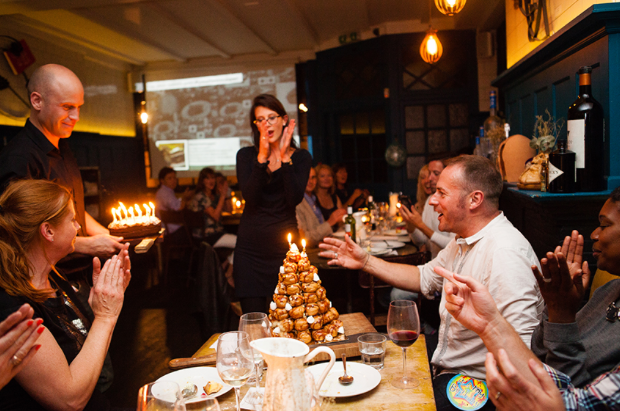 Photo courtesy of Lauren McLean
"Mailshot your past attendees (I use MailChimp) with updates about forthcoming events. You've done the hard work getting them along the first time. Assuming they had a good time, they are the most likely people to book for your next event, so don't forget about them.  
A side tip, give some value to this email, don't just plug your event, include a recipe or something interesting that you think they may want to see. This is a two way street after all and pure promotional emails are dull and uninspiring." – Michael
Which brings us to our next tip…
7. Do use email strategically
Despite the industry's obsession with social, email remains the most effective way to convert interested customers.  But as Michael mentioned above most people have no interest in pure promotional emails.  Strategically consider how you engage with your diners over email, and make sure you're feeding your readers interesting, fun and useful content.
Email can be very effective after your supper club.  We suggest sending different emails to the attendees and to your subscribers who did not attend.  The goal with the latter email is to build FOMO.  
Include a video testimonial, photos and a link to buy tickets to your next supper club.  For the email to your attendees share photos, add a recipe from the meal and most importantly… thank them for coming!
8. Don't discourage mobile phone use at the table
If your diners whip out their phones, make sure they are taking pictures!  Create fun ways to encourage your guests to share their photos across their networks.  Most important tip here:  Make sure your plating is picture perfect!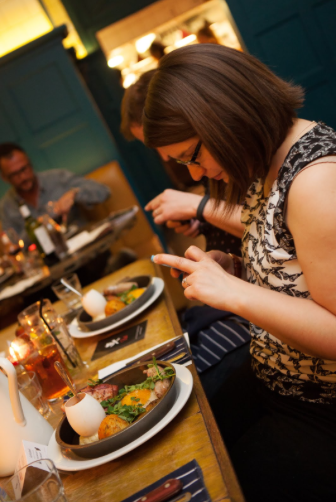 Photo courtesy of Lauren McLean
"We run a photo competition at the supper club to encourage our dinners to share their photos throughout the evening. Mention the work #free and you're very likely to get more people involved. This has worked for us on many occasions as generally the people that win the free seat bring their friends with them, so in turn we sell more tickets."  – Lauren
9. Do give your diners something to take home
Giving your guests something to take home at the end of the night increases the chance that they'll engage with you after the meal is over.  A magnet, sticker or snack for later serves as a great reminder of the great experience they had with you.  Include your website or #hashtag to give them a guide on how they can engage with you post-dinner.   
"I give out chocolates at the end of each meal with my business card that lists my twitter & Facebook details… it helps us to engage with past guests and create interest for future attendees." – Eddie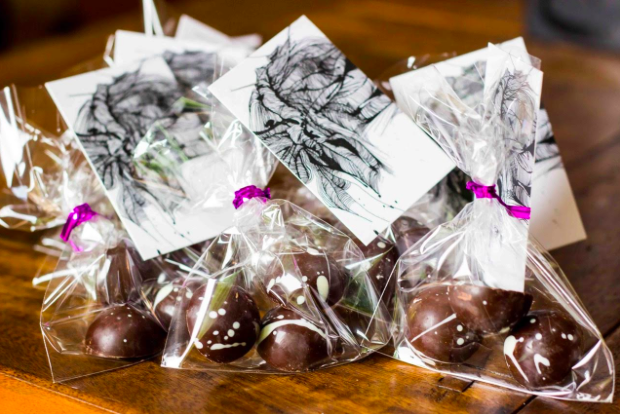 Photo courtesy of Eddie Shepherd
10. Don't give up!
"Remember that everyone has events where sales are slower than others. We've been running for nearly 18 months and have served well over 1000 people, but we still have events from time to time where we really have to push to sell all the tickets. Don't get disheartened, we always get there in the end and fill the seats. If we can do it, then so can you." – Michael
Check out e7 Supper Club , The Last Secret Supper Club, and The Walled Gardens Supper Club to attend an upcoming supper club.  For more Supper Clubs happening around the UK check out our guide to Supper Clubs & Pop-up events here.