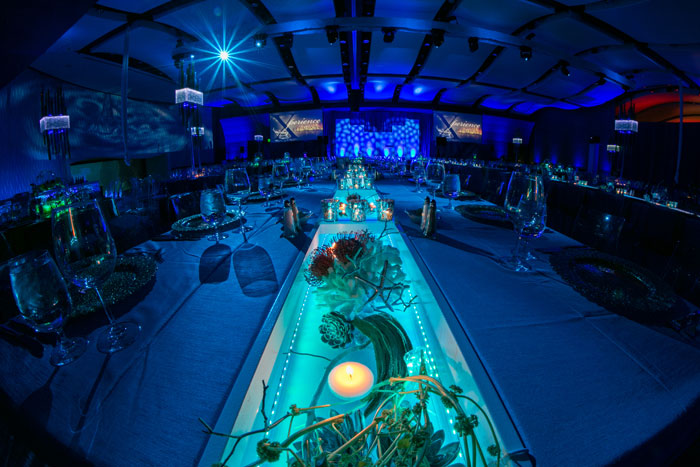 20 Creative Corporate Event Ideas
Corporate events can include anything from internal meetings, parties and team building events, through to client events, conferences and awards. They can be small one-day events or large week-long conferences, where internal employees and external partners attend.
In this guide we'll walk you through:
What a corporate event is
How to plan a corporate event
Ideas for planning your own business event
20 corporate event examples
Let's get started.
How to organise a corporate event
What is a corporate event?
A corporate event is an activity organised by a business. This could be for employees, stakeholders, clients, the general public or a charity. Some of the reasons for organising a corporate event might be: to raise money; to improve relationships; to launch a new product or business; to increase the number of sales or clients; or to increase visibility of what a company has been working on.
Some companies will hold periodic events, like an annual company conference or a "summer party" event. Others will be more sporadic or only when the company has something important to share or showcase. There are many different types of corporate events, many of which we'll discuss in this post. From company conferences and awards gala evenings, to team building events and charity fun days.
How to plan a corporate event
When organising an event for a business there are some areas to consider which aren't always that obvious. Here are our tips on what makes for a good corporate event and how to facilitate lots of different elements – including networking, fundraising, celebrity guests and social media shareability.
1. Set the event criteria
The first step in organising your company's event is to decide its purpose. Most events start as a company objective, such as "reward employees for a year of hard work", or something externally facing such as "engage with potential investors". The purpose of the event will determine which type of event you throw and who will be invited.
2. Decide the event theme
Once you know the purpose of your event it's time to decide on an event theme. This might be a company conference, an internal meeting or something smaller, like an interdepartmental networking event. Some event ideas may include:
An auction – a good event idea for corporate fundraising, where items or services are sold in front of an audience to the person who is prepared to pay the highest amount.
Awards ceremonies – perfect for recognising and rewarding the hard work of teams and individuals.
Breakfast briefing – A morning event format for companies who may have an announcement or launch to present. Great for those who want to reach a business audience who would otherwise be unable to attend an event in office hours or after-work.
Seminar – A session focussed on a single theme where attendees are invited to participate by following along with specially designed academic exercises.
3. Decide if you need an external agency
Depending on how much production is required for your event, you may want to consider finding a good external agency to help. For example, if you have a large amount of people attending, or a huge event schedule with lots of conference sessions that will need presentation slides formatting, this might stretch the average PA's skills. Whereas if it's just an internal event there may only be a small workload that you can manage yourself.
Also consider the logistics. If your event is in the UK, you can easily liaise with the venue and catering companies, whereas if it's abroad you may require a DMC (destination management company) who knows the country and can take care of flights and so on.
4. Determine your event ROI
Most events require a budget, and each expenditure needs to add value in some way. This is where you should be able to demonstrate the return from your company's investment. Perhaps your awe-inspiring sculpture in the centre of the exhibition hall will act both as a symbol of the event's spirit and as a central meeting point? This will make it easier for people to connect and do business at your event. Always addressing ROI will demonstrate your respect for the budget.
Create a budget tracking sheet which sets out, in detail, your budget for each area and what you predict you'll spend. You can also check supplier payment terms and look for discounts which can be noted within this sheet.
5. Find a venue
Getting the right venue is key to a successful event.You want enough space to comfortably host your guests and a location that won't be hard for your staff or clients to get to. Stand-out features that give your guests a talking point are also a great idea. For example, if your venue has a large roof terrace with fabulous views, or an atmospheric basement space, then you may want to book that out for your party.
6. Choose your event content
Depending on the type of event, you'll need to decide on your event content. If it's an internal event, it may be that the content isn't going to be attractive. Perhaps there are sales figures that aren't very good and need to be discussed. Whereas if the event if for an external audience the content may be more inspirational or informative. Use your company CRM to ascertain the interests of your audience. Then you can use this to plan the event content, and any leisure activities. For example, a middle-aged predominantly male audience may enjoy an event held at a golfing resort, which means they can play golf around the conference activities.
If you have more of a diverse customer base you may want to organise a range of activities to suit different age groups and types of customers.
7. Find speakers
This is where you need to consider the event hook. If your event is aimed at an external or consumer audience you may want someone in the public domain speaking at your event. If it's an internal event, it may just be someone well known in your industry that everybody rates.
It could also be somebody who does the same thing that your company does but has done it at another company at a high level. For example if you are Tesco, perhaps you invite the CEO of a retail startup to give a keynote speech in order to give your team a new perspective on the same industry. Just be mindful of any conflict of interest.
8. Create a contingency plan
Before you launch your event check, check and check again. This is important for any level of organiser to remember.
Don't be afraid to state your opinion and push the boundaries. It might be that your company has been used to doing something one way for a long time and it's time to stir things up a bit.
There are so many unique venues and different options but it's having the confidence to say, "We're not having the event in a hotel. We're going to stay in a hotel and I'm going to book somewhere more interesting for the dinner." Of course that takes more organising and more management onsite – but ultimately the guests enjoy a more exciting event.
9. Plan for your post-event follow up
With internal events you can do a survey to see if people have enjoyed it, that they have taken back the message and feel enthused, but there's often nothing there financially to measure.
With other events you can measure the cost of your leads; how many leads did you get? What was the cost per lead? The value is sometimes intangible but you should get a good sense of whether it's been worthwhile.
Your corporate event checklist
Use this checklist to tick-off everything you might need to consider to successfully plan a corporate event:
Set the event criteria
Determine the theme of the event
Decide if you need an agency or external partner to help
Set the event ROI
Create a budget tracking sheet
Find a venue
Choose your event format and content
Organise activities and the agenda
Book speakers
Create a contingency plan
Plan a post-event review
Gain attendee or stakeholder feedback
Event ideas for your next business event
Now you know how to organise your business event, here are some ideas of the type of event planning ideas you may wish to put forward.
Summer event ideas for companies
Business festival – Most festivals are music-based, but a popular business event idea is to organise a festival which centres on a specific topic. This could be a festival all about your company's latest launch, a topic your team are passionate about, or the company culture of your organisation, filled with food, drinks and stands.
Kidult event – Even business folk would like the chance to regress to their younger selves and spend some time letting loose on a bouncy castles, trampoline, or learning circus skills! Organise a kidult event for your customers or staff, where everyone can play games and have some fun.
Scavenger hunt – This is a classic team building event where employees have to work together to complete tasks or find a series of items. Great for events where you need to keep lots of people entertained!
Outdoor cinema screening – If your company has some outdoor space or a rooftop to spare, why not create an outdoor cinema screening. This is a great idea for a business event where you want people to bring their families, or for warm summer evenings when no one wants to stay inside.
"Open house" business event ideas
Experiential journey – if you're looking to open up your business and create an engaging event why not create a visitor journey. This uses a fun house style, where each room or area is a different experience. Some of the rooms could include live music, interactive games, virtual reality, speaker sessions, food or drinks.
Un-conference – Unlike conferences, the un-conference is a great open house event where you focus on a specific theme but with no pre-formed agenda. Attendees usually decide the topics for discussion at the start of the day and are then free to dive into the areas or sessions they want to explore.
Pop-up – if your business has space available, create a pop-up of different stalls or physical items that your visitors can get hands on with.
Workshop – why not create a workshop business event where attendees can come and learn, or even create their own product/business/marketing idea. Helping attendees to learn is a great way to add value and encourage them to sign-up.
Learning event ideas
Masterclass event – Many business professionals enjoy having the chance to learn again. Masterclass events are typically interactive events with small groups, where learning is the desired outcome.
Workshop – This could be helping internal or external teams to create something like a product prototype or new marketing concept.
Quiz – using a quiz format is a great way to encourage learning and development. The quiz could be business related, or using general knowledge or a specified topic.
Hear from an expert – persuading expert speakers to come and talk to your audience is a great way to fill up seats within an open house event. Speakers can be from the same field of work, but it's useful to have a contrast to ensure lots of different ideas and opinions.
20 Creative Corporate Event Ideas
If you want to run a corporate event that gets people talking, you'll need to throw in a few quirky features (alongside your great planning of course).
We've scoured the web for the most innovative ideas that have actually been used for corporate events in recent months, providing a feast of interactive ideas to make your events stand out.
1. Alternative payment café
What: A 'pay with exercise' café concept, where diners could pay for their food and drink with stints on treadmills, spin bikes, rowing machines and exercise mats.
Where: David Lloyd Leisure 'Run for your Bun Café', London
Via: Eventmagazine.co.uk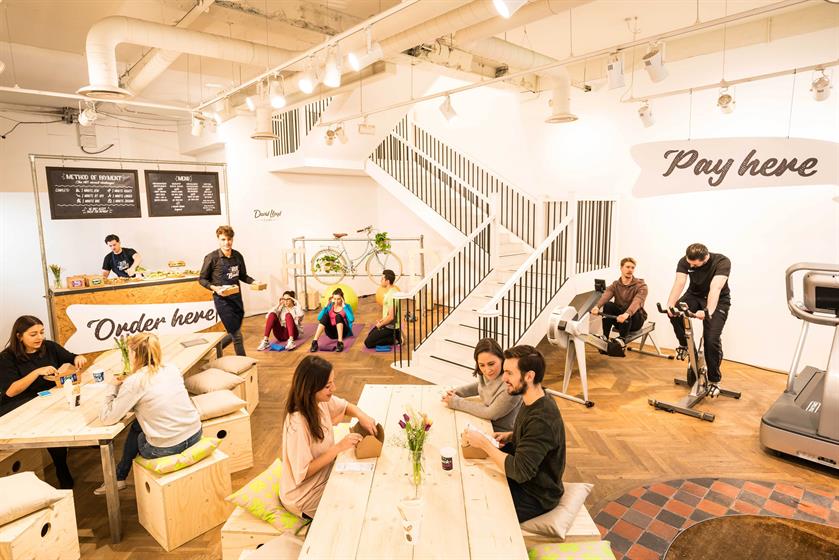 Credit: Event/David Lloyd
2. Nitrogen ice cream bar
What: Nitrogen ice cream bar featuring ice creams in unusual flavours such as popcorn, and Jack Daniels and vanilla, with the novelty factor of exhalable "dragon's breath" nitrogen smoke.
Where: 8 Northumberland Avenue 2017 Christmas Themes Launch, London
Via: Conference-news.co.uk
Credit: Conference News
3. Internal TEDx event
What: TEDx talks are hugely popular presentations, where a key speaker gives a short talk on a topic of their choice. These are often inspirational and use storytelling as way to get the message across, a great choice to convey information at your corporate event.
Where: In your organisation.
Via: Ted.com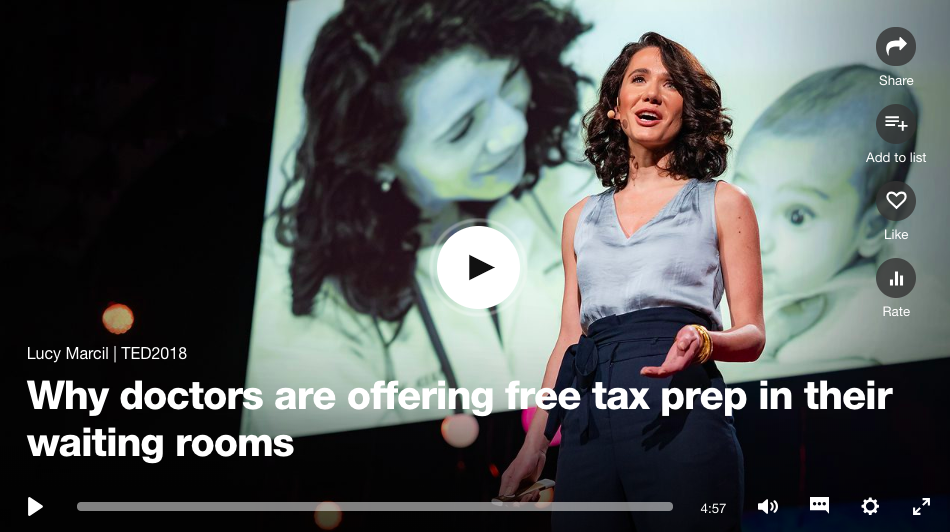 4. Projection mapped stage set
What: A screen and 18 panelled columns provided a canvas for projection mapping sequences tailored to each speaker. Being able to customise the stage and set to each presentation, ensures that the audience are kept awake. A great way to mix-up a traditional conference set using technology.
Where: Panasonic Toughbook Innovation Forum, Liverpool
Via: Corporate-events.co.uk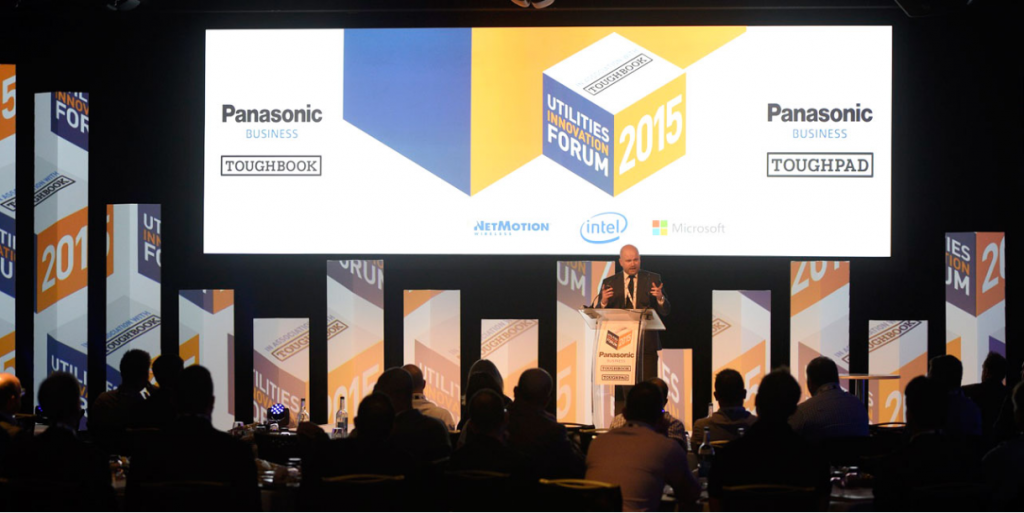 Credit: Corporate Events
5. Rio De Janeiro themed gala dinner
What: A themed gala dinner for Team GB, that used all of the colours of Rio De Janeiro with real fruit walls built into the stage and an upstairs lounge and bar area, inspired by a Brazilian theme. Theming an event with colours, textures and scents is a touch that attendees won't forget.
Where: Team GB Ball, Royal Opera House London
Via: Timebased.co.uk
6. Carnival parade
What: Holland & Barrett kicked off its internal conference with an energetic morning carnival parade leading guests to the main plenary. This theme continued throughout the entire event, including the food and music, helping employees to be fully "in the moment".
Where: Holland & Barrett Conference, Butlin's Minehead
Via: Meetandpotato.co.uk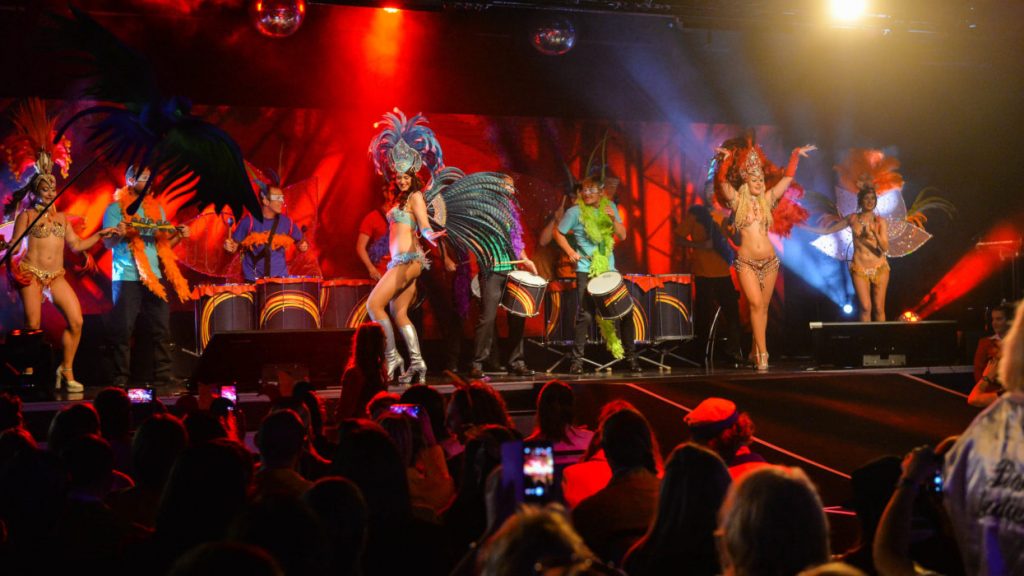 Credit: Meet and Potato
7. Immersive photobooth
What: A photobooth taking visitors on a virtual tour around London's most iconic landmarks, with participants able to either instantly share the pictures or print them off to take home. Giving attendees a keepsake of the event helps your company to stay front and centre of mind.
Where: Coach Chinese New Year Activation at Selfridges, London
Via: Eventmagazine.co.uk 
8. Food science
What: Cater Tonic presented 'The Theory of Food' – interactive live food stalls and science-based food concepts including 'levitating' petri dishes of pasta, tomato water bubbles, and savoury frozen lollipops. Guests also 'foraged' for unusual flavoured doughnuts using infrared thermal cameras. For the launch of a new venue, this type of interactive corporate event is a great way to get interest and press.
Where: Wonderlab Launch @ Science Museum, London
Via: Tonicfood.co.uk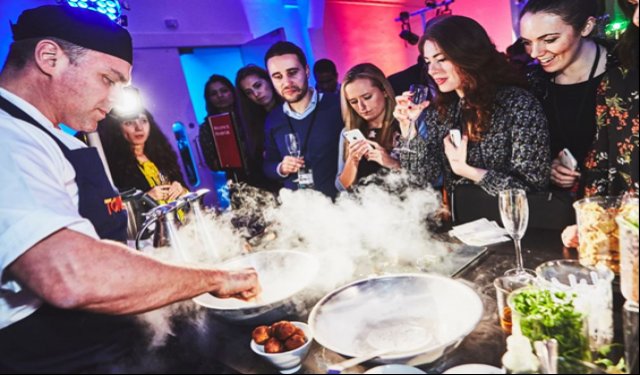 9. Indoor drag race
What: Indoor drag race on Triumph Bonneville Bobber motorcycles at The Printworks in London involving racing legends such as seven-times World Champion Carl Fogarty MBE, and an international team of motorcycle journalists. Having a prominent figure headlining your corporate event could increase attendance.
Where: Triumph Bonneville Bobber Launch Event, London
Via: Conference-news.co.uk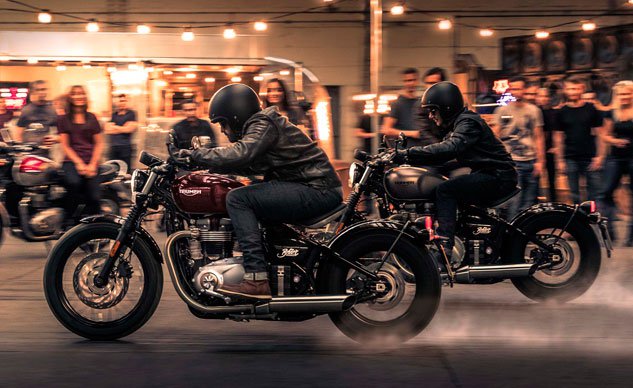 10. Pop-up vending machine
What: Hyatt Centric's pop-up vending machine offering more than 1,600 travel-themed prizes to passersby if they posted their favourite destination on Instagram with a special hashtag. Using social media to amplify your event will get more traction with your company or potential audience.
Where: Hyatt Centric "Sunrise to Sunrise" campaign, New York
Via: Bizbash.com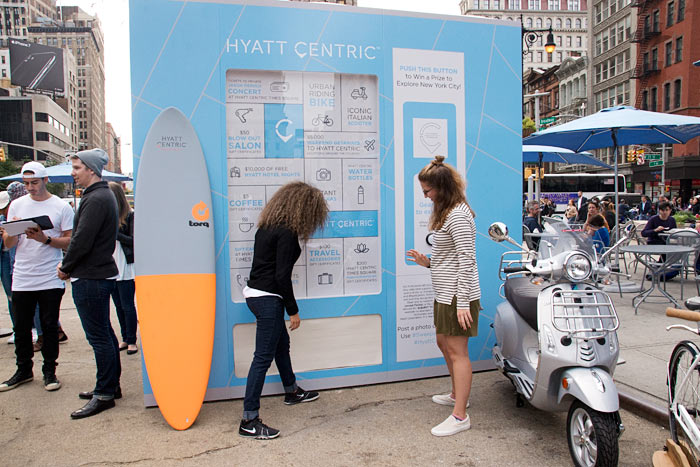 11. Corporate poem performance
What: A poem created from stories supplied by hundreds of Astellas employees helped make this internal event personal. Urban poet LionHeart crafted one single narrative and delivered the poem live at the event – wow!
Where: ONE Astellas Live, London
Via: Citmagazine.com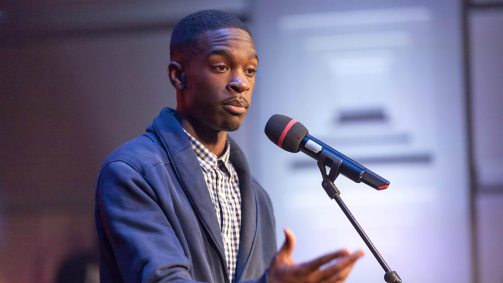 12. Immersive experience geodesic dome
What: A giant geodesic dome with immersive 360˚ visual projections and full narration to take those inside on a multi-sensory food journey, from paddock to the plate. This helped to highlight the Australian roots of the Australian Open and celebrate the great quality food produced by local farmers, through a unique experience.
Where: Woolworths Summer Sensorium, Melbourne
Via: Standoutmagazine.co.uk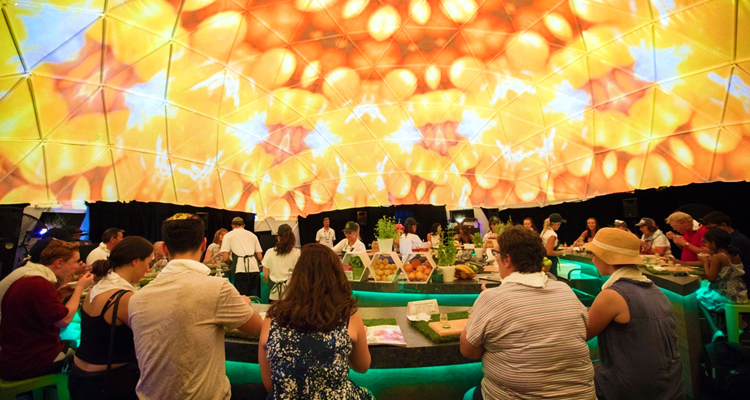 13. Capri Sun-inspired cocktails
What: Cocktails served in old-school Capri Sun-inspired pouches containing vodka-like Korean spirit Soju and lemon, strawberry, lychee, and cucumber juices. A great adult-twist on a childhood favourite. This type of "kid-attainment" is a great method for interactive events where you want your attendees to leave their inhibitions behind.
Where: Thursday Kitchen, New York
Via: Bizbash.com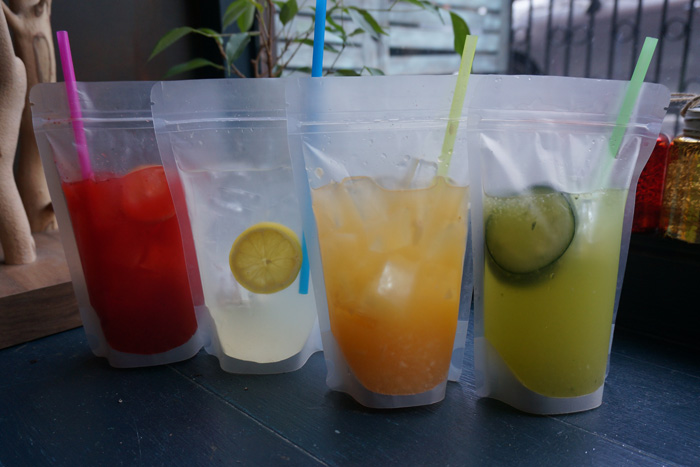 14. Seasonal journey
What: This ball was split into four key areas, with each one representing a season. This allowed the attendee to go on a journey; beginning in Autumn and moving through Winter, Spring and eventually Summer with different themed activities, decor and games at every "season". For an end-of-year event or ceremony this is a great way to reflect on every part of the year.
Where: Christchurch Summer Ball, Oxford university
Via: Storyevents.co.uk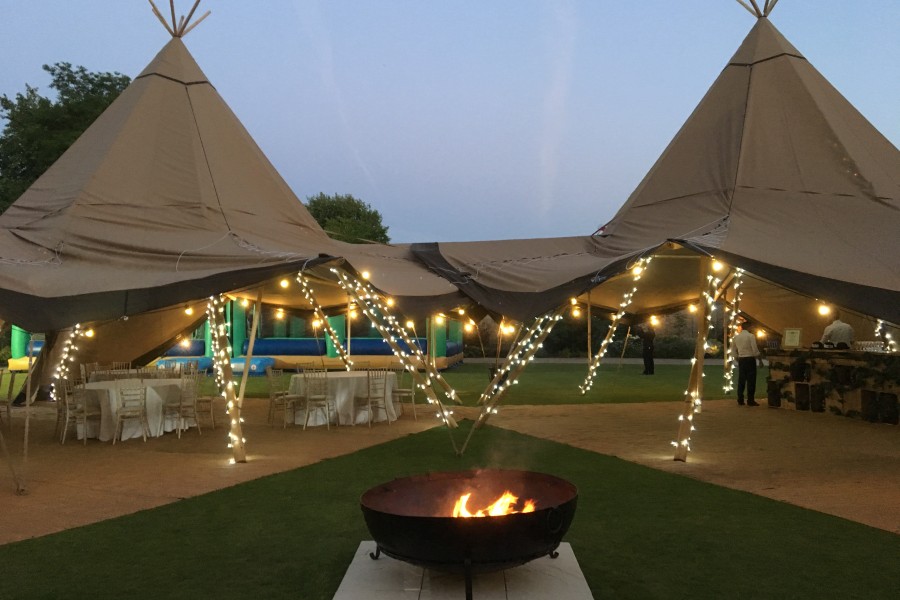 15. Branded disco party
What: This disco party used an LED screen and decor such as a Swarovski crystal chandelier and a glitter-enthused staircase to brand an awards ceremony for employees. If you aren't at liberty to paint or decorate your venue, a digital screen can help to set the scene and mood.
Where: Internal Swarovski Award Ceremony
Via: Smart-av.com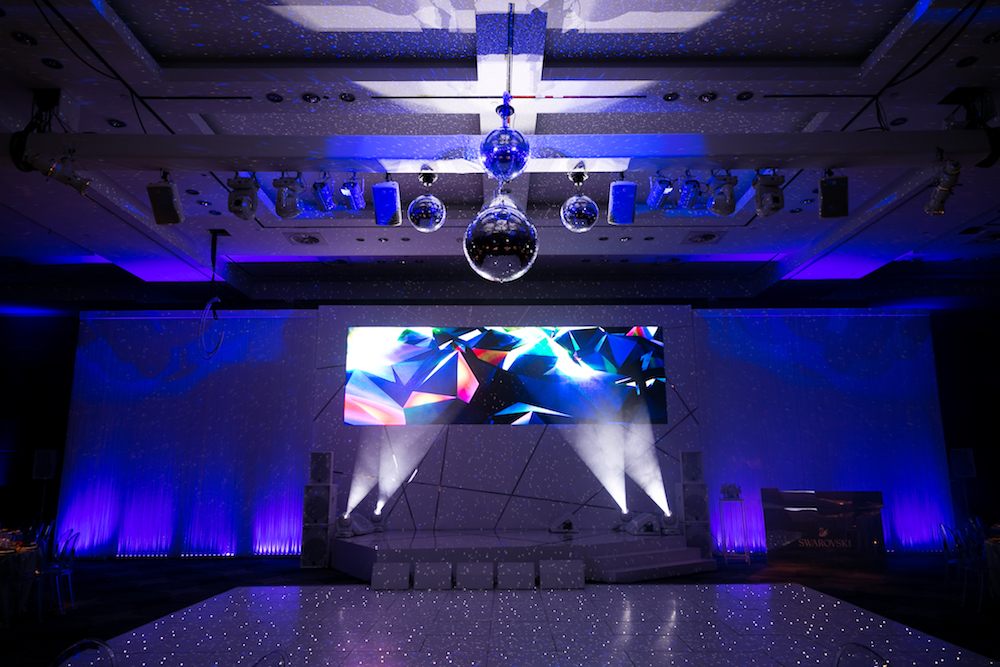 16. A content-led conference
What: An internal brand conference led completely by content. Employees were allowed to create their own agenda (rather than being told which sessions to attend) with models, catwalk shows and pop-up rooms designed to showcase new collections.
Where: The ASOS Assembles internal workforce event
Via: Wonderland-agency.com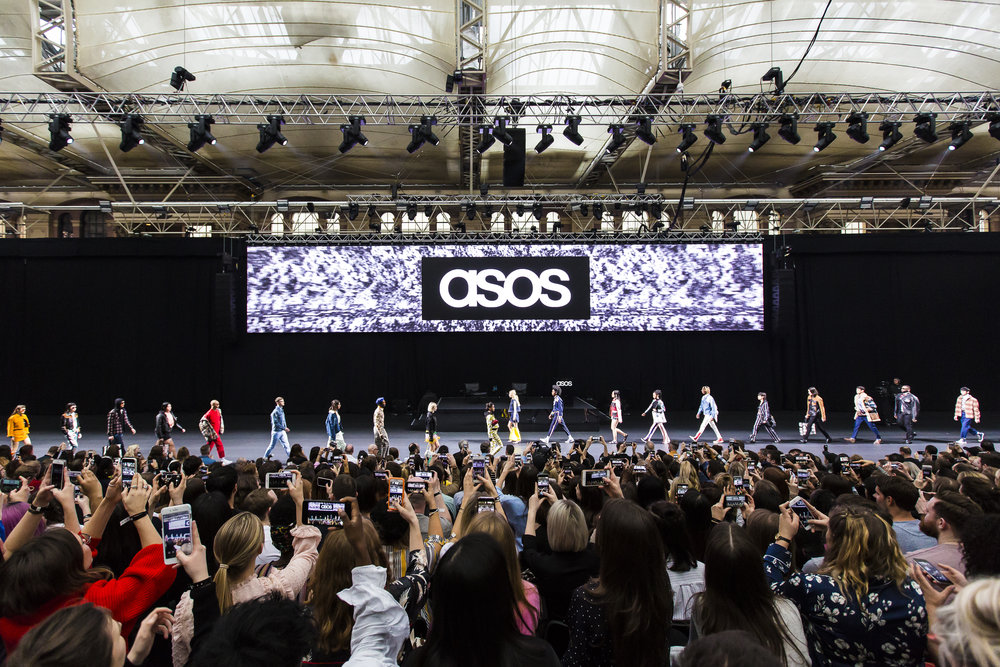 17. Logo hedge sculpture
What: This event transformed a traditional conference centre into a completely customised brand event. From the huge logo sculptured out of a hedge that stood outside, through to the custom-branded balloons and reception counters.
Where: The LinkedIn European Talent Connect Conference, held at QEII Westminster
Via: Bespoke-london.co.uk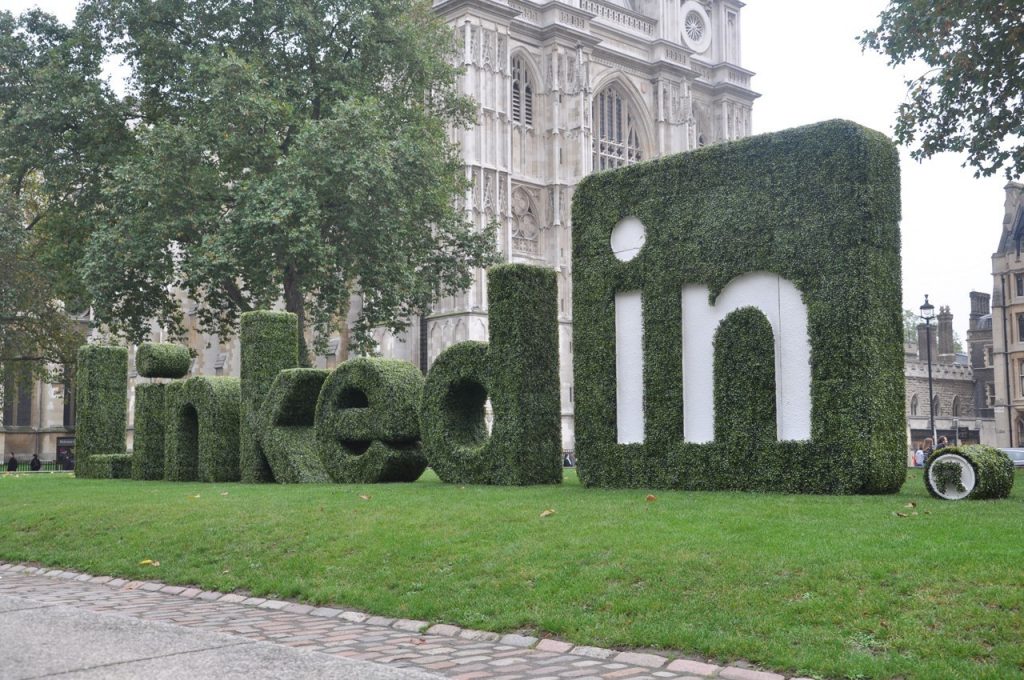 18. Cinema experience
What: Outdoor cinemas are a hugely popular way of putting on an event. By theming everything from the tickets, to the dress code and the merchandise, food and drink on display, it creates an immersive experience.
Where: Backyard Cinema Mission to Mars
Via: Thehalogroup.co.uk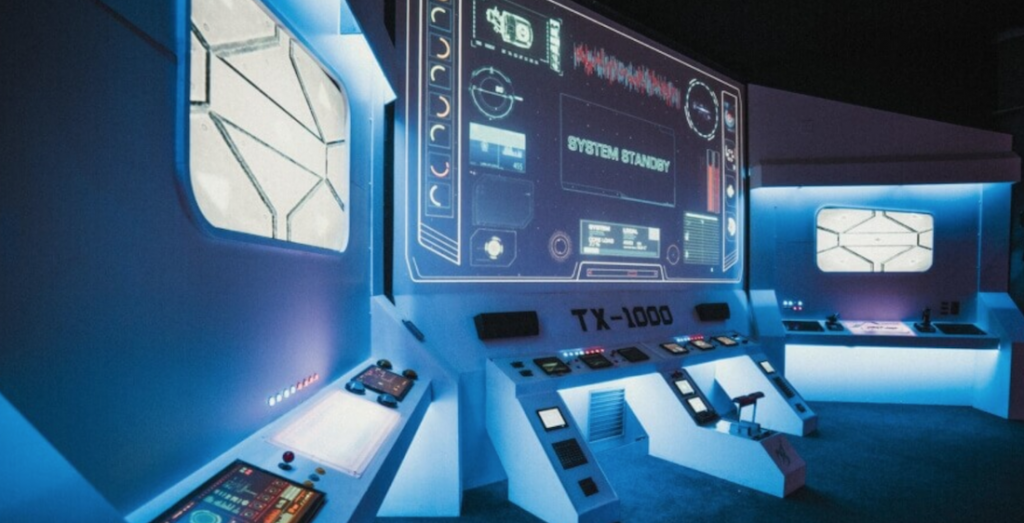 19. Foam swimming pool
What: A swimming pool filled with blue foam squares and its own ladder, as part of the branded experience for VIPs at Stylist Live. Seriously instagrammable!
Where: Stylist Live, London Olympia
Via: eventconcept.co.uk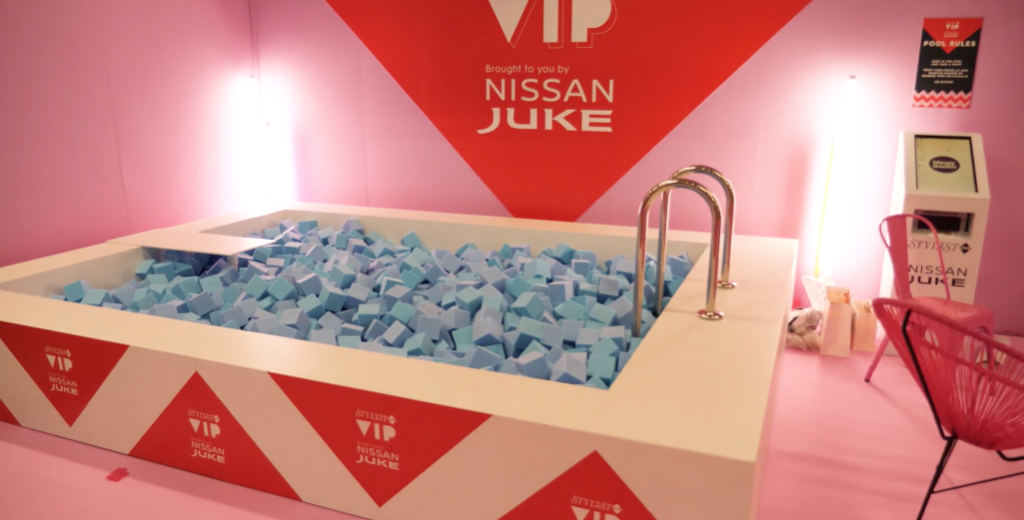 20. An ultimate pub quiz
What: A quizmaster podium with two large cubes that seemed to float in mid-air thanks to some clever lighting, suspended each side. Projection was used to have the quiz on each side of the cube. A traditional pub quiz – with a difference.
Where: YouTube's "Geek Week" event, One Mayfair
Via: Wonderlondon.com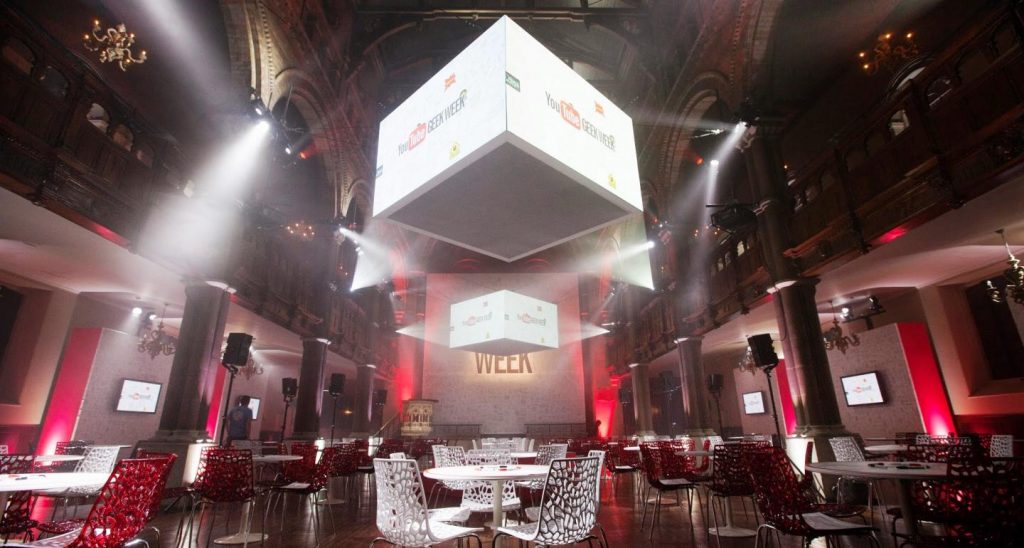 Conclusion
Organising a corporate event doesn't have to be a big, scary thing – start small with a meeting then try some team building or a Christmas party before moving on to a client-facing event.
You can use your administrative and organisational skills in new ways, giving you a great sense of achievement and helping your company to prosper. Plus these great ideas to help you find something that will stand out and be memorable for your attendees.
Make sure your next corporate event is a hit! Our guide to The 10 Best Ways to Sell Out Your Event is a good place to start.