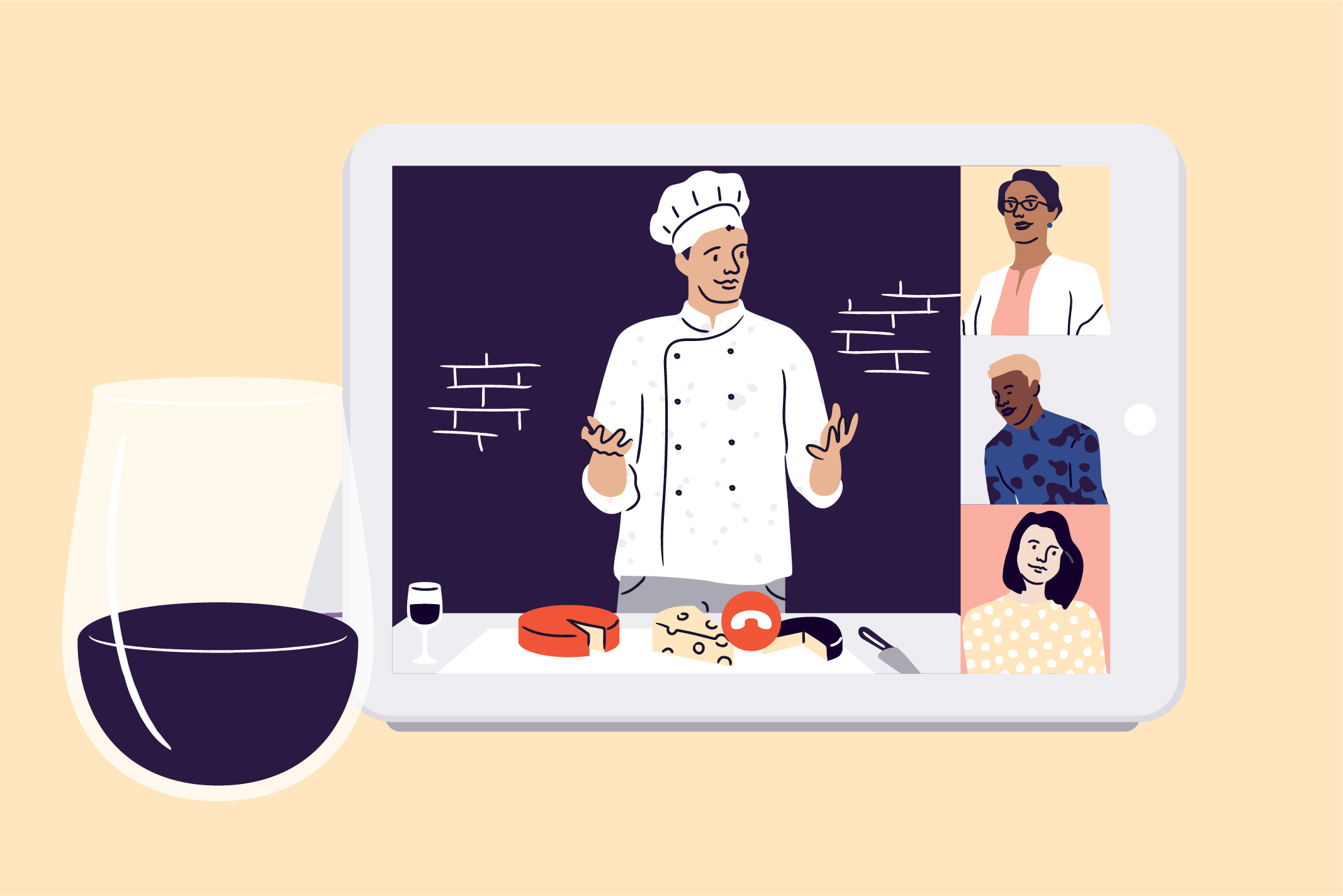 13 Unique Corporate Event Ideas That Staff & Clients Will Remember
A great corporate event is far more than a generic team-building day – it can increase morale as well as sales for your clients. Successful corporate events not only nurture working relationships and create connections outside the office environment, but they can also be a great way to reward and incentivise employees.
The most unique corporate events arise from creative approaches tailored to your company and employees. The first step? Coming up with an inventive concept your staff and/or clients won't be able to resist. If you're still wondering how to make corporate events fun, here are 11 of our favourite team-building events, from the outdoorsy to the wacky.
1. Cooking class
A hands-on corporate cooking class event is ideal workplace entertainment, as it can involve all of your staff and clients. You can hold cooking classes online (and send out ingredients lists in advance) or live in-person. Take your corporate event to the next level by asking a celebrity chef or TV cooking personality to host it.
2. Virtual horse racing
Replicate the excitement of the racecourse with an online horse racing event. A virtual 'bookie' explains the rules and the odds on each horse, and attendees can choose which one to back using 'fun money.' It's fast-paced and competitive – a great opportunity for office teams to go head-to-head.
3. Virtual bingo
Good corporate events don't have to be complicated. Virtual bingo is a hassle-free and immersive option that gives people the chance to relax after work. It's also easy to set up and everyone is in the running to win prizes. Typically, each guest has their own bingo sheet. But, to strengthen your company's in-house spirit, you could split employees into teams, designating the boss as the bingo caller.
4. Auction
An auction doubles up as a corporate fundraiser, with attendees bidding on goods or services donated by sponsors. You can host an auction face-to-face or online. Silent auctions add an extra layer of mystery (and confidentiality) as attendees won't know who's bidding on what or how much each person is willing to spend.
5. Scavenger hunt
Interested in fun corporate away day activities? Enjoy the great outdoors, build relationships, and keep groups entertained with a scavenger or treasure hunt. Match up employees who don't have the chance to work together on a daily basis to increase synergy across your company and give everyone name badges if people aren't sure who's who.
Scavenger hunts and innovative games for corporate events can also be virtual, like this fun Sherlock in Our Homes event.
6. Outdoor cinema screening
Outdoor cinemas have become increasingly popular in recent months, as event creators navigate the unique challenges posed by the pandemic. If you have access to an outdoor space, bring clients and employees together, or keep them appropriately distanced in cars, at a cinema screening of a classic film. You could even host a quiz related to the film straight afterwards for a dose of healthy competition.
7. The ultimate pub quiz
Encourage teamwork with a virtual pub quiz. Attendees can form teams and discuss answers in breakout chat rooms or can compete individually if preferred. Put a modern spin on proceedings by designing interactive slides and incorporating custom animations. You could also combine your quiz with other work social event ideas, like corporate event awards.
8. Interactive masterclass
Bring everyone together to learn something valuable with an inspiring masterclass. Consider what employees at your company might be interested in – maybe they'd like to learn about photo editing or writing their first novel. Depending on your circumstances, you can hold it online or in-person. Ask an industry expert to lead the class and don't forget to include interactive elements, such as group exercises or quizzes, to get everyone involved.
9. Pop-up street market
Pop-up markets or shops are a great way to merge a fun event with your corporate social responsibility strategy. Celebrate the local community by offering spots to small businesses and artisans in the area, or create a globally-influenced food festival to get your attendees tasting and talking. You could also highlight sustainable food brands and show how your organisation is committed to supporting environmental causes. 
It's also possible to do this virtually – check out the Buy Back the Block event, which aims to support black business owners.
10. Silent disco
If dancing is on your list of corporate party ideas, you're likely to have a good time. Silent discos are a fun and unique way to bring your team together. Everyone wears a pair of headphones and can tune into a channel that suits their personal music taste. Silent discos work just as well outdoors as they do indoors if you need a bigger space. You can also get as creative as you like by giving your disco a theme, whether it's an elegant masquerade ball or a fun '90s party.
11. Themed supper club
Add a fresh twist to corporate dinners by hosting small supper clubs instead, with each attendee bringing their own dish. Make your event even more distinctive by theming your supper club around a specific country or cuisine. Supper clubs can easily be hosted online, too, like this Burns Night supper, which also includes a ceilidh and poetry readings.
12. Kidult day
Even the most serious business executives would probably like the chance to regress to their younger selves. Give them the opportunity to jump around on a bouncy castle, practise tricks on a trampoline, or learn circus skills. This kind of event works really well outdoors and you can organise as many different games as you like.
13. Craft workshop
Tailoring your event idea to the company itself is a great way to engage both clients and staff. Consider a themed craft workshop, where the end product has to reflect a company product or value. Ceramic painting, notebook making, and card designing are just a few of the crafts you could try. Just be sure to provide the materials on the day or send out a materials list beforehand if hosting the workshop online.
Start planning your unique corporate event
When it comes to creative corporate event ideas, there are a huge range of options to choose from. Interactive quizzes, masterclasses, street markets, and silent discos can all work brilliantly. Many are also flexible, as they're adaptable to outdoor venues or can be run online.
What's clear is that unique events are the way to go in today's landscape. To stand out in a crowded marketplace and create a truly memorable experience for clients and staff, be sure to think differently.
Get started planning your next workplace event and avoid common pitfalls with our handy corporate event checklist.