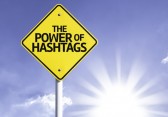 #Success: Your Guide To Getting The Event Hashtag Right
When it comes to getting the fundamentals right for your event's social marketing strategy, the event hashtag can't be underestimated.
Sure, it's easy to get carried away with them, and they probably shouldn't be used in actual conversation…
However as a tool for marketing your event they are important.
They're your public identifier, a way for people to quickly find you and identify you online, and something around which people can gather and share common interests.
People can use hashtags to discover your event, share their experiences of it and connect with others.  Take a look at one popular event's hashtag in action (the event is Content Marketing Institutes' 'Content Marketing World'):
The question is…
What makes for a good event hashtag?
It should be:
Memorable: An event hashtag that isn't memorable won't do you much good!  Try to keep it as close to your event's name as possible; and as close to proper English spelling as you can too.  If you start getting into long acronyms and numbers or jumbled up words, you could start to lose people as they won't remember it.  As you can see above, #CMWorld is easy to remember.
Unique: If your event hashtag is not unique, you'll be sharing your traffic and followers with someone else.
This could get pretty confusing if you're onsite, using a Tweet wall for example, and some random company is tweeting unconnected news and views to your audience.
You may be tempted to pick a really generic term to attached your event to, like #business or #arts, so that you can simply plug into a large and existing community.  Unfortunately, you won't be able to stand out, or own that hashtag long-term, so it's a bit like building your house on a busy and popular patch of land that you can only rent short term – it doesn't make a great deal of sense.
Much better to create your own unique hashtag, and then you can always pair it will other popular ones during your marketing campaigns.  Just don't encourage others to use alternative hashtag – keep them focused on your own so you build up a conversation and audience around it.
NB: Make sure you check all the major social networks (not just Twitter) for uniqueness of your hashtag!
Short and Simple: Related to being memorable, the hashtag needs to be both short and simple.
Short, because the longer it is, the less likely people are to use it.  This is because it takes up too much valuable 140-character real estate on their tweets.
Make it complicated and they'll type it wrong, losing the point of it in the first place.
Evergreen: This is debatable, and some people will argue that your events deserve unique hashtags, even if it is the same event from the previous year.
Personally I think you should aim to keep the same hashtag unless there is a very good reason not to.
This is because if you start with a new one, you then have to promote it all over again, and you lose all the content and conversation that is attached to the old one.
Also, people don't like change, so better not to force it on them.
Then you'll have to decide when is a good time to switch?  6 months after one event and 6 months before another? One month after the old event has finished?  Why complicate things for yourself?!
Finally, think how much time and effort it's going to take to re-educate your existing audience to use the new one when you do make the switch.
See how #CMWorld hasn't attached the year to their hashtag?  They've gone evergreen.
Do hashtags matter outside of Twitter?
Yes! Hashtags are now used in more or less the same way as on Twitter (for discovery, conversation and networking) across Facebook, Google+, Pinterest, Instagram and Vine.  Basically every major social networking site in existence except for LinkedIn.
So it is probably worth having the same hashtag that is Memorable, Unique, Simple & Evergreen (MUSE) across all of these social networks.
Where else would I use hashtags?
While event hashtags really come into their own on these social networks, you should be using your hashtag everywhere.
Add it to your email signature, your business cards, event flyers, ad banners, slides, website, event page, anywhere your event name appears, invitation, confirmation and reminder emails…literally everywhere.  Reinforce it whenever you can.
Don't forget to ask everyone else involved in the event to use it too: speakers, sponsors, exhibitors, media partners, attendees – get them using it before, during and after the event.  The more the better!
How can I see if they're being used?
There are lots of ways you can tell if your hashtag is being used, but a really simple and free tool for this is Topsy.
You can see the huge increase in mentions as CMWorld kicked off on the 8th of September:
What next?
If you found this post useful, join us for a free webinar on ''How to Sell Your First Event Tickets'', which takes you through a step-by-step guide that will help you sell your first tickets and start to build momentum towards a sell-out event.  It takes place Thursday, September 18, 2014 from 2:00 PM to 3:00 PM (GMT).
Got an upcoming event you'd like to organise, why not use Eventbrite? Sign-up today, it's free!