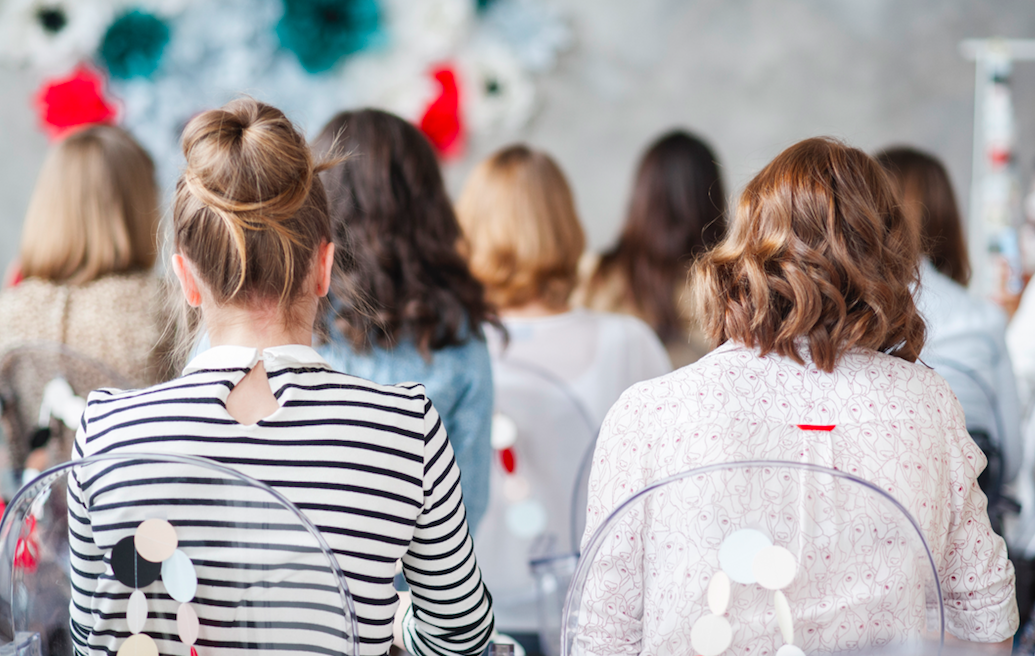 Female Leaders of the Event Industry: Carina Bauer
Carina Bauer
This is the third interview feature in our Female Leaders of the Events Industry content series – a celebration of empowerment and diversity in our industry, and a chance to shine the spotlight on those leading the way.
Carina Bauer is CEO of Brighton-based IMEX Group, which organises two global exhibitions for the events industry; IMEX Frankfurt and IMEX America.
The two shows attract more than 14,000 and 12,000 visitors respectively and produce a turnover of over £22 million annually.
Being interviewed as part of Eventbrite's 'Female Leaders of the Events Industry' series, Carina tells us how helping her dad out led to a career she loves.
Can you briefly tell us about your career path and how you got to the role you are in today?
I actually started my career in catering, running a chain of coffee shops. I joined IMEX by accident. IMEX is a family-owned business and I stepped in to help when one of the team became unwell ahead of the first show. I expected to leave again but I really enjoyed it and just took to it so I ended up staying.
I've done a number of different things within the business; because we were a start up at the time, you tend to do a bit of everything. It gave me a good appreciation of all aspects of the business and I learnt from the ground up, which is really valuable.
The business has grown massively since the first show in Frankfurt in 2002; we launched in the US in 2011 and the programming around the events is so much bigger now. We have the educational programme, industry forums, networking and co-located partner events – there's an enormous amount going on.
Since you never intended to join IMEX, was your rise to CEO unplanned or did you always have big ambitions?
When I was about three, I told my parents I was going to have a shop bigger than Marks and Spencer! I think I generally had big ambitions from a young age, but not necessarily knowing where that would lead me.
Have you faced any challenges in your career, particularly because you're part of a family business?
It does come with unique challenges. As a result of that, I've always wanted to learn from the bottom up. I think that's important in any business but certainly in a family business. It shows you're not in that position because it's a family business; it's because you actually know the business and you're not too high and mighty to do the grunt work.
I've always been very happy to get my hands dirty and work hard with the team. Had I not done that I think I would have faced many more challenges, especially as members of the IMEX team had worked with my father Ray Bloom for many years prior in previous exhibition businesses.
Have you had to make any sacrifices to get where you are today?
I don't feel bitter about anything; most people have to work hard for a living, right? I have worked hard and I've been rewarded with something I love doing. You have to be grateful for the opportunities you've been given.
I have sacrificed things like being with my kids on school holidays. I'm not a stay at home Mum; I'm dropping off the kids and saying, "I've got to run, I've got a call in 20 minutes!" But that's OK. I don't feel that's a bad thing. I have two boys and I think it's good for them to have a role model of a working Mum. I want to teach them that hard work is important.
What do you love most about your job?
I think we're really lucky in our industry. Having had a view of another industry, I know the events industry is better. There's a great deal of variety and there are so many moving parts. That can be a struggle but it's quite stimulating as well. I also like that I get to talk to people all day!
Working in such a busy environment, are you able to achieve a work/life balance?
I saw an article recently that said you should stop trying for a work/life balance and go for a work/life integration. I saw that phrase and thought, "That's what I have!".
It wouldn't be true to say I'm going to leave at five and switch off because I won't. I'll probably pick up my laptop at eight and look at emails. But I don't feel really terrible about that, it's more of a fluid thing; more of an integration. Have I got it completely right? Probably not, as there are lots of personal things I'd like to do that I never seem to have time for but that's what I'm trying to do.
What motivates you?
I'm driven by purpose; trying to make every show better than the last and deliver business benefits to the industry. I really care about all aspects of making the show successful. With a show like IMEX, we're lucky to see and feel the results of our work every few months. It's very motivating and satisfying.
What three top skills do you believe you bring to your role and your team?
In terms of my leadership style, I strive to be a collaborative leader, so we can have a collaborative development approach. Secondly, I'm always looking for incremental innovation and improvement; no matter how tiny. It means that when we're ahead we don't rest on our laurels, but take the next step. Finally, I make sure we learn from our mistakes. We like constructive criticism and feedback because we can see what's gone wrong and learn from that.
Do you think the events industry provides good opportunities for ambitious women?
We did a survey with TW magazine that shows there's still quite a big gender disparity – there's actually a programme at IMEX focused on women's leadership. I think we do still have a way to go. I read these examples of companies stepping over people for promotion because of worries around issues like maternity leave.
Having been through that myself I just think it's a total non-issue. If the person wants that role then they will drive for it. Both myself and some of the senior team have all had kids over the last 10 years and we're still in our leadership positions. It's entirely possible but it is a personal choice.
Tell us more about the gender equality programme at IMEX
The day before IMEX we have a full day of free education and a new programme we're doing on that Monday afternoon is called 'She Means Business'. It's a collaboration between us and TW magazine in Germany. We've put together an amazing programme that's a celebration of women in the industry.
We have a keynote with two women, one of whom is one of only three female fighter jet pilots in Germany, and the other who runs Germany's space programme. They'll be giving us an inspirational talk on reaching for the stars, as well as talking about what difficulties they've faced and how they've overcome them.
We'll also have a talk on gender equality by female business leaders from big corporates like UBS and SAP, and the chairwoman of the UN Women National Committee. And finally, we'll hear from senior women in events; Lyn Lewis-Smith, who will have just hosted the Global Summit of Women in Sydney and Jeannine Koch, founder of a big tech event called re:publica.
We have a really great moderator for the programme called Talia Sanhewe, she's been a CNBC reporter and moderated World Economic Forums, so is a top-level moderator. It's going to be a really fantastic programme.
IMEX Frankfurt takes place from May 15-17. To register for a free ticket visit imex-frankfurt.com/register.