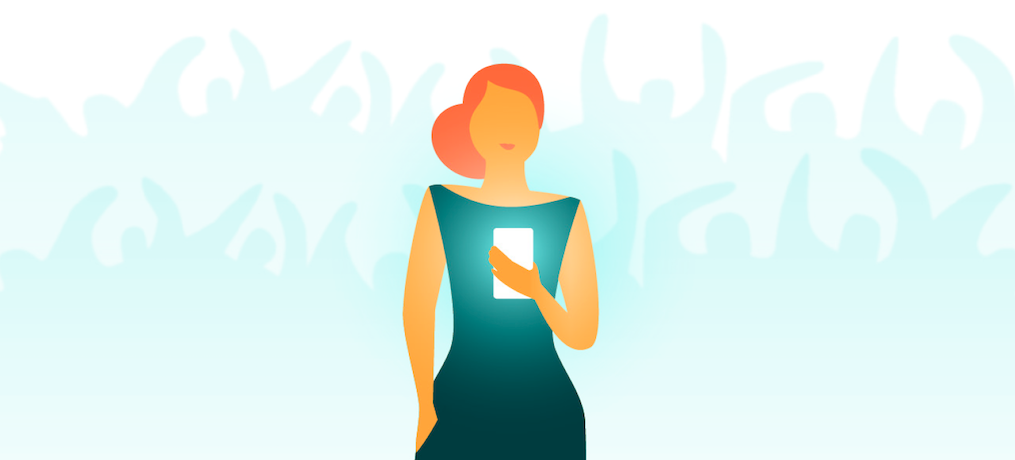 How to Advertise an Event to Attract More Attendees: 20 Top Tips
You put a lot of work into crafting the ultimate event. The next step is getting people in the door to experience it for themselves – whether that's virtually or in person.
Selling out your event is easier said than done. And while there's no one trick for how to advertise an event, there are a number of essential channels and tactics to experiment with to get your event off the ground and your ticket sales skyrocketing.
Get the ball rolling on your event promotion strategy with these 20 event advertising ideas. We've got suggestions for any budget, including ways to advertise for free. Test them out and tweak which ones work for you until you find a winning combination of the best ways to advertise your events.
1. Hone in on your target audience
Where you spend your advertising budget should be dictated by your target audience. Who are they? Why do they attend your event? And, more importantly, where do they spend their time online? Answer these three questions and you can target the right people with the right message.
For example, young families who might enjoy baby-friendly Zoom events are probably in related Facebook groups, while industry professionals interested in inspiring conferences are more likely to be on LinkedIn.
In addition, consider building a profile of your target audience – this includes age, location, profession, and interests.
2. Take advantage of event discovery sites
Whisper it, but Eventbrite isn't the only place for finding out about great events in your locality. Event-goers will also discover events on other platforms – like Spotify for music fans or JustGiving for charity enthusiasts – as well as the personalised recommendations that they receive on Eventbrite.
3. Enable native check out
Once your event is on event discovery sites, make it easy for people to buy tickets without leaving the page. The ability to buy tickets, wherever event-goers are, will streamline the customer experience. In fact, events that sell tickets directly on Facebook drive two times more sales and free registrations on average than events that redirect to a ticketing page.
4. Harness the power of email
If you're just sending emails to your entire mailing list with a scattergun approach every time you announce an event, you might be missing the mark.
Instead, segment your email lists into categories – like people who have bought tickets in the past versus those who haven't, or different demographics within your target audience. Then create email campaigns that speak to those smaller groups with specific messages. This email targeting is made easier with email marketing platforms like MailChimp or Emma.
5. Leverage the right social media channels
Social media is one of the most powerful marketing channels at your disposal. But with so many social networks to choose from, advertising your event on them can get overwhelming.
Ideally, you've already cultivated a following on social networks like Facebook, Twitter, LinkedIn, and Instagram. Use these tactics to make the most of that following and convert your followers into attendees.
6. Content marketing is a must
Event promotion through content marketing relies mostly on special event advertising like blog posts, infographics, and videos. Create thoughtful content that positions your event brand as a thought leader – or that shows your audience how fun a time they could have had if they attended.
Post-event content reminds your fans of the great time they had during your show, builds affinity and goodwill, and makes them more receptive to future communications from your business.
7. Maximise online advertising
Don't just spend more money to make advertising work for you. Take a targeted approach to make paid ads for events more efficient. With the information you've gathered on your target audience (and strategic tools like ToneDen), you'll be able to reach the exact attendees that you want.
Using algorithms and A/B testing, these tools constantly hone and refine your social media and Google Ads to help you make the most impact with your ad budget.
8. Don't forget about copy and design
Once you know who you're targeting and where you're spending your ad budget, copy and design become very important elements of event advertising. It's the first thing potential attendees will see, so it should not only be eye-catching but also have clear, concise copy and a strong call to action.
9. Choose great keywords
Search engine optimisation (SEO) might seem like a thankless task, but it's worth it. For most events, online searches (primarily Google searches) can be expected to drive between 5 to 10% of ticket purchases or registrations.
If you want to help your event get found in search, you need to make sure your event page is SEO-optimised.
10. Retarget event-goers who expressed interest
You might not know the term, but you're definitely familiar with retargeting technology. You look something up online and, days later, you're seeing ads for it on a completely different site.
People who weren't ready to make a ticket purchase the first time are often grateful for the reminder to sign up before it sells out. One Eventbrite creator saw a six-time return on their investment in ad retargeting.
11. Invest in professional photography
Pictures can set the tone and answer event-goers' questions about your event's atmosphere. Take well-lit photos that appropriately capture the ambience and illustrate what people can expect at your event. Photography is also crucial for making the other techniques on this list – from advertising to email – more effective.
12. Mind your timing
Timing is key when it comes to your event advertising strategy. After nailing down the details of who will be completing what tasks in the lead-up to your event, think about how your audience likes to plan to gain a sense of the right time to kick things off.
Luckily, there are plenty of event management tools that can help you map out your timeline.
13. Look for lookalike audiences
You have a solid list of people who've purchased tickets to your events in the past. You want to find more people just like that.
Facebook, Twitter, Pinterest, and LinkedIn all have the technology to help you find lookalike audiences – people who match your buyer profile in terms of demographics, geography, stated interests, and online behaviour. By using their algorithms and automated tools, you can create ads targeted to those exact people.
14. Enlist a social media influencer
Your attendees are your biggest advocates. And within those ranks, you might find one or two that are extra influential. Find those attendees and motivate them to help you spread the word online.
You can use technology tools like SocialLadder to find, manage, and capitalise on social influencers in your sphere.
15. Hire a brand ambassador
The highest echelon of "influencer marketing" is the paid brand ambassador. Seek out people with vast online influence – celebrities, subject matter experts, popular bloggers, YouTube stars. Enlist them (typically with financial compensation) to create strategic and timely posts about your event.
16. Social media ticket giveaway
This might be as simple as your basic enter-to-win sweepstakes, or something more unique and playful – like an Instagram Stories photo contest or a tag-a-friend contest. People love to share chances to win with their friends. Just make sure you're aware of the rules and regulations that each social media platform has around competitions.
17. Create a special event hashtag (and overuse it)
Wondering how to promote an event for free? Launching a special hashtag campaign prior to your event is a great zero-cost way to monitor engagement and reach. The more people who use your hashtag, the more you'll see your reach increase.
18. Network at similar events
Find events with the same demographics (that aren't necessarily direct competitors) and team up with them to promote your upcoming event.
For example, maybe you're organising a brand new technology trade show and hoping to entice attendees of Salesforce's user conference, Dreamforce. Why not purchase a booth at Dreamforce? Or sponsor a happy hour nearby?
19. Shift focus from promotional to conversational
Move away from strict marketing messages on your social media platforms and consider content that engages your followers.
A good balance is the "4:1:1 Rule". It says you should post or share four pieces of content written by other people or brands for every promotional post you make. You should think of it as giving your followers useful content. Build their trust, and they'll respect your event brand.
20. Follow up post-event
Even if you perfectly execute every aspect of your advertising strategy, it doesn't end when your event sells out.
Write a blog post summarising the event and publish it with fun photos. Send it out as a newsletter to your segmented email base – even those who didn't attend. And if you're already planning for next year, don't forget to tell your audience.
Maintain the momentum until you're sold out
It can feel like there's a lot to do for event marketing, from figuring out how to advertise an event to monitoring ticket sales. But using the right tools will help you stay on top of it all and bring people to great events.
Eventbrite Boost is the all-in-one marketing platform designed to help you do just that. Whether you're connecting people in person or virtually, for poetry readings, cook-alongs, or concerts, you've got a lot on your plate. Eventbrite Boost makes it easy to reach new people, engage your fans and followers, and grow your attendance – directly from your Eventbrite account.