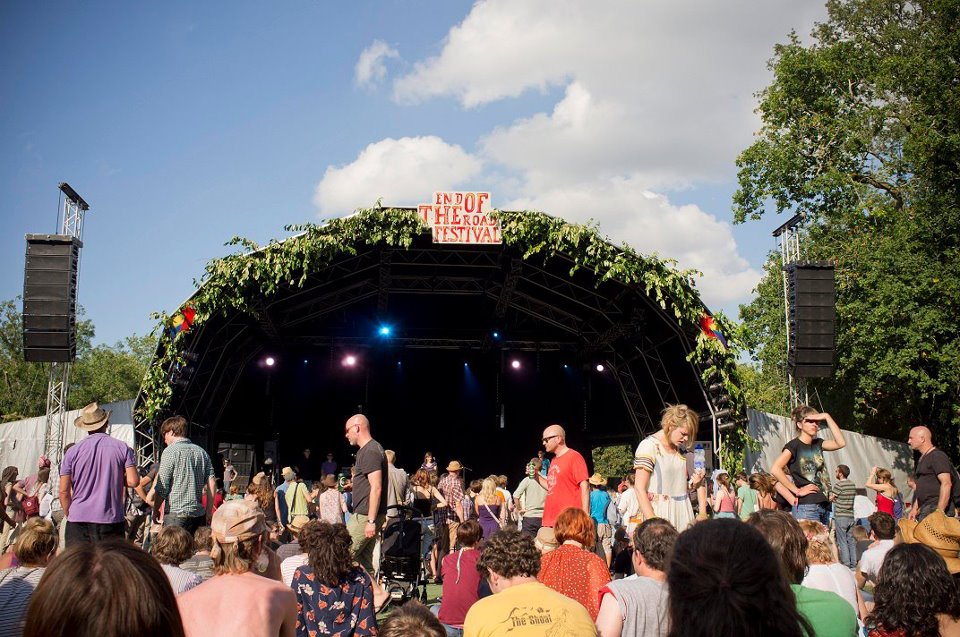 The Festival Organising Guidelines Creators Should Follow
This is a guest post by Sofia Genders, co-founder of the End of the Road Festival, who now provides freelance services to the festival and live music industry. Sofia also promotes shows in Sheffield and supports her husband's record label.
This year, more than ever, festival directors have needed to be innovative when it comes to organising events. Despite all of the challenges of COVID-19, festivals of all kinds – including food, comedy and culture – are going to come back stronger than before. All that's required is an extra sprinkling of creativity to reimagine festivals in a world where social distancing and face masks are required to keep everyone safe.
In this comprehensive guide, we round up our event organising guidelines with all of the essential information you need to host a successful festival, from choosing your location to hiring staff.
Find a gap in the market
Let's start with the basics: what kind of event would you like to create? Having a clear vision of what you'd love your DIY festival to ultimately look like can keep you on course when unforeseen (and sometimes inevitable) obstacles crop up. It can also help you to decide what you're willing to compromise on, and which aspects are non-negotiable.
A great way to start sourcing festival ideas is by identifying a gap in the market. What festival would you love to attend, but doesn't exist yet? Think about your personal expertise and passions, which can help you pinpoint how you might bring value to such an event. The most unusual and niche events often bring two popular activities or themes together. For example, there are plenty of beer festivals and countless Christmas events. The Christmas Beer Festival combines both to create something unique that stands out in the market.
Pick the perfect location
Choosing the right venue is a key part of any festival. When thinking of places to hold a music festival, consider how much space you'll need for your desired number of attendees, plus the necessary facilities – from a bar to plenty of toilets. In a COVID-19 world, you also need to make sure your location has plenty of space to allow for social distancing (2m+ between attendees). When establishing how to rent land for a festival, it's essential to work closely with your logistics manager or a team member with experience of working with festival sites. Make sure to meet your venue's owner multiple times before committing to ensure a pleasant working relationship, and seek testimonials if you can.
If you're holding an event online, it's all about selecting the right video software to do the job. There are lots of options available for virtual event creators, from Google Meet to Zoom. Consider how many attendees you'll be hosting and what functionality you need, such as breakout rooms and presentation options, when selecting your virtual event platform.
Book the right acts
The key to booking the right acts, performers, or speakers for your event is to really know your audience and invest some time into audience segmentation. Create the perfect festival line-up by doing your research and finding out which specific events have proved popular with your various segments. Consider which would fit best with the overall theme and values of your event. Having the right acts can make the difference between a mediocre event and a sell-out one. Also consider local headliners to avoid any unexpected restrictions on travel.
Give yourself plenty of time before your festival to negotiate appropriate fees with booking agents and managers, who will often act on behalf of the artists or speakers. Don't underestimate the time this can take. You should start the process months in advance to allow for the signing and counter-signing of contracts. Think about how you can make your event seem as appealing as possible for your chosen artists and performers. Consider supporting them in the run-up to your event by attending gigs, and sending personalised documentation of your festival vision to make a professional impression.
Hire staff with experience
Festival enthusiasts and volunteers can be a huge help when it comes to on-the-day festival help, such as managing queues and admission. However, for organisation and those crucial behind-the-scenes aspects, it's worth hiring people who bring plenty of festival-specific experience with them. It's a good idea to ask contacts in the industry for recommendations of trusted staff. Consider hiring highly qualified specialists to take care of health and safety, licensing, and production to help ensure your event goes without a hitch.
Consider on-the-day needs
To reduce the possibility of COVID-19 transmission, you'll need to take care to minimise contact as much as possible to keep everyone safe on the day. This is especially true when it comes to food and beverage facilities, where it might be a good idea to install sanitation systems and signs to ensure adequate social distancing while queuing. It's also worth hiring extra cleaning attendants to disinfect toilets and bathrooms after use to decrease the chances of transmission.
Aside from safety, consider all of the measures you can take to make your event as sustainable as possible. While planning your event, work out your environmental impact by dividing aspects into categories, such as power consumption and transport. If you're short on time, concentrate on one key area where you might be able to reduce waste or energy use. Make clear and concise plans for how you'll recycle rubbish on the day, and involve contractors so that everyone is on the same page. Examples of great environmentally friendly events include the Commonwealth Games in Glasgow in 2014, where all of the competition venues were car-free.
Carry out a risk assessment
More than ever, health and safety should take top priority at your event. Carry out a risk assessment to figure out what risks your festival might pose, particularly when it comes to potential transmission of COVID-19.
Identifying potential risks can help you take steps to mitigate them – for example, asking attendees to wear face masks, or ensuring that all windows are open at indoor events. You can communicate your health and safety plan with your staff and attendees before the festival for their peace of mind. Use our social distancing tool to make sure you're hosting a festival as safely as possible.
Sort your ticketing strategy
Ticketing tiers are a great way to upsell tickets for your festival. VIP tickets can include add-ons like queue skipping, performer meet-and-greets, and free merchandise.
As much as we try to keep up with the changing COVID-19 situation, it's also worth bearing in mind that sometimes circumstances might be out of our control. For that reason, build a straightforward refund policy into your ticketing strategy to make it as easy as possible for attendees to obtain refunds.
You can also arrange for contactless ticketing through our platform, and attendees can show tickets to stewards using their phones. Minimising contact in ways such as this can help to reduce the chance of transmission at your event.
Plan your promotion
Your marketing and PR strategy is the best way to get the word out about your festival and a multi-channel strategy will push your event in front of as many people as possible. Consider how you can encourage engagement via social channels, using tactics like giveaways to promote sharing and likes. Team up with content creators and influencers to further your reach, and create useful content around your festival to which you can drive traffic.
You could also explore a mutually beneficial marketing partnership with another company or sponsor, working on a shared social campaign to promote your festival. In return, you might offer your sponsor a stall or booth at your festival at a reduced rate. The partnership between Carlsberg and Leeds Fest is a great example – in 2019, the beer brand promoted the festival on its website, and the festival promoted Carlsberg.
Fund your festival
Once the plans are in place for your festival, you'll need to calculate your hosting costs to ensure it's viable. Need to raise funds? There are plenty of ways to make your project more financially feasible, from sourcing angel investors to taking out a loan. You might also consider selling advance tickets using our services, so you can start making money before your festival even starts.
Crowd-funding is another great option if you don't already have the capital to make your event happen. Platforms such as Kickstarter allow you to provide details about your event and invite potential attendees to donate and help get it off the ground. Concentrate on capturing exactly what makes your event so unique, then spread the word about your Kickstarter campaign.
The new era of festivals
Yes, festivals might look a little different this year – but they're not going anywhere. In fact, plenty of quirky and creative festivals have survived and thrived during the pandemic. If you need inspiration, take a look at the Carbon8 Campfire Film Festival or SOULfest Global Online Festival in January.
Once you've organised your festival, you get to sit back and watch as all of your hard work pays off. After that? It's time to start planning the next one.
Take your event preparation to the next level by writing a thorough festival business plan.