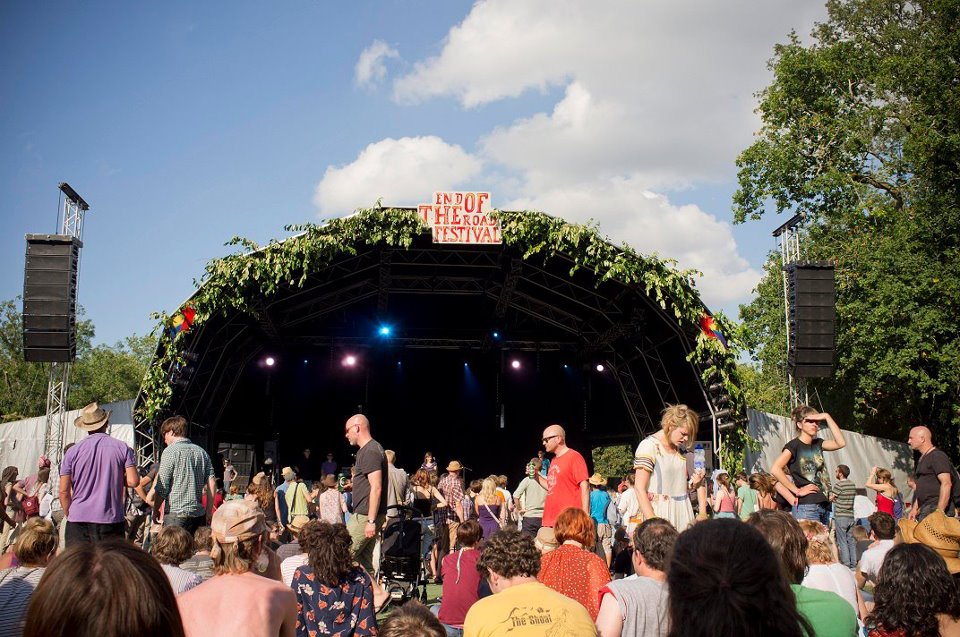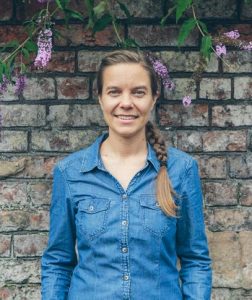 This is a guest post by Sofia Genders, co-founder of the End of the Road Festival, who now provides freelance services to the festival and live music industry, as well as promoting shows in Sheffield and supporting her husband's venture in starting a record label and self-releasing his next Diagrams album by raising the funds through an Indiegogo crowdfunding campaign called 'The Dorothy Project'.
To hear from more festival organisers, head over to event industry forum EventTribe and join the discussion.
This topic could potentially fill the pages of a whole book, so I will attempt to touch briefly upon all the areas that you will need to consider and research further when starting your own festival.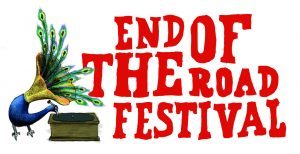 I had always dreamed of working in music since I bought my very first record (the Beach Boys around the age of 11), but when I started the End of the Road Festival with my friend Simon back in 2006 – neither of us had any previous experience of working within the music industry. 
We were just two huge fans and regular gig-goers and I'm mentioning this to encourage you to follow your dreams whether you already have relevant industry experience or not.
Sometimes, in the early days, I felt that this lack of experience was a problem, but in hindsight, I feel that it allowed us more freedom in doing things our own way, more freedom in finding new solutions and approaching issues with a fully open mind. In a lot of ways, it was a strength, rather than a hindrance.
The key areas below are not necessarily listed in a chronological order, as when you start something from scratch, you are likely to need to move forward simultaneously in a lot of the areas. Please also note that even though I've done my best to think of all relevant areas, I can't guarantee that this list is complete, as starting and running a festival is such a huge endeavour.
Vision – do you have a clear idea of what you want to create?
There are two schools of thought here and I can only speak for the way that I did things with End of the Road, which is that we followed our hearts and created a vision of the kind of festival that we ourselves would love to go to.
The other school of thought is that you find a gap in the market or you research your potential audience and then create an event that fits that gap or the dreams and wishes of the identified audience.
I'm not saying that one is better than the other, but for me – it's always been important to work with a vision that is fully aligned with my own personal dreams, hopes, values and passions. Maybe we are lucky that so many people out there like what we like.
Related: An Introduction to the Event Planning Cycle
Date – setting your date and timeline
Setting the date for your festival is potentially more important than you might think, partly because there are so many festivals happening all over the world that you could either be unlucky and all the bands on your wish list are playing on the other side of the planet on your dates, OR you can benefit by sharing bands with a festival a little more nearby.
Also – have you allowed yourself enough time to be ready by the due date? It took us exactly one year from when we decided that we were going to start a festival until the first one took place. This was very tight and if I had the freedom to do things differently – I would have preferred 1.5-2 years to prepare for our very first festival.
You may also want to take the weather into account when setting the date for your festival!
Choosing your venue
We found our venue by googling 'festival site for hire'. It's not always that easy and we were very lucky that our site ticked two of our main criteria: beauty and workable logistics.
Never make your decision without visiting the site with someone who knows logistics, such as a Production Manager or Site Manager with lots of previous festival experience.
It's also worth trying to get a feel for what your landlady/landlord is like to work with, as you don't want to invest all your time and money into creating your first event in a venue that you will then need to move away from the following year.
If you're looking to hire a field from a farm, do make sure that the land doesn't have cattle grazing there right up until the festival – there are laws on how long the land must be clear/free of animals before an event. We found the Purple Guide helpful for this kind of information, as well as how many toilets one must have and more.
Business set up
If you're not the sole visionary – make sure to set up the business properly and make ownership as well as decision-making rights very clear from the start to avoid any future misunderstandings or problems.
People
Always ask people with good experience in the industry for recommendations.
When choosing who to work with, the CV is, of course, important, but as this kind of work often comes with a lot of pressure, as long as they have the right background, then I feel that personaI chemistry is the most important aspect. Especially for the Production Manager role, as you'll be working very closely with each other and you need the PM to really get your vision. Also, make sure that whoever runs your stewarding knows what they're doing.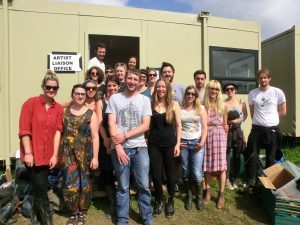 Production and logistics
Again, working with the right Production Manager makes all the difference. She/he will handle all contacts and bookings of site contractors such as stage providers, toilets, fencing, lighting, power, plumbing, water, fork lifts, traffic, road signs, bad weather contingency, waste & recycling, bars, market stalls, food caterers, workshops, healing fields… you name it!
There are likely to be people under the PM who are in charge of certain areas, but reporting to the PM who will be the spider in the web on a logistical basis, with a practical overview of the event, while you will be the spider in the web that ties absolutely everything together with more of a visionary overview of the festival as a whole.
Bands and contracts
It's good to familiarise yourself with how the live music industry works – I had no idea that there was such a thing as a promoter or a booking agent or a manager even. I thought that bands booked the venues themselves, sold the tickets themselves and so on.
It is very important to follow the golden rule of always going through the booking agent when wanting to book a band. We also used to create little packs with a description of our vision and try to give it to the bands on our wish list when going to their gigs.
Making it personal makes a difference. Please also don't expect bands to play for free (even if they are your mates) – playing shows is a key part in how artists make their living and as a festival organiser it's important to support all artists as best as we can.
With regards to band contracts – nudge the booking agent for a contract as soon as you have confirmed the booking and make sure to allow yourself sufficient time to go through them as early as possible (some can be over 40 pages long) and cross out anything that you can't agree to.
Make sure to get a countersigned copy back. It could be worth seeking legal advice the first time you go through artist contracts – and if you're a member of the AIF (Association of Independent Festivals), you can perhaps get advice through them.
Also, when you make an offer for a band – make sure to include a deadline for how long your offer is available for, so that you have the right to withdraw or review the offer, say within a month from having presented it to the agent.
Related: Making music and money: How live events are shaping incomes for the music industry
Other entertainment
If music is your love, passion and strength – then allow people who are equally passionate in other areas to run those for you. For example, we have an amazing comedian called Sarah Bennetto who has booked our comedy line up since year one.
We also have a guy called Jem who books all our workshops, a lovely lady called Cath who runs the healing field, John who deals with all the stalls & caterers,  and Julian who runs our library and book readings. Don't try to do everything yourself!
Bars
There are lots of commercial bar providers out there – definitely do your research before signing a contract with anyone! You can also run your own bars, but this can be A LOT of hard work at a time when you should be focusing on running the event as a whole.
It's also worth looking into drinks sponsorship, however, it's not always worth it – weigh up pros and cons carefully.
Health & safety
This is one of the most important aspects of your event and you need to hire a professional with lots of previous festival experience to be in charge of this area for you and to keep you fully informed at all times and to work with you on delivering your vision as safely as possible for all involved, staff as well as audience.
First aid
This is another area where you need professionals to come in and provide you with first aid cover and this is a service that is usually booked and handled by the Production Manager.
Deaf and disabled access
This is an area where the practical side of things is most likely handled by your Production Manager and your Health & Safety officer.
However, it will be up to you to decide how much of your budget you will be able to spend on making your event as accessible as possible for all to attend. 'Attitude is Everything' is a brilliant charity that can offer you great advice, resources and expertise.
License
This could potentially be handled by your Production Manager, and it's worth looking into securing your licence as early as possible. Also consider a permanent licence, even if it's your first year and you don't know how the festival will go.
The environment
You can never make your event fully environmentally friendly, but there are A LOT of things you can do to cut down on the negative impact on the environment that an event can have.
Some actions may be very costly and others not so much, and a good place to start your research is 'A Greener Festival'.
Related: 5 Steps to make an event more environmentally sustainable
Ticketing
If you choose to print tickets, perhaps for nostalgic reasons – make sure to include all fraud preventative measures possible. A lot of events are going paperless these days, and this area will need a lot of research before you choose who to go with.
Other aspects to consider – what are your T&C's, do you give refunds, do you allow people to re-sell their tickets through you, how do you help your audience not to fall foul of touts and so on.
Related: How Eventbrite can help you to sell out your next gig
Wristbands
Again, another area that's ripe with fraud – do your research! Also, make sure to order the appropriate number of wristbands – you don't want to run out half way through your event, and you also don't want to have given out more than your licensed capacity.
Wifi / Internet access
It's important to find out what your options are, as most green field sites have very poor reception and there may be a lot of services on site that need good access.
For example, if your audience will need codes on their mobile phones to be scanned in order to get their wristbands – the scanners are likely to need good internet access.
Beaming this down to your site from a satellite can be expensive – do your research.
Another aspect is that Tour Managers often rely on good internet access to be able to do their work while being on the road with bands.
Marketing & advertising
In this day and age you will, of course, be looking at social media, but don't forget about old fashioned flyers and creating content that magazines can write about, as opposed to having to take out adverts.
Starting to build a mailing list as soon as possible is also very important. You are likely to spend quite a bit of research and money on marketing and advertising in your first year… and probably in every year after that too.
No matter how successful your last festival was – you will always need to reach out to more/new people.
Related: Online marketing and advertising for event managers: A practical guide
Finances
Make sure you have a safety net and funds that you can channel into the business to support cash flow from day one.
We thought that selling tickets would give us enough money not to need anything else, which was a big mistake as you won't necessarily see most of your ticket income until after the event has taken place. You also may not sell as many tickets as you had hoped and you need to be prepared for this.
If finance isn't your strong side – definitely consider bringing someone in who knows what they're doing. Your budget needs to be worked on continuously.
Related: Download your own event budget template
PRS & PPL licenses
Remember that you need to have your PPL licence in place before the event takes place, or they have the power to stop you from going ahead.
With regards to PRS for Music – make sure to collect set lists from the artists and make sure you've included the PRS and PPL fees in your budget.
You may want to look into splitting your budget between musical entertainment and non-musical, so that you only pay the PRS percentage on the musical side of things.
Artist Liaison and Advancing
Make sure all communication is clear and concise, before, during and after the event. Make sure to start the advancing in good time, create an 'Artist Brief' that tells the artist everything they need to know without overloading them with unnecessary information.
Collate all the information you need and create handy folders for your on-site team. Make sure your Artist Liaison Team knows what they're doing, as the artists' experience of playing at your festival is really important for future bookings. Bad news travels fast!
Related: Download our free artist liaison checklist
Insurance
You will need Public Liability Insurance and you may also want to consider taking out cancellation insurance and more. Definitely an area to research.
AIF
Association of Independent Festivals – I would always recommend becoming a member, as you can learn so much from other festival organisers and we are always stronger together.
Don't burn out
When you follow your dreams and work with something you love – it's easy for the boundaries of what is work to blur and as you're likely to be working from home until you can afford an office, you may find yourself working every waking hour of the day.
Please don't! Please make sure to create balance! To look after both your physical and mental health! Ask for help! Ask for support! I developed Chronic Fatigue Syndrome (ME) and Fibromyalgia from all the years of extremely hard work and crazy hours – don't make the same mistake!
Related: 6 Steps to avoid burnout as an event manager
Starting all over again for next year's event
Running a festival follows quite a set annual cycle once your first festival is out of the way and you will often start work on next year's event even before this year's event has taken place.
Be aware that the cycle never really stops… there's almost never a good time to go on holiday and there's not really any breathing space after your festival has finished.
The wrapping up work and the starting on next year's event often blur into one another… and even if your event was super successful, starting on next year's event is often like starting from scratch again, so be prepared for hard work.
But with a good team, good work ethics and a lot of self-belief – you can do anything!
Got more questions about starting your own festival? Head over to our community of event organisers and ask the experts.