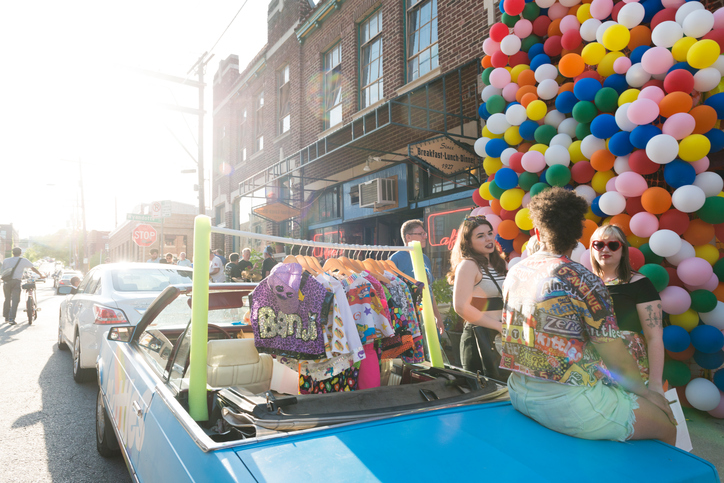 Why Pop-Up Events Are The 'In' Thing
Pop-up events seem to be all the rage these days. There are restaurants, bars, shops, cinemas and theatres popping up in all sorts of weird and wonderful places… and people are flocking to attend them.
But what makes this transient format so popular? Here are the 8 reasons pop-up events are great for businesses and visitors alike.
1. Pop-up events let you dip your toe in the water
Thinking of opening your own restaurant or high street retail business but afraid to leave your day job? If you're not experienced in running this type of venture, throwing your time and money behind it is a big risk.
Organising a pop-up event enables you to first test the viability of your business idea and discover if it really is what you want to be doing. You might find feeding 40 people at your pop-up restaurant more of a mission than you'd expected, or that actually there's not as much interest in emu oil cosmetics as you'd believed. Find out before you go any further!
2. Pop-up events are cheaper than permanent premises
Even if you know exactly what you want to do and how to do it, you might not be able to afford to do so. A fixed rent, business rates and employment costs all add up to make launching a new business very costly, as well as a huge ongoing financial burden.
With pop-up events you can bring these expenses down to a one-off sum, which you can quickly recoup through your ticket sales. Being able to sell tickets in advance rather than, for example, opening a bar and waiting for customers, makes the process a lot more manageable. You might even be able to benefit from advanced payouts so you can use income from ticket sale to help pay for expenses pre-event.
3. Pop-up events give you more flexibility to make changes
Selecting the perfect premises for your business is a huge challenge. It might look good on paper, with generous square footage and lots of footfall, but that doesn't always equate to lots of customers. And once you've signed on the dotted line, you're stuck there.
With a pop-up, you have the freedom to try out multiple locations and venue types until you find exactly the right one for your audience. The format also gives you the flexibility to experiment with decor, themes and features in a way you can't in a fixed environment.
4. You can be more creative with pop-up events
It might be a 'Bad' idea to stake your money on a permanent Michael Jackson themed bar, but if you open one just for a week, it's bound to be a hit with MJ fans. Pop-ups can be far quirkier and creative than ordinary businesses because they don't have to have longevity.
For example, a pop-up cinema could easily attract attention with an outdoor screening of Baywatch where everyone comes in swimwear. However, it probably wouldn't go down so well as a regular night at the local multiplex. When you're focused on one night of fun rather than a long term business strategy, there's much more room to go crazy with your ideas!
5. Pop-up events are temporary so create urgency to attend
Heard of FOMO? It stands for 'fear of missing out' and it's something that can be used to great effect in sales. Let's take that limited time offer on trainers down at the sports shop. They're not doing it because you won't be able to buy the trainers next week. They're doing it drive people to make the decision to purchase now, rather than go away, think about it and possibly forget.
Special offers like that are designed to appeal to our psychology, creating a sense of urgency and making us afraid to miss out. It can work in exactly the same way for pop-up events; if people know your shop will be closed tomorrow, they'll make more effort to come today.
6. You can reach a different audience with a pop-up event
Pop-ups are not just for start-ups; established companies have used them successfully to broaden their audiences. With a pop-up, a business can physically go to where those target customers are. For example, if a theatre company wants to attract more young people to attend its performances of Shakespeare, it might pitch up in the park.
Perhaps a caviar producer wants to change perceptions of its product, so it stages a pop-up cooking class in the town centre to demonstrate caviar's versatility? Another example would be a restaurant brand that's thinking of opening in a new area using a pop-up to test demand there first.
7. You can bring an online brand to life with a pop-up event
For online-only businesses, the pop-up presents a brilliant opportunity to bring your brand to life. You can let your customers see and touch your products in the flesh. It enables you to hear their feedback and talk with them freely, in a way that's difficult to reproduce online.
The other great thing with a pop-up is that it lets you experiment with a physical retail space in a low-cost way. You can often get great deals on retail space that's been sitting empty, giving you access to the high street for very little outlay (even if it is just for a few days).
8. Pop-up events enable you to make strategic partnerships
You've heard the phrase 'stronger together'? Well, it's true, and pop-ups can help your business realise the strength that comes from partnerships. Let's say you sell cheese, for example, then getting together with a local wine merchant or vineyard for a pop-up tasting event could be a fantastic joint marketing effort.
But it's not just about promoting what you do already; you can also diversify your business model by teaming up with others. If a pig farmer partnered with a chef to run a monthly pop-up restaurant in his barn he would not only be able to sell more sausages; he could profit from the cover charge and promote his barn as an events venue. That's two additional income streams.
Conclusion
The possibilities for pop-ups are endless! You can use a pop-up event to create ticket revenue, drive product sales, increase brand awareness or simply trial your ideas. Whatever your business and goals, this flexible event format can work for you.