Veganuary: The Numbers behind the Hype
At Eventbrite, we often say that events are a mirror of society. And now that Veganuary is a thing – a month where we are encouraged to try out a vegan, meat free lifestyle – we thought we'd have a deep dive into the growth of vegan events around the world.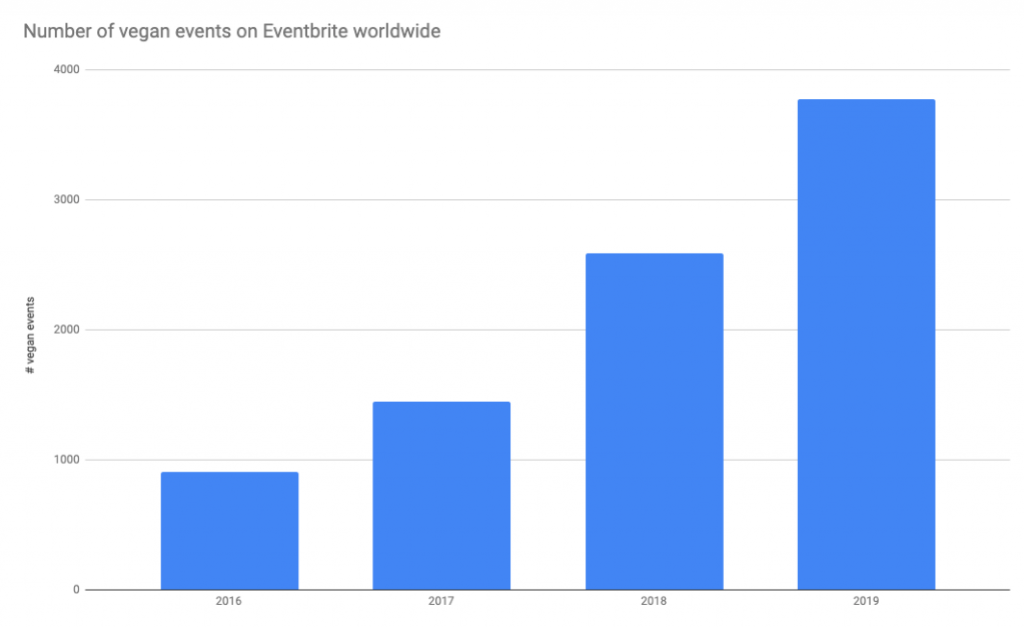 Counting conservatively, Eventbrite hosted more than 9000 vegan events around the world between 2016 and 2019, processing more than half a million tickets. Over this period, the number of all kinds of vegan events increased by more than 300 percent.
While this growth rate seems impressive initially, we need to bear in mind that with the ongoing rise of the experience economy, most types of events will experience growth over time.
Vegan events vs BBQs
So as a reality check, and with tongue in cheek and a healthy dose of hyperbole, let's bring in another event type and compare these purely plant based vegan events to their fat dripping counterparts: BBQ and grill events.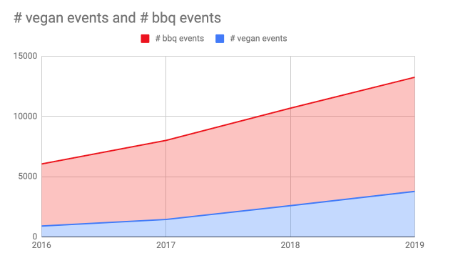 From 2016 to 2019, we listed around 30,000 of these meat lover events on our platform. That's still a lot more compared to vegan ones, of course. After all, most people eat – and love – meat. At least in the events space, though, the carnivorous majority is shrinking: BBQ events have grown much less than vegan ones – just over 80 percent over the past four years, compared to the 300 percent growth vegan events experienced during the same time. Looking at both event types together, the share of vegan events has increased steadily since 2016, as seen below.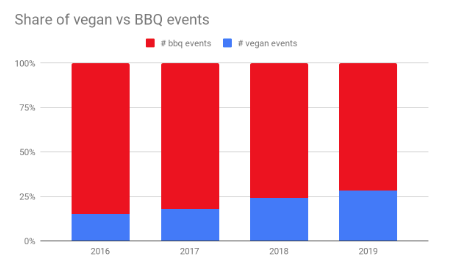 Curiously, events focused on vegetarianism have not nearly been as prominent as vegan ones. Globally, less than 500 events on our platform were explicitly about vegetarianism last year, and from 2016 until today, only about 1300 vegetarian events have been posted on Eventbrite.
Clearly, veganism is taking hold in the events world, and given its growing popularity it is not a far stretch to expect that we will see much more plant based food at events of all kinds that aren't necessarily all about veganism and Veganuary.
UK 💚 vegan events
So now that we know that veganism is on the rise globally, let's look at the cities where the most vegan events on Eventbrite take place. Over the past four years, a clear global frontrunner has emerged: London in the United Kingdom. The Old Smoke topped the tables in 2019, followed by New York, Los Angeles, Berlin – the highest ranking non-English speaking city – and Chicago.
Here are some interesting vegan events to check out during Veganuary – and beyond.
Oxford Vegan Market – Saturday, January 25, Oxford Town Hall, Oxford.
A vegan market with hot food, sweet treats, lifestyle, cosmetics, and a wide range of vegan businesses.
Vegan Nights – Thursday, January 30, The Truman Brewery, London.
Warm Vegan Nights vibes, an incredible food selection and celebrating what it is to live a plant-based lifestyle, with DJs playing the very best in reggae, roots, bashment, grime, house and party classics.
Scotland Vegan Festival – Saturday, March 28, Queens Park Football Club, Glasgow.
80+ vegan stalls, world food caterers, cookery demos, inspirational talks, interactive workshops & yoga.
Vegan Campout 2020 – Friday, August 21, Newark Showground, Newark.
According to the organisers, this event is the world's largest and most international vegan camping festival
Looking for additional event data insights?