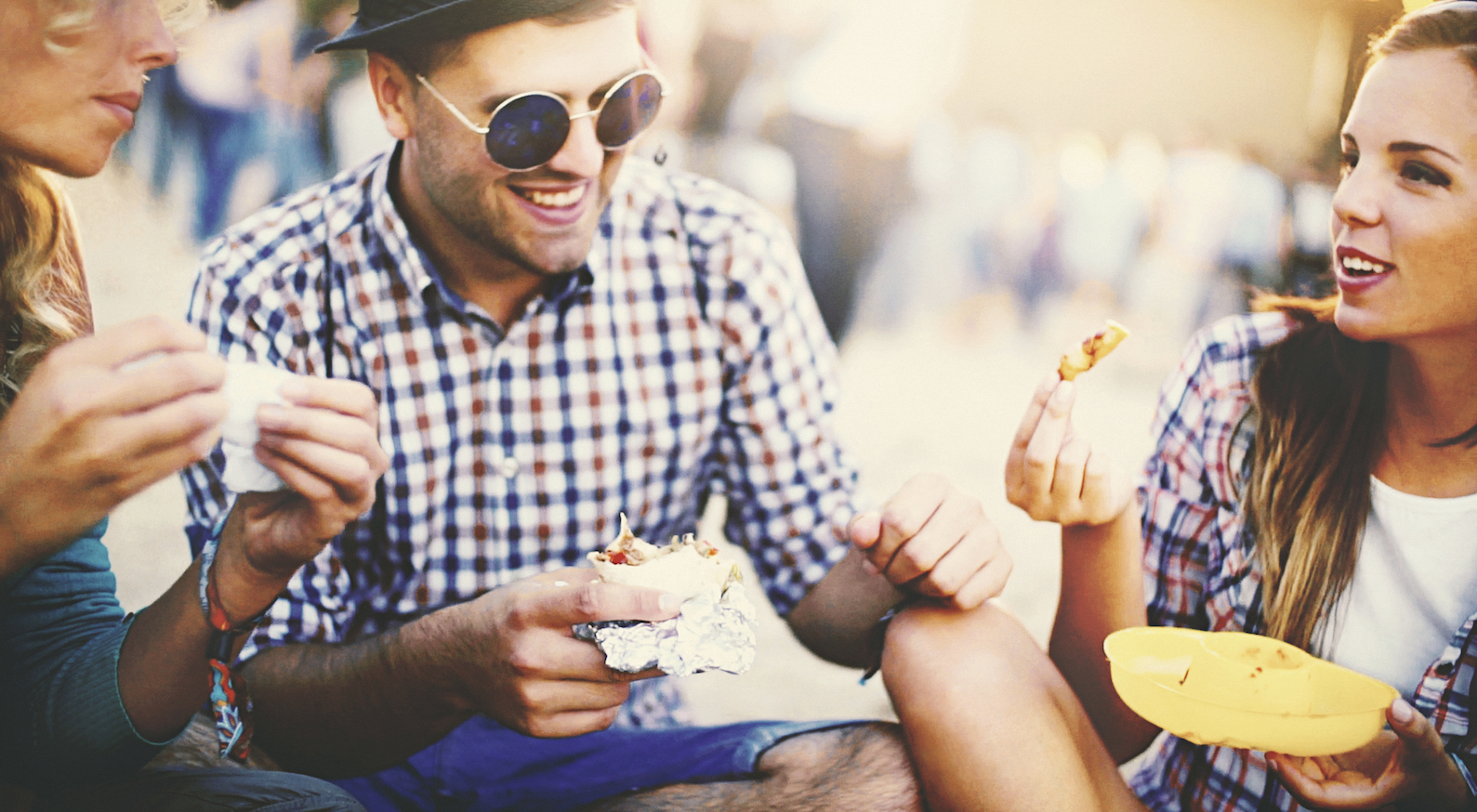 9 Fresh Ways to Promote Your Food & Drink Festival
An enormous amount of time, money and energy goes into putting on a food and drink festival. Whether you're running a niche regional event for local suppliers, or one of the larger national festivals, there is one thing everyone has in common.
You need to sell tickets to make it a success. And lots of them.
Of the dozens and dozens of food and drink-related events we work with each year, not a single one isn't interested in selling more tickets, reaching new visitors, and ensuring their festival is a busy, bustling success for their vendors.
Without footfall, there is no festival. So to make sure your next event is a packed out, bustling success, check out these 9 fresh tips on how to promote your food & drink festival.
1. Sell in advance
Some food and drink festival directors still prefer to sell the bulk – and in some cases all – of their tickets at the door.
While there is a certain simplicity to this model, and it cuts out any fees associated with online ticketing, it also hugely increases the risk of a bad turnout on the day and provides very little insight into the number of attendees you can expect.
Specifically, there are 3 major downsides to this approach:
1. Without getting people committed to attending the event in advance, people will make their minds up on the day, meaning any adverse weather or other external influences (e.g. clashing with a major sporting event) could severely affect demand and ticket sales.
This could leave the festival in major financial difficulties, and reduce the satisfaction of the vendors on the day.
2. Without a clear idea of turnout for the day, it puts a lot of pressure on correctly forecasting things like security, insurance, supplies, and facilities needed.
If you under-resource you could end up with large queues for facilities, running out of food/drink, and even a dangerous lack of security; while if you over-resource, you're needlessly spending money that could have been saved.
3. No advanced ticket sales mean no advanced revenues that can be used to pay suppliers, invest in marketing or anywhere else it is needed. This can put a huge strain on cash flow and an organiser's finances.
From reduced risk to increased turnout, there are many compelling reasons to try and sell at least 50% of your tickets in advance.
Related: When do people buy event tickets? We have the answers
2. Be social
Since the Greeks and Romans, eating and drinking has been a social activity.
So it makes sense that it's such an incredibly popular topic on social media, dominating platforms like Instagram and being a popular topic across pretty much every social network.
It therefore also makes sense to follow that popular marketing adage and 'go where your customers are,' and make sure a large proportion of your promotional activities are focused on social media.
To be successful with social promotion though, you need a strategy. So let's keep it simple, and create one right now, by answering these 10 questions:
What social networks do your target audience spend the most time on?
Which social networks will you use? (Hint, this should match the answer above!)
How many times a day will you post to them?
What are the hashtags you need to use?
What types of content will you share?
How will you find content to share?
Who will be in charge of sharing this content, and replying to messages?
What % of your messages will be asking people to buy a ticket for your event versus sharing the content of interest to them?
Will you invest any budget in promoting your content?
How will you measure the success of your social media promotion (e.g. reach, engagement, click-throughs, ticket purchases, etc.)?
Once you've answered those key questions, you'll have a pretty good social media strategy to work with, helping you achieve the results you want from this important channel.
Related: Social Media: A tool for supercharging food and drink events
3. Use strong imagery
One of the reasons food and drink is such a popular topic on social media is that it lends itself to being photographed (and then shared).
You should lean into this fact when thinking about your promotions.
Of course, it means all of your social media posts should include beautiful imagery and mouth-watering, lip-smacking shots of the delicious food and drink to be enjoyed at your festival. But it should extend beyond that.
You need to ensure you have strong imagery everywhere, including your website, flyers, posters, ticketing page (if separate to your website), emails and any other forms of communication that will be seen by potential attendees.
Strong images help sell tickets. Make the most of them.
Related: Flickr vs Instagram: How to use photos of your event to sell more tickets
4. Encourage (or incentivise) your vendors to promote the event
Vendors may be your clients and pay you money to have a stall at your event, but that doesn't mean you have to bring in all the visitors yourself.
In fact, a successful food and drink festival should create a strong partnership between you, the organiser, and your vendors. And so you should encourage your vendors to help promote the event too.
They will all have their own social media followings and community of loyal fans, and you want to tap into that.
You could follow a simple strategy of simply asking them to promote the event for you. However, you'll probably find more success by getting proactive and providing them with a wealth of creatives to make their lives easier, such as pre-written tweets, images, posters, email templates and the like.
Going further still, you could incentive them with formal offers, such as providing a free stand next year to the vendor who sells the most tickets this year. With link tracking, such a programme would be really easy to implement and manage using a service like Eventbrite, or you could shop around for other independent affiliate programmes too.
5. Offer group tickets at competitive price
We've already covered off the social nature of food, so it's no surprise that many of your attendees will go together as groups of friends or families to enjoy a shared gastronomic experience.
Selling a ticket to a group of 4 – or 10 – is naturally going to provide a better ROI than selling every single ticket individually, and it will also help make sure your event is a sold-out, bustling success for vendors too.
It, therefore, makes sense to price your festival tickets to reward groups, helping you shift more tickets for each sale you make.
Related: Using discount codes to increase demand and ticket sales
6. Satisfy fans with behind the scenes access and in-depth content
One of the questions you answered when thrashing out your social media strategy was 'What types of content will you share?'
Well here's one of the answers you'll want to add in there: Behind the scenes access and in-depth content.
Foodies and drinkies (let's pretend that's a word) are a passionate bunch who care almost as much about the provenance of their dishes and drinks as the taste. Where it's sourced from, how it's aged, brewed, handled and caressed into being are as much part of the experience as sampling the end product is.
So giving them insider access to the chefs and producers who are delivering the food and drinks at your festival will make them happy and feel included, which can go a long way to getting them along to the event. It's also a great win for your vendors too, who will enjoy the greater exposure as part of your promotional campaign, in addition to their stalls on the day.
Related: How to curate your event's content like a pro
7. Find a PR-worthy angle
World's largest gluten-free pasty! A cake as heavy as a car! The world's smallest margarita! Add a superlative to just about any type of food or drink and you've got yourself a PR story that journalists will readily eat up.
Whether it's a local or national, journalists need to fill their column inches, and these kinds of stories are often a great way to balance out all the terrible things going on the in world with a more light-hearted piece.
Other consistently popular PR-worthy angles are triumph over adversity (have you overcome the odds to be where you are today), the unlikely hero (perhaps one of your vendors quit their job as a high-flying city trader to start up a local produce company) and exclusive research (you surveyed 1000 Millennials to reveal their favourite tipples, and how they differ region to region).
Related: PR pitching pitfalls or – how to annoy a journalist
8. Create partnerships
While your vendors will be key partners in promoting your festival, you probably want to think beyond them to other potential collaborators.
These could include your local chamber of commerce, food, and drink associations, niche media and publishers, local businesses like high street butchers/grocers and cafes…really anyone who might be able to help you reach your target audience.
The key to good, successful partnerships is how clearly you set expectations from the beginning. Make sure they're written down and specific (structure them as SMART goals ideally), so there are no crossed wires.
Be clear about timeframes, roles, and responsibilities, even down to the number of activities you'd expect to see, and of course be really transparent around what 'success' looks like to each partner.
Related: How to implement successful event marketing partnerships
9. Connect with influencers
Bringing this back full circle, perhaps the most important outreach you can do is back on social media. But rather than simply sending out messages to a broad audience, an increasingly popular – and effective – method of promotion is connecting with influencers and working with them to spread your message.
There are essentially two forms of influencer marketing – organic and paid – and you should consider both, with a budget, of course, being a big factor in the latter.
Some social media 'stars' can command eye-watering sums, but if you start diving into more niche areas, you'll probably find there are more affordable (and probably more relevant) influencers to work with.
If you want to go purely down the organic route, then your best bet is to approach them in a similar manner to how you'd approach partners. Which is to say, with respect, often have built up some kind of relationship with them before asking for something.
And also try to avoid asking for favours – instead think clearly about how you can work with them on a more equal footing, as partners – and provide value back to them.
For example, you could give them exclusive behind the scenes access to your festival, and the chefs and brands that are there, so they get unique, highly valuable content to share with their fans (and in return, you enjoy some free promotion).
And talking about influencers, we've got 250 of them listed in our full guide to successfully promoting your Food & Drink festival, where you can find all the key figures in food and drink on Twitter that you might want to reach out to and work with in successfully promoting your next food and drink festival.
Conclusion
Getting the marketing strategy right for your event is crucial to its success, and relying on email might not be enough to ensure you sell all the tickets you need. To be sure you have a busy festival full of happy punters and vendors, try some of the tactics suggested above, and get even more ideas from our complete guide here.