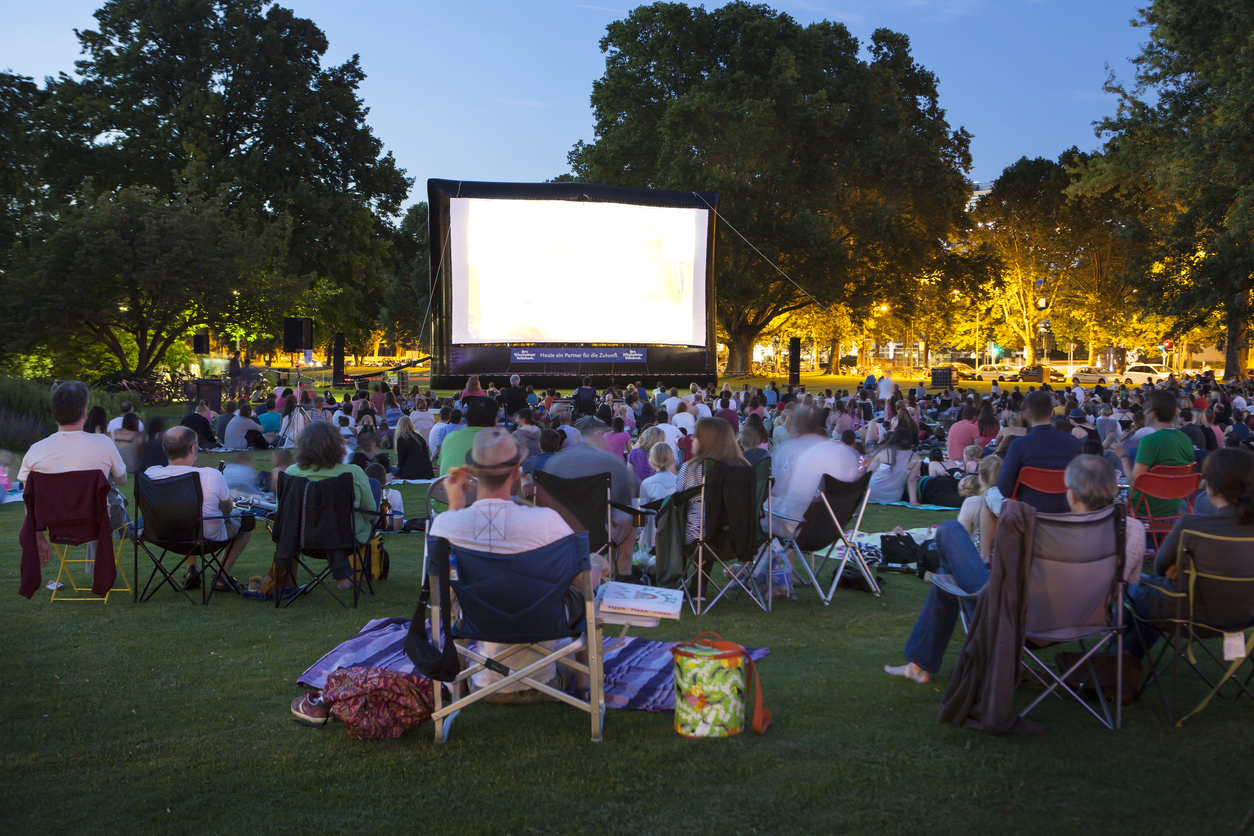 Cinema vs Sunshine: How to Get Audiences Back Indoors
No matter how exciting the blockbuster or how cold the beer, cinemas always struggle in the summer months. Ultimately, if the sun is shining it's much harder to get people to sit in the dark for a few hours. With award season still six months away, there are numerous obstacles in the way when it comes to keeping your summer screenings well attended. This is a crucial time to implement some new strategies and approaches to ensure you're able to retain your audience and reputation.
Outdoor Screenings
It might be worth considering the possibility of bringing your cinema to the people instead of bringing people into your cinema. Remember, screening anything to a public audience will mean ensuring that all content is U Rated and signed off by your local council's licensing department. Alternatively, you could convert your venue's bar into a screening venue, with open doors and a one-off entry fee. That way people can enjoy a more casual cinema experience a few feet from the bar with that summer breeze circulating. By doing this, you bring cinema into the social space rather than asking people to leave their conversations at the door. Have a look at some of the feedback on this year's outdoor screen at Sheffield Doc/Fest.
Bespoke Experiences
It's vital to ensure that what you're offering your audiences is something completely unique. This could mean showing a retrospective title that can't be seen anywhere else or holding a film quiz in the shade of your venue's café. It could also be the perfect opportunity to put together a mini film festival, engaging local social groups and charities and curating a season of summer films, providing a nice alternative to the many mindless blockbusters on offer at your local multiplex. Have a look at what Saffron Screen do to create one-off events and screenings.
Become More Accessible
During these quieter weeks, why not focus on servicing audiences with access limitation as much as you can? Perhaps this is a weekly autism-friendly screening or BSL interpreted screenings for the Deaf and Hard of Hearing communities. You could create a programme about mental health awareness and build a panel around this for post-screening reflection and information about local support or services. Have a look at how Cine Mini are making their screenings extra immersive for children.
Photography by: Claire Greenway www.clairegreenway.com
Revise Your Marketing Strategy
On top of your programme and your exhibition, summer is a vital time to up your marketing – refresh your style and experiment with new forms of social media marketing. Don't be afraid to market much more specifically. After all, there are a lot of people out there who are less in love with a heatwave than the average Brit. Why not promote yourself as not just a venue or a cinema but as a refuge and an escape from the relentless heat. Encourage your audiences to enjoy the "Summer Cinema Shade" for a few hours. The Cameo Cinema in Edinburgh is particularly great at using visual marketing and charming illustrations to promote their film seasons and offers.
Keep It Refreshing
Ensure you have a cool, calming atmosphere and plenty of refreshing drinks and snacks to entice sun lovers to give their skin a brief rest. On top of this, why not create a summer offer of a free ice cream with every film ticket or two for one cocktail offers to keep people around through the evening. Summer is a brutal time for cinema exhibition so don't be afraid to market more aggressively, collaborate more locally and relocate your cinema to ensure your audiences don't fade to black whilst the sun beams down.