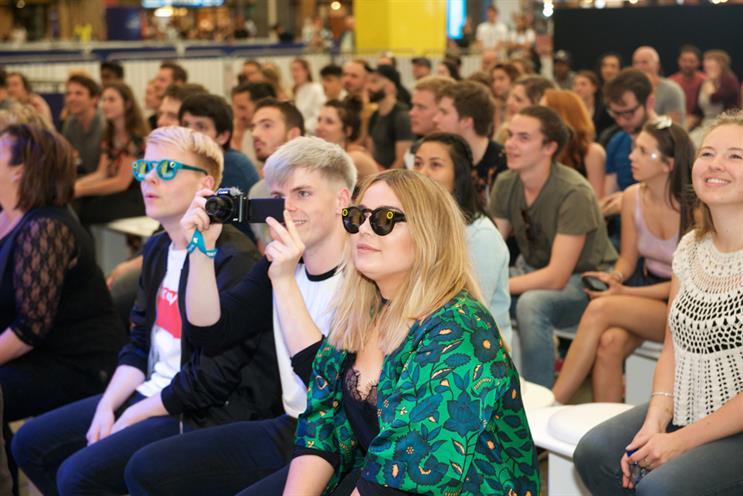 5 Ways to Use Snapchat Spectacles at Your Event
US-Based Snap extended the sale of its Spectacles into Europe this summer and now Snapbots, the Minion-like spectacles vending machines, have started popping up closer to home.
Visitors to events such as Germany's Lollapalooza Festival, which took place last weekend, had the chance to purchase their own pair of Snapchat Spectacles. Meanwhile, there are now resident Snapbots at Westfield's London shopping centres.
The sunglasses have embedded cameras that allow users to record videos from an optical vantage point, which can then be posted directly to Snapchat. And with Snap currently working on a second generation of the glasses with augmented reality, the possibilities for event organisers are exciting.
Although they've only really scratched the surface, here's a look the best so far…
1. Put them on your attendees to boost social media coverage
Tennis fans were able to purchase Snapchat Spectacles for the first time at a professional sporting event at this year's US Open.
The glasses were available from an assortment of Snapbots, placed around the Flushing Meadows stadium in New York.
The United States Tennis Association said it's objective with the campaign was to "encourage fans to organically share their US Open experience."
"Spectacles give a one-of-a-kind vantage point because they capture your memories just the way you see them," said Amy Choyne, USTA Chief Marketing Officer in a statement.
To launch the activation, USTA asked former US Open doubles champion Bethanie Mattek-Sands to help deliver the Snapbot vending machines by helicopter, garnering lots of press coverage.
"We strive to surprise and delight visitors to the US Open, while reshaping and enhancing the way fans can share their on-site experience. Spectacles offers fans a new sense of discoverability of our grounds in a fresh content format," said Qianna Smith-Bruneteau, USTA Director of Social Media & Strategy.
2. Use them to provide unique behind-the-scenes content
L'Oréal Paris, which is the official makeup sponsor of the Golden Globe Awards, put Snapchat Spectacles on celebrity makeup artist Sir John to give viewers a sneak peek into the awards show.
The glasses were also worn by two other L'Oréal Paris brand ambassadors, who used them to stream content captured from their unique vantage point, such as celebrities getting ready backstage. The 10-second videos were streamed to the brand's Snapchat account.
"At L'Oréal Paris, we are always looking for new and innovative ways to engage our consumers; Snapchat serves as a proven tool to engage audiences," said Kristen Comings, VP of Integrated Consumer Communications at L'Oréal Paris.
Ned Lampert, Creative Director at agency Space150, added: "Looking directly at a celebrity's face, both literally and figuratively, through the eyes of a makeup artist can be very interesting."
3. Let attendees show friends they're at your event
Snap Map is the Snapchat feature that allows you to see where your Snapchat friends are located on a map of the world. Friends are displayed using their Actionmoji avatars.
The Actionmoji change depending on a variety of factors, like your location, time of day, and how fast you're travelling. Most of the time, you'll see your Actionmoji simply standing wherever you are. But if you're near an airport, you might see yourself in a plane and if you're driving, you'll be shown in a car.
To celebrate August's solar eclipse, Snapchat created the first-ever Actionmoji tied to an event. People who were in the path of the eclipse's "totality" were temporarily depicted wearing solar glasses and looking up into the sky.
Meanwhile, users could tap on areas of the map to see crowdsourced videos related to the eclipse, including footage captured through Snapchat Spectacles. The stunt shows how Snap is is thinking about customising Snap Map around specific events.
In the not too distant future, event organisers could be able to create their own branded Actionmoji and let attendees stream content from their Snapchat Spectacles straight to their friends.
4. Give them to influencers
Toyota staged the first ever drive-through immersive theatre experience to launch the C-HR and placed 100 media and lifestyle influencers wearing Snapchat Spectacles in the front row.
The event, held within the immense space of The Printworks in London, took guests on a virtual journey through Europe as they were driven between five disused warehouses.
The immersive, multi-sensory experience was narrated by actress Milla Jovovich and transported participants from a light show in Berlin across Europe to a fashionable London bar. Here, they got out of the car to be greeted by Milla herself, not before stopping in at a high fashion catwalk in Milan, a Parisian casino and flash-mob club scene in Barcelona along the way.
Toyota said it was the first car brand to use Snapchat Spectacles for a launch event. As well as getting participants to capture the action through the specs, it also had some of the actors wear them. Afterwards, Toyota created 100 personalised films starring Milla and the influencers, providing a unique keepsake for each participant.
John Meulemans, Founder of influencer marketing agency 3sixtyfive, said: "New technology always plays, besides creativity, an important role at our agency. It's our job to stay up-to-date and continuously find new ways to reach the target audience of our clients."
5. Create a user-generated event video
The first ever user-generated advert was created at The 02 Arena's 10th Birthday Celebrations. The celebrations featured a series of concerts including Alt-J, Celine Dion and Ed Sheeran and on one show day a Snapbot vending machine unexpectedly landed at the venue to equip fans with Snapchat Spectacles.
The concert-goers could record footage to be used in the ad alongside exclusive content from the arena, including a backstage look. The collaboration with Snapchat also included unique artist geofilters available to arena visitors on show days and a nationwide geofilter encouraging people to share their favourite memories of The O2.
Besides the special musical performances, the event featured a livestreamed game show hosted by Vernon Kay, giving guests at the arena and at home the chance to win tickets, VIP passes and merchandise.
Ian Cafferky, Director of Brand and Marcomms at O2 said: "Through a combination of best in class experiential activations and unique, digital firsts, we made sure that everyone who came along were the stars of the show."
Conclusion
Working with new technology is always a big investment and a risk, but as these examples show, it can pay off. Perhaps it's time to start thinking how you could put others in the shade with these super sunglasses?