مهرجان القدس و الأقصى" فلسطين بعيون تونسية" - َAl-Quds and Al-Aqsa concert - Tunis

Saturday, 19 August 2017 from 19:00 to 23:00 (CET)
Event Details
يتشرف الاتحاد العام التونسي للطلبة بالتنسيق مع منظمات و مكونات المجتمع المدني و بالتعاون مع مؤسسة بيت المقدس الخيرية ببريطانيا، بدعوتكم لحضور فعاليات مهرجان القدس و الأقصى تحت شعار " فلسطين بعيون تونسية" يوم السبت الموافق لـ 19 أوت 2017 بقاعة الكوليزي بالعاصمة.
ينطلق المهرجان على الساعة السابعة مساء بتوقيت تونس بحضور شخصيات وطنية، وجوه فنية، شخصيات عالمية.
و لأول مرة بتونس بحضور الفنان الفلسطيني عبد الفتاح عوينات.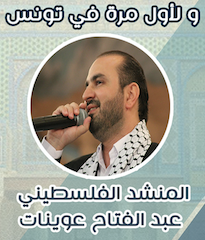 صفحة الفنان الفلسطيني عبد الفتاح عوينات:
https://www.facebook.com/abedelfattah
ملاحظة :
1 . الدخول مجاني.
2. مرحبا بعموم التونسيين و التونسيات من شباب و عائلات و ضيوف.
3. الحضور يكون مسبوقاً اما بدعوة او عبر التسحيل الإلكتروني.
Al-Quds and Al-Aqsa concert will be held in central Tunis on Saturday 19th August 2017 from 7pm.
All welcome!
When & Where

Cinéma Le Colisée
45, Avenue Habib Bourguiba
1000
Tunis
Tunisia

Saturday, 19 August 2017 from 19:00 to 23:00 (CET)
Add to my calendar
Organiser
UGTE and a number of Tunisian NGOs
مهرجان القدس و الأقصى" فلسطين بعيون تونسية" - َAl-Quds and Al-Aqsa concert - Tunis