Join founder of Bounce Cinemas Mathieu Ajan as hosts a panel with some of the leading creative founders in the game right now.
About this event
Join Create Jobs and some of Londons most exciting creatives, who are making their mark on the creative industries. This panel will take you through the trials and tribulations of being an Entrepreneur as well as an insight on how to establish and develop your business within the creative industry. Giving you a 101 guide on the steps to entrepreneurship, if you're starting out as a freelancer or wanting to take the plunge. This event will be the best place to hear some key gems on starting out.
Mathieu Ajan - Moderator
Mathieu Ajan is an artist & founder of Bounce Cinema, London's leading platform dedicated to connecting communities with film. Previously the BFI Network Talent Executive for commissioning Short Films. He has also curated and programmed for the Tate Modern, Institute Of Contemporary Arts & Aesthetica Short Film Festival. Mathieu is passionate about supporting emerging talent and been a speaker at key festivals including the Cannes film festival, Sundance, and Sheffield Doc Fest.
Bejay Mulenga
Bejay Mulenga, a multi-award-winning serial social entrepreneur, with over 10 years of business-building experience, having trained over 10,000 entrepreneurs as part of his work.
Bejay is the youngest award winner of the Queen's Award for Enterprise Promotion in the UK. Passionate about teaching entrepreneurs the skills they need to take their business to the next level, Bejay is the founder of Supa Network, the Business Building Club, and more ventures dedicated to this ultimate goal.
Bejay has worked with brands such as Barclays, River Island, BBC, The Queen's Commonwealth Trust, Sony, and more
Nicole Crentsil
Nicole Crentsil is a Ghanaian-British cultural curator, entrepreneur and investor based in London. Nicole is the CEO of Black Girl Fest - a platform dedicated to Black women, girls and non-binary people. She's also the founder of BIG SIS, a new network supporting the personal development of creative working women.
Nicole currently sits on the Members Advisory Board for the Tate and is also a VC Scout and Angel Investor with Ada Ventures- a £34 million fund investing in underrepresented founders.
In 2018, Forbes listed Nicole as one of 100 women to follow on Twitter and LinkedIn. In the same year, TimeOut named Nicole as 1 of 50 Londoner's shaping the city's cultural landscape. Nicole is passionate about connecting women, young people and underrepresented groups to art, culture and events.
Nate Agbetu
Nate Agbetu is a Creative Strategist and Cultural Producer who works to democratise design thinking. Their practise revolves around facilitating projects and storytelling with un-championed voices. Examples of their work includes directing a film with the Design Museum, running co-creation workshops with community groups and leading strategy for the likes of Nike, YouTube, Paul Smith and more.
This event is part of Creativity Works, a Mayor's Fund for London programme supported by Citi Foundation and delivered by Create Jobs at A New Direction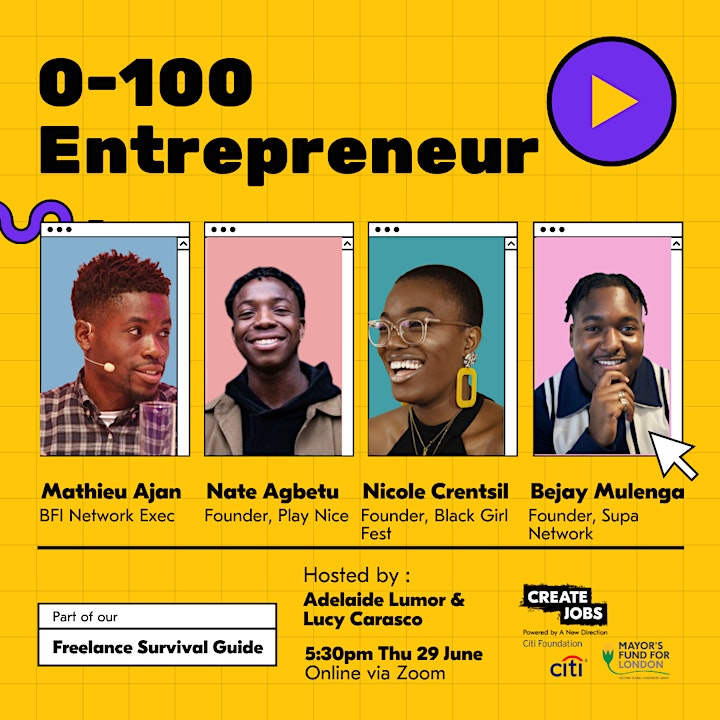 Organiser of 0-100 Entrepreneur