01/11 Introducing Datascape - ground-breaking App for 3D data visualisation

Thursday, November 1, 2012 from 4:00 PM to 5:00 PM (GMT)
Event Details
Analysts now have the ability to explore and make sense of their data in 3D with the launch of Datascape – a 3D data visualisation application. 
Datascape provides an easy to use, install and maintain immersive 3D environment in which users can visualise and interact with data from almost any source and from any domain including financial, political, technical, scientific, health and social media. Data can be imported from spreadsheets and databases or even taken from live feeds.
Users can map data to any plot feature, defining the shape, size, colour, image, orientation and position of each data point within the visualisation. They can then search and filter on that data, animate it, and plot multiple datasets at the same time. Datascape is designed to maximise human analysis by optimising the display of data, whether structured or unstructured, enabling the user to take up a wide variety of viewpoints from both inside and outside the data.

This webinar is an introduction to Datascape.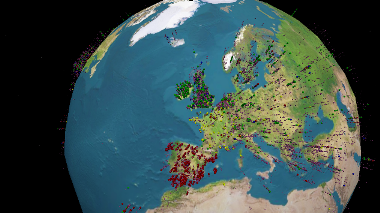 Have questions about 01/11 Introducing Datascape - ground-breaking App for 3D data visualisation?
Contact Daden Limited
Organizer
Daden Limited specialise in delivering innovative solutions in 3D and VR immersive environments for training, learning and data visualisation. Daden's national and international clients range from a variety of private and public organisations. 
Founded in 2004 by David Burden, Daden are based at Innovation Birmingham Campus, in Birmingham, UK  and have been working in immersive 3D environments for over a decade, and won prizes for their work on both sides of the Atlantic.