07-11-20 Psychic Development; Beginners Mediumship
Curious or wanting to get back to basics? My mediumship workshop will be perfect! No experience necessary, you'll learn all you need there!
About this event
Whether you are already working on a psychic level or whether you are new to it but curious and want to develop then this Mediumship workshop is a great choice.
Mediumship is an ability that we all have, we just need to know how to connect and communicate with Spirit. This one-day workshop will show you how to connect to Spirit, how to work with the energy and deliver the message.
This is a practical workshop where you can learn all aspects of mediumship or enhance your existing knowledge to improve your mediumship.
No experience is necessary, an open mind and a willingness to learn are.
Course investment £40 payable when booking. 9.45am registration 10-4pm
Venue: Herne Bay Masonic Lodge, 2 Cecil Park, Herne Bay CT6 6DL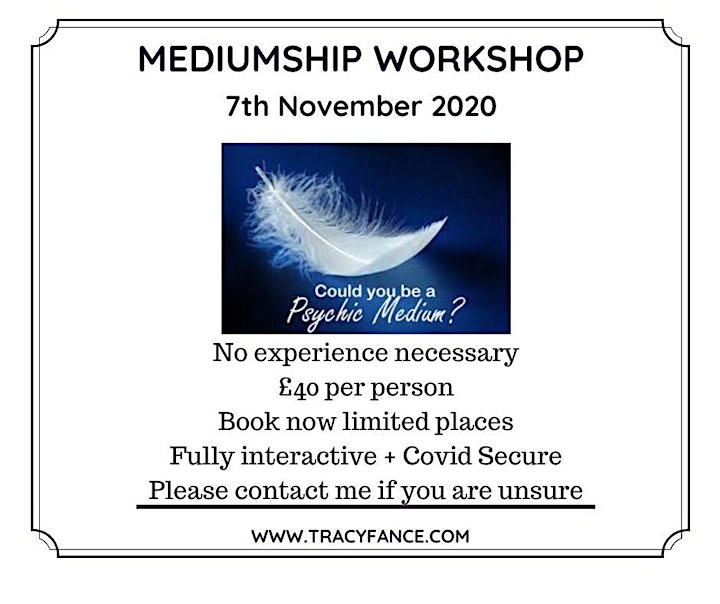 Organiser of 07-11-20 Psychic Development; Beginners Mediumship
I offer a range of personal & spiritual development workshops to help you develop your psychic skills, and tpo have the life you desire, there are online recorded workshops on my website www.tracyfance.com/shop which you can buy and watch in your own time as well as live webinars and physical workshops and courses available too. Get in contact if you'd like to know more.