Sales Have Ended
Ticket sales have ended
This event is sold out, please let me know if you'd like me to run it again. Thanks x
Sales Have Ended
Ticket sales have ended
This event is sold out, please let me know if you'd like me to run it again. Thanks x
We're born with nothing, behaviour is learned, let's work to unlearn a lack of confidence or our negativity. Work with me, improve your life
About this event
How's Your Mental Health?
As a coach I work with people all the time that feel they lack confidence or feel that they are not positive enough, using a range of different exercises and tools I can help you to change that so that you can be confident, so that you can be more positive. We are not born lacking these, we learn to lack them.
This is your opportunity for change, you don't need confidence to be part of it, you just need the desire to take control of the situation & join me to learn the rest.
You can do this, book now!
As an NLP Master & Practitioner (neuro linguistic programming) & Life Coach, I use all my skills and knowledge to help you uncover what has caused you to have confidence issues, what has caused you to struggle with positivity. Sometimes the answer is a simple misconception of these behaviours.
This 90 minute group class will be held on the 9th December on Zoom.
Course Content:
We will use a range of tools & techniques to help you take back control & improve your mental health:
Reframing The Past
Patterns & Programming
Anchoring
Future Pacing
Timeline Therapy
Beliefs & Values Analysis
Perceptual Positioning
2 Chair Work
Socratic Questioning
Discovering Your Inner Stoic
We will uncover the root causes of things, and then using that information we will then clear the layers away, this will allow you to transform your thinking & behaviour so you can make choices that allow you the life you desire.
The workshop is heavily practical so we will work our way through various techniques that will help you to release the patterns that have created your behaviour.
If you are committed to empowering yourself, then the results are in your hands, I can guide you but the hard work is down to you.
Course Investment: £25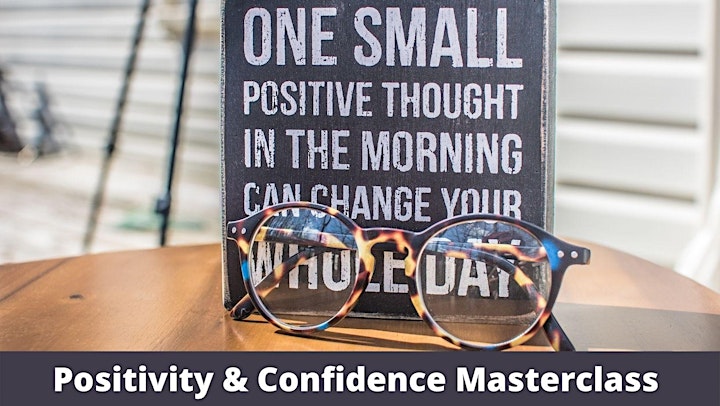 Date and time
Location
Refund policy
Organiser of 09-12-21 Confidence & Positivity Masterclass
I offer a range of personal & spiritual development workshops to help you develop your psychic skills, and tpo have the life you desire, there are online recorded workshops on my website www.tracyfance.com/shop which you can buy and watch in your own time as well as live webinars and physical workshops and courses available too. Get in contact if you'd like to know more.