Description
Overview
Speaking in public is enough of a challenge at the best of times, whether it's delivering a best man's speech or saying goodbye at a leaving do. The pressure mounts even further when a big decision rests on your speech being able to stand up to scrutiny from delivering pitches and presentations to briefing the media and fronting campaigns.
Here at the Great Debaters Club the UK's only year-round debate club and training programme for adults, we simulate these conditions by hosting public debates in a friendly and supportive environment with the goal of turning what is often a stressful experience into an enjoyable and effective one.
Now, after hosting 22 public debates in 2017 alone, we have a year's worth of data and feedback from our audiences on what they find most persuasive about a speaker. So, we have decided to turn this into a short guide to speaking under pressure and thinking on your feet along with a one-day workshop to help you put the guide into practice through a series of simple exercises.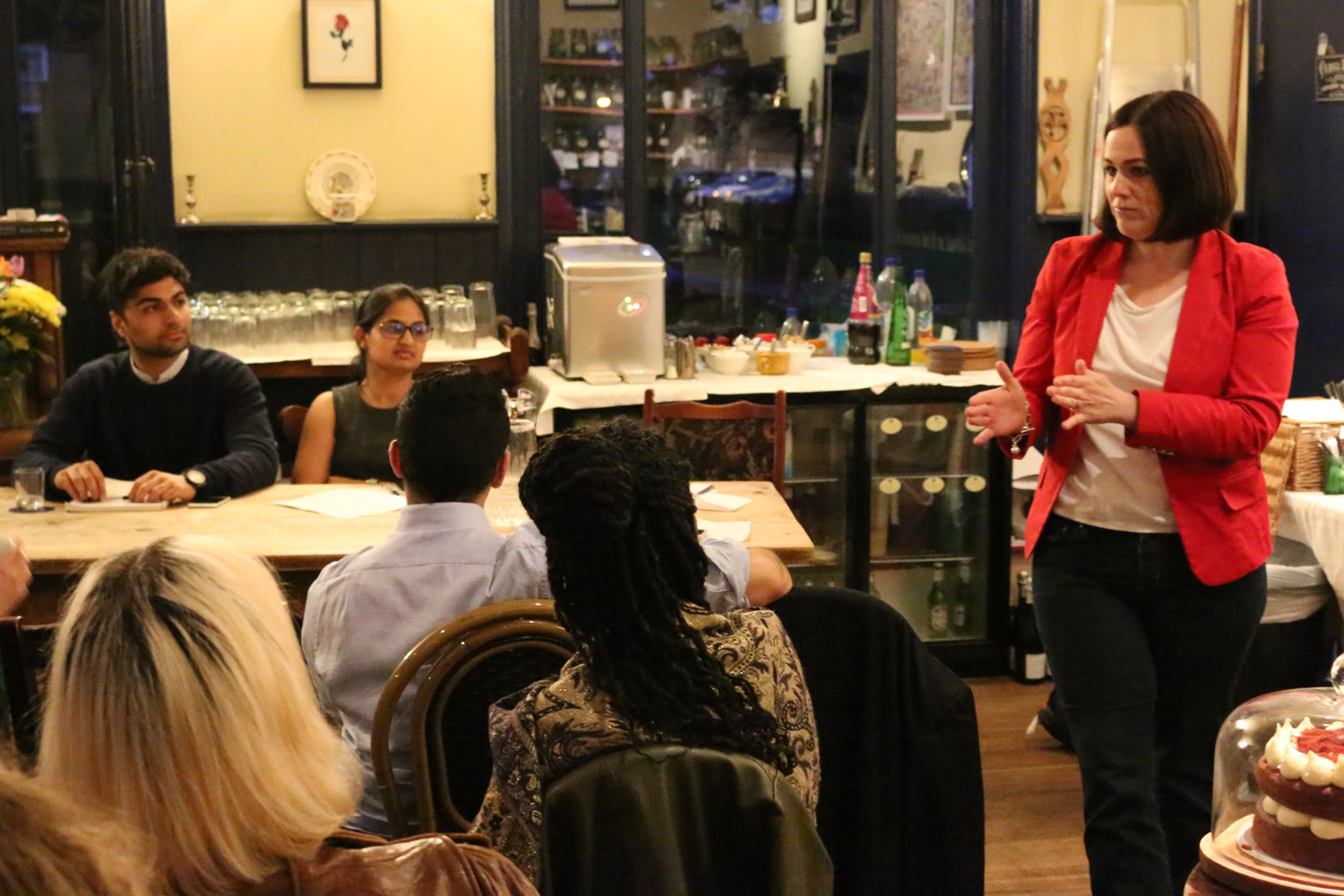 PHOTO: one of our new members making their maiden speech in a debate on sex for rent adverts in April (taken by Grant Fisher)
In this two-page guide, you will find a brief explanation of each of the following ten steps to speaking under pressure and thinking on your feet:
Write a crib sheet, but avoid a script

Practice on someone who knows nothing about your subject

Avoid coffee and eat light in the hours before your speech

Go for depth over breadth when you have little time

Advise your audience, don't sell to them

Listen to your audience and engage with their concerns

Watch out for logical fallacies and have a response ready

Be diplomatic – but don't shy away from controversy

Work on your delivery – but don't obsess over it

Ask for feedback and challenge yourself

About the workshop - reaching the 10%
This workshop will be centred around what our audience members have told us they look for in a speaker in our post-debate focus groups, especially those who have changed their minds during a debate.
By taking a vote both before and after each debate to measure how many people changed their mind, we found that an average of 10% of our audiences reverse their position, based on the arguments made by our speakers. On five occasions, this has been enough to swing the result of the debate itself with the winning team coming from behind to win the final vote.
We will look at the reasons most commonly given by audience members for changing their minds and gain a greater insight into that age-old question of whether it is substance or style that makes the biggest impact.

What you will learn
When we polled the members of our training programme on the skills it had helped them to develop most, they singled out two: speaking under pressure and thinking on their feet, hence the name of this workshop.
You will walk away with a summary of what we have learned from this year's debates, a set of techniques for advancing your development as a speaker and useful exercises for embedding them through regular practice.
In turn, we expect this to improve your willingness to take the leap and experiment with different forms of public speaking in 2018 to help build your confidence in your own ability. We will also be offering discounted membership of the Great Debaters Club in 2018 to give you an extra incentive to take this leap.

About the trainer - Tony Koutsoumbos
Tony is the founder, Director, and lead trainer of the Great Debaters Club. He has hosted over 200 public debates and has delivered more than 400 hours of training in the form of group workshops for club members, one to one consultations, corporate training workshops, and even national training programmes for young people.