1 Hour - Crystal Bowl Sound Bath Healing Meditation. Saturday 10th July 2021 1-2pm
About this event
Join me at a beautiful spacious studio in Finchley NW3 for 1 hour of Crystal Bowl Sound Healing Bath with Guided Meditation. 🧘‍♀️
All care is taken with optimum hygiene and all mats cleaned prior. The class is 8 people maximum with 1 metre space between each person.
What is Sound Hesling?
Given that everything has a vibrational frequency, including ourselves, it makes sense that sound frequencies impact how we feel. Sound healing, which is an ancient healing technique that uses tonal frequencies to bring the body into a state of vibrational balance and harmony.
By understanding the connection of our emotional well being and our physical health we can then begin to treat the body HOLISTICALLY (as a whole) and know that each one affects the other - We can Retune' our entire energy system and energy field. Restoring balance creates optimal conditions needed for healing. It stimulates the body to heal alone or in combination with other healing modalities.
How it works.
Sound healing frequencies entrain and synchronizes brain waves to a theta state, achieving profound states of relaxation, helping to restore the normal vibratory frequencies of the cells in our bodies.
It activates our parasympathetic nervous system to a rest and digest state, bringing immediate relief from the fight or flight response.
The earth and our entire body are made up of energy, all vibrating at different frequencies. When we are out of rhythm in our natural frequency, disease and dis-harmony are able to manifest. It is through the vibration during a sound healing that our energy channels are able to release any blockages.
Studies have shown that SOUND has a direct impact on our mental processing, muscles, nervous system, pulse and heartbeat, as well as digestive and circulatory systems. Crystal Bowl Sound Healing is one of the most dynamic forms of sound healing found today.
Benefits of a Sound Bath Healing
✧ Resets the central nervous system
✧ Balances the bodies energetic system
✧ Slows down the production of stress hormones
✧ Relieves sleep disorders, improves quality of sleep and reduces insomnia
✧ Invites a calm and clear mind, thus improving concentration & decision making
✧ Lowers blood pressure
✧ Promotes healing to specific physical, emotional and spiritual imbalances
✧ Connect with your own body and emotions on a deeper level
✧ Alleviates emotional blockages such as anxiety, grief, depression
Yoga mats provided. Please wear comfortable clothing and bring a bottle of water for after.
www.christinagracehealing.com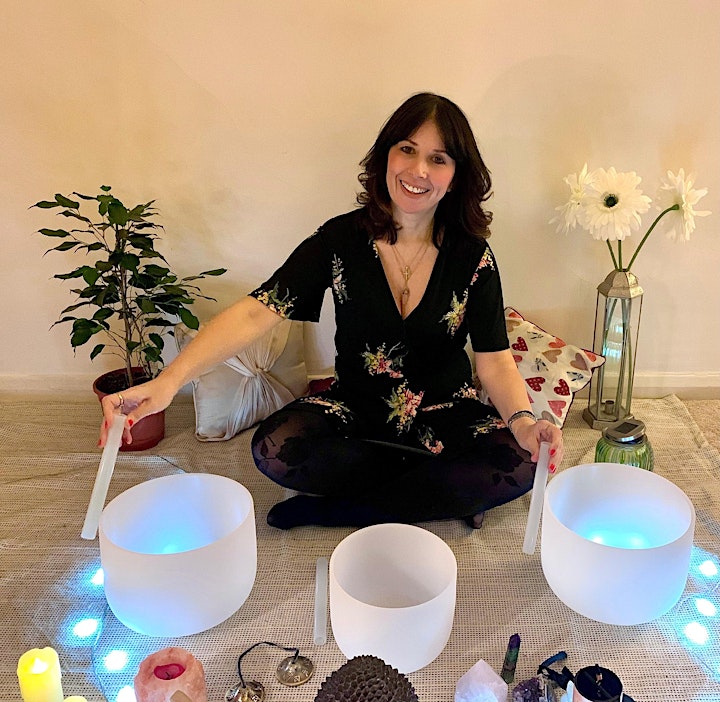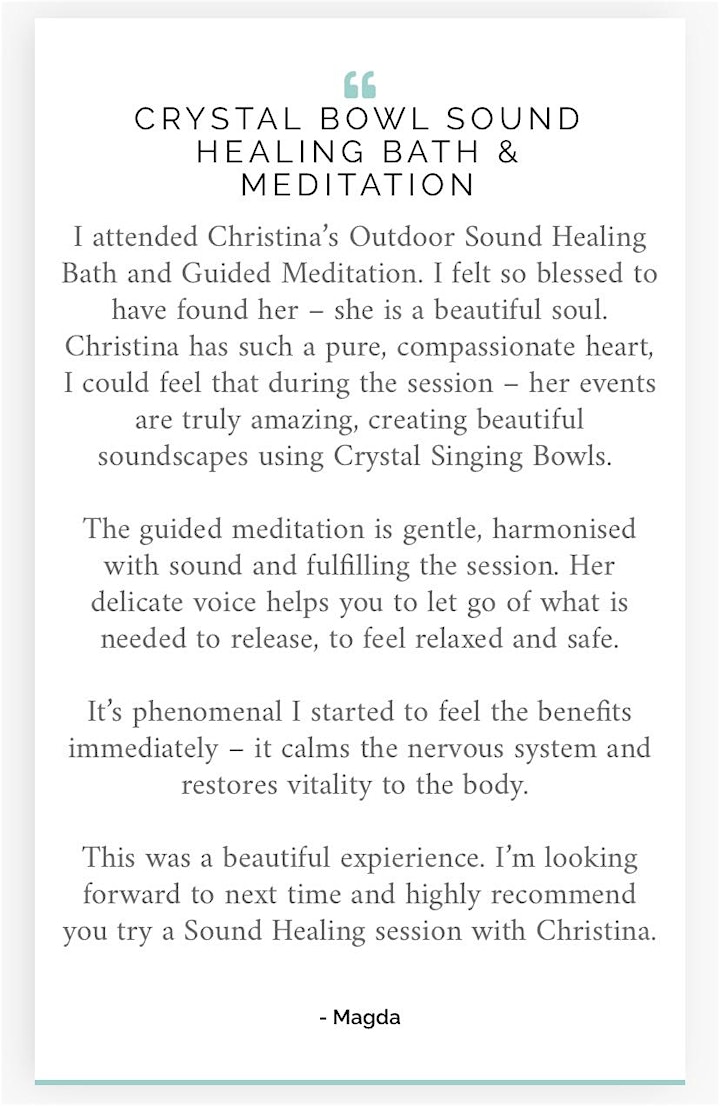 Organiser of 1 Hour - Crystal Bowl Sound Bath Healing Meditation
Welcome to Christina Grace Healing.
Certified Meditation Teacher, Sound Healing Therapy & Reiki Energy Healer.
I offer a combination of several healing modalities through my events. Ranging from group classes, 1:1, outdoor events, indoor events, day retreats & weekend retreats.
Info@christinagracehealing.com
London based.