1_Teacher Experience & Practice during Covid:ICET/MESH online Symposium2020
Invitation to register: ICET/MESH International Symposium Teacher Experience & Practices in the time of Covid-19. Oct.8th repeated Oct.15th
About this event
ICET/MESH International Symposium
Thursday 8th October 3pm London time, repeated
Thursday 15th October 2pm Tokyo time
Teacher Experience and Practices in the time of Covid-19
This Symposium is open to all with an interest in teacher experience at the time of COVID-19.
To accommodate colleagues living in different time zones, the Symposium will be repeated. The first symposium is being held on Thursday 8th October, 10 am New York time, 3pm London time and the second on Thursday 15th October 2pm Tokyo time. These times mean the symposium is accessible during working hours around the world. The Eventbrite bookings are registering for the the UK and Tokyo times, but times have been chosen to be inclusive. Please register for a ticket at either or both events. You will then be emailed joining instructions.
Programme highlights
- meet up with educators from different countries
- discuss the interim research report from teachers across 30 countries which will be shared with participants
- contribute your experiences and comment on the report
The focus for the symposium and for discussions in breakout rooms will be teachers' experiences at the time of COVID-19. Teachers in countries around the world have faced extraordinary challenges during 2020 as they were asked to adapt within days to remote and home schooling because of school closures to limit the spread of COVID-19.
 During the Symposium initial findings from our new research into teachers' experiences will be presented. This research is being undertaken in 30 countries across all UNESCO regions. Those attending will be invited to participate in small group breakout sessions (English, Spanish, Portuguese) to share their views on the report and how teachers and education systems can be better prepared and supported to ensure continuity of learning in times of crises. These ideas will be documented and included in the final report titled A Global Report of Snapshots of educator experiences during COVID- 19: Their recommendations for the future. This report will be shared with international organizations in the hope they can help to shape future policy. The report will also be circulated to all symposia participants.
The research is being undertaken voluntarily by members of ICET (www.icet4u.org) and the MESHGuides network (www.meshguides.org) during the period June - September 2020.
We look forward to meeting up with you.
Carol Gentles, Chair ICET, and University of the West Indies, Mona, Jamaica. E:  carolhordattgentlesicet@gmail.com
Marilyn Leask, Co-chair MESHGuides, and De Montfort University, UK. 
E:  enquires@meshguides.org t: +447568520447 
 Background to the Symposium and the Research
The COVID 19 pandemic has created challenges for education that are unprecedented with implications for significant changes in how we think about and practice the work of teaching and learning. The International Teachers Task Force (ITTF, 2020) estimates that "around 63 million primary and secondary teachers around the world were affected by school closures in 165 countries" due to the pandemic. This placed teachers "on the frontlines of the response to ensure" that learning continued for 1.5 billion students worldwide. In rising to this challenge many teachers had to shift rapidly from accustomed ways of teaching in physical classrooms to teaching online. In contexts where this was difficult or not possible, teachers had to figure out unconventional ways to reach vulnerable and marginalized students.
Initial reports (ITTF, 2020; EI, 2020) suggest that while the response of teachers in the first stages of the pandemic has been described as heroic and praiseworthy, it has also affected them psychologically and professionally. In many instances, for example, teachers worked during school closures without adequate socio-emotional support. Many functioned in a climate of fear and anxiety around their own safety and that of their families, while adapting to working from home. Teachers also had to figure out how to adjust curricula, their pedagogy and practice for online or other delivery without professional training or support. Currently, as countries start moving towards reopening schools, (although the threat of the pandemic is not over) expectations for teacher work have changed again, Not only are they expected to return to physical classrooms and continue providing quality learning for all students. They are also expected, at the same time, to play key roles in making schools into safe spaces.
Critical to the success of planning for and managing this new normal in education, is the development of policies guided by the firsthand experiences of teachers. This view is supported by the call from the ITTF (2020) to "include teachers in developing Covid-19 education responses . . . at all steps of education policy-making and planning." It speaks to the notion that "teacher voice is a critical element in any successful approach" (Armand, Doucet, Netolicky, Timmers & Tuscano, 2020. p. 2) to delivering quality education in this time of Covid -19, and indeed in times of any future global crises. This is so because it is teachers who know their students and know where they were academically when schools shut down. It is teachers who have monitored their students' social-emotional and mental health (Ibid, 2020), communicated with students' parents and tried to support their students' transition to online learning. In situations where online delivery was problematic and students could not be reached, it was teachers who noted and monitored the increasing marginalization of their students. It was teachers who strategized and led the search for ways to connect with students. It is also teachers who experienced having to function without proper support. It is thus teachers who are best positioned to offer insight into the types of professional learning opportunities and training they need to function effectively now and in the future.
Thus, the premise that underpinned the ICET/MESH research is that listening to and documenting the voices of teachers must be a core part of charting the way forward for education in this unprecedented time. The project therefore is gathering data on the experiences and practices of teachers during the time of Covid-19. It is doing this through a series of online focus group discussions with teachers in thirty different contexts across the globe. These discussions will aim to gather data in response to five key questions:
How have teachers' jobs changed since the pandemic?
What strategies have they found useful?
What strategies/practices do they want to continue using?
What do they see themselves doing differently in the future?
What do teachers see as challenges for sustaining education during times of crisis?
The proposed outcome of this project is a report titled Global Report of Snapshots of educator experiences during COVID- 19 and their recommendations for the future. This will be significant in helping global stakeholders to construct knowledge about teacher pedagogy, practice, and professional learning, which by extension, can inform the types of curriculum policy and planning needed during times of pandemic.
The project is being conducted by a network of researchers situated across the globe in thirty different countries. Each researcher is interviewing ten to fifteen teacher interviewees to an online group discussion guided by the key questions highlighted above. Each discussion is being conducted in accordance with strict ethical guidelines for protecting the privacy and rights of participants. Participants are asked to sign informed consent forms before the start of the discussions. They are advised of their right to withdraw at any time from the discussion and study. They are also asked to consent to the discussion being recorded for purposes of transcription and analysis.
References
Doucet, A., Netolicky,D., Timmers, K., & Tuscano, F.J. (2020).Thinking about Pedagogy in an Unfolding Pandemic. An Independent Report on Approaches to Distance Learning During COVID19 School Closures. Independent Report written to inform the work of Education International and UNESCO. Version 2.0 | 29 March 2020. https://teachertaskforce.org/sites/default/files/2020 04/Thinking%20about%20Pedagogy%20in%20an%20Unfolding%20Pandemic.pdf
Education International (2020). International Summit on the Teaching Profession 2020: Teachers recognised as the heroes of the Covid-19 crisis in education. https://www.ei-ie.org/en/detail/16814/international-summit-on-the-teaching-profession-2020-teachers-recognised-as-the-heroes-of-the-covid-19-crisis-in-education
International Teachers Task Force (2020). Response to the COVID-19 Outbreak - Call for Action on Teachers. https://teachertaskforce.org/knowledge-hub/response-covid-19-outbreak-call-action-teachers-0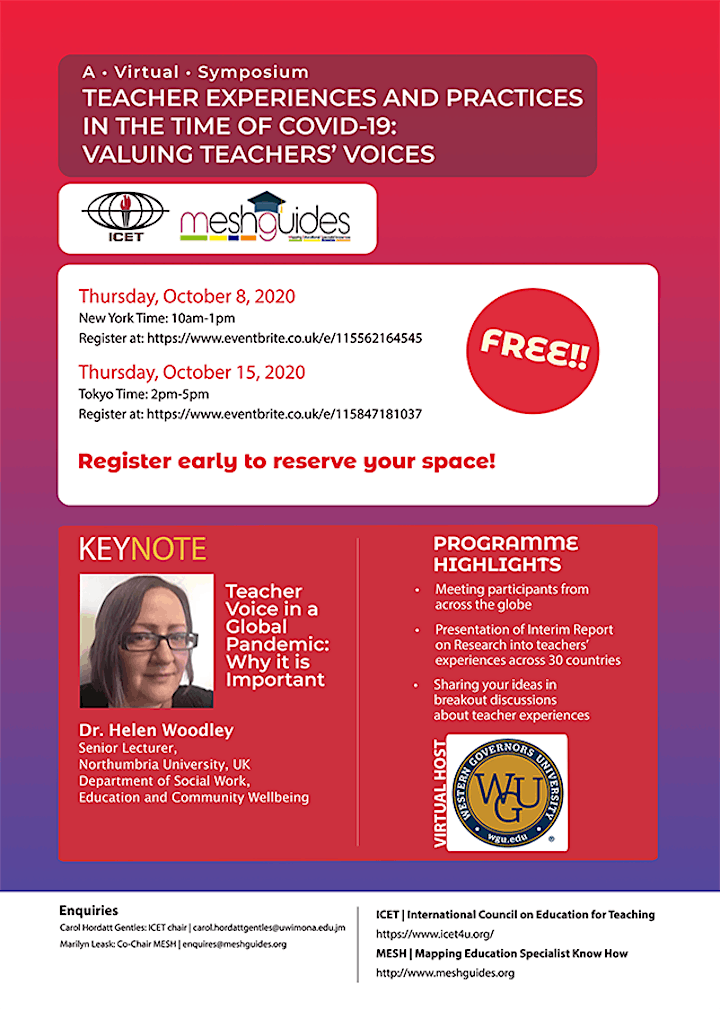 Organiser of 1_Teacher Experience & Practice during Covid:ICET/MESH online Symposium2020
The Symposium is organised by Hudson, Leask and Younie who are editors of the book: Education System Design: foundations, policy options and consequences (2021) Abingdon: Routledge. The chapters for the book provide underpinning knowledge for the webinars.
The authors support the following charity to which any donations will be sent:

Aims of the Education Futures Collaboration charity:
Improve student attainment
Improve the quality of teaching in schools, further and higher education
Provide newly qualified educators with ongoing support
Provide access to research informed professional knowledge for educators
Find new and practical ways to improve educators' knowledge and educator quality including the use of technologies to give cost effective solutions
Create a joined up profession, linking research with best practice in all schools, further and higher education for the benefit of student learning
Break through barriers in student learning, teaching and learning of particular concepts
Join up the pockets of excellence in teaching and evidence based practice.