About this event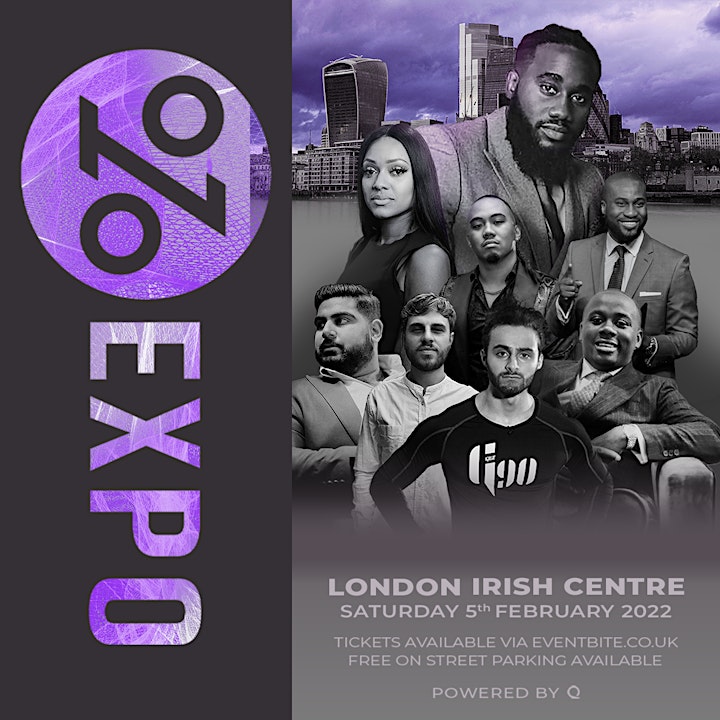 Q Presents 1%
A revolutionary event packed with value.
Tobi Arayomi, the founder of Q, now welcomes industry experts and disruptive entrepreneurs to put you on the path of revolutionary success.
An event that will change your perspective and inevitably change your life, as you gain insight from those who have succeeded.
From fitness to real estate, e-commerce to AI technologies, there are now multiple ways to achieve success, your eams and aspirations.
Come and learn from those who have mastered these things as they share their principles and industry secrets!
GUEST SPEAKERS
• Chido Gideon - Leadership in 2022
Chido Gideon has a background in Project Management within the financial services sector. He is the founder of a leadership academy called Servant King Academy, as well as an established entrepreneur, trader and investor.
• Miguel Pascual - What to know about Cryptocurrencies, NFT's and Futurism
Miguel Pascual has found success in business since the age of 17. He has spent the last several years as a serial entrepreneur in the blockchain space having founded a blockchain consultancy, as well as co-founding an artificial intelligence fund in the financial market space.
• Sanmi Adegoke - Property Investment; How To Do It Right
Sanmi Adegoke is the CEO of Rehoboth Property International (RPI), an award-winning entrepreneur, a leading UK Real Estate Developer & Philanthropist. His company specialising in acquisition, investment and development. He has built RPI from 5 clients, to more than 3,000 today.
• Ilya Aundre - The Secrets to Success with E-Commerce I
Ilya Audre has been doing e-commerce full time for 3 years and has built multiple 6 figure businesses online. He specialises in business models such as drop shipping as well as traditional fulfilment on marketplaces like eBay & Amazon, as well as direct via his own websites. His multiple successes have allowed him to travel around the world.
• Faz Yasin - The Future of Q
Faz Yasin is I'm the COO of Q and an accomplished ex-Venture capitalist. He was also a NASDAQ featured entrepreneur. Faz can also boast that he has raised approximately 4 million in funding rounds for start ups.
• Tobi Arayomi - Three Steps to Making 2022 Work for You
Tobi Arayomi who is the founder and CEO of Q, is well versed in the trading industry and has acquired over 10 years worth of industry knowledge. Through his knowledge and educational skills, he has taught thousands and has helped even more become financially independent and free. His driving motto is "financial freedom" and utilised his business Q to help not only those in the UK, but also those in Africa, America and in Europe.
Your special Host for the day, Action Jackson
We will also have a dedicated Q&A segment where you, the audience, will have an opportunity to ask questions to our panellists and guest speakers.
So, if you're ready to take the next step to elevate your life and make a change, you really can't miss this value packed day! Come along and get your friend to come with you.
This event is both in person and virtually on zoom too!
See you at the top!
*Please note as a ticket holder you consent to filming and sound recording as members of the audience (either virtually or in-person). The images and likenesses will be used by Q Corporation LTD on Websites, Social media, print and digital promotional material. If you wish to not be captured by any form of recording please contact us in advance of attendance of your event .
TRANSPORT INFORMATION:
Free on street car parking available
Nearest tube station - Camden Town (Northern Line)
Nearest Overground station - Camden Road
Buses: 253, 274, 29