Description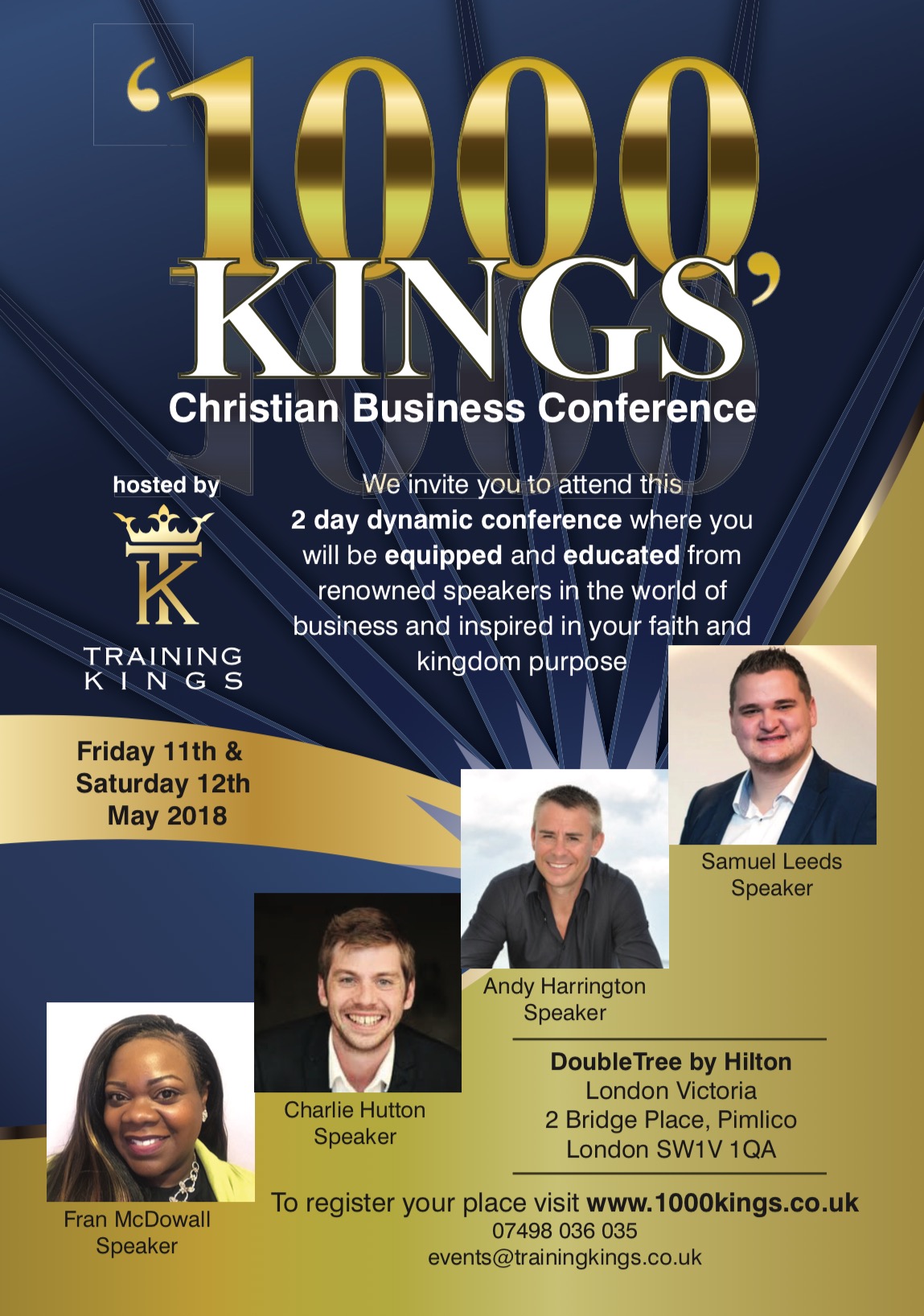 What is '1000 Kings?'
'1000 Kings' is our upcoming Christian Business Conference hosted by Training Kings, the UK's largest Christian Business Network. This dynamic 2-day conference will take place on

Friday 11th May and Saturday 12th May 2018

at the DoubleTree by Hilton Hotel in Victoria, London.
The '1000 Kings' Conference will train, equip, support and empower Christians in business as well as those wanting to launch out in business. There is something amazing that happens when two people agree, what more when you have a roomful of people agreeing for your success in word, deed and action.
This will be a power packed 2 days and give attendees an invaluable opportunity to connect with believers from across the UK, hear from our world renowned speakers and be re-ignited to pursue purpose in business, ministry and life. You will hear from Executives, Authors, Property Investors, Coaches, Professional speakers, Business Mentors and Marketing experts amongst others who are willing and wanting you to develop and succeed. There will also be sessions of Encouragement in the Word, testimonials and a worship service.
This conference is open to everyone including those of others faith, and or no faiths - all are welcome.
This dynamic Conference will be hosted by Training Kings founder and Director Samuel Leeds, so be prepared for a life changing experience.

We hope you can join us. Places are limited so book on TODAY. If you have any queries please do not hesitate to contact us events@trainingkings.co.uk or call us on 0330 010 2247 / 07498 036 035
Blessings
Training Kings Leadership Team
www.trainingkings.co.uk
GENERAL INFORMATION:
Conference Timings
Friday

9.30am - 9pm

(Registration open from

8.30am

)
Saturday

9.30am - 6pm

(Registration open from

8.30am

)
Transport
The ​Doubletree by Hilton Victoria is conveniently located opposite Victoria Station in London with tube, coach and train connections.


​Parking

The hotel does not have its own parking, but the following parking is available less than 5 mins walk from the hotel;

NCP London Victoria, Semley Place, London SW1W 9QL. or further information and rates visit www.mcp.co.uk
London Victoria Station - APCOA Parking.For further information and rates visit www.apcoa.co.uk


Accommodation
You can contact the hotel to ook a room, alternatively look online for suitable accommodation that will best suit your needs, from websites such as;


Facilities
The hotel is accessible and suitable for individuals with limited mobility, for specific queries contact the hotel directly.


Food/Drink
There are numerous eateries and outlets a few minutes walk from the hotel where you can purchase food and drinks in the break times.
The hotel also has their own restaurant and coffee bar area