Sales Have Ended
Registrations are closed
You have joined the flock... Thank you for registering! After online registration you'll need to pick up your participant (or flock sticker!) sticker to display at your home/venue. All you need is your order number (9 digit code) which is displayed on your e-ticket and exchange it for a sticker at selected pick up/registration venues. Pick up points/registration venues : The Mill, Coppermill Road Stow Brothers, Hoe Street E17 Art House hoe Street Debbie Bliss Home, Orford Road Station yard Café, Wood Street
Sales Have Ended
Registrations are closed
You have joined the flock... Thank you for registering! After online registration you'll need to pick up your participant (or flock sticker!) sticker to display at your home/venue. All you need is your order number (9 digit code) which is displayed on your e-ticket and exchange it for a sticker at selected pick up/registration venues. Pick up points/registration venues : The Mill, Coppermill Road Stow Brothers, Hoe Street E17 Art House hoe Street Debbie Bliss Home, Orford Road Station yard Café, Wood Street
Description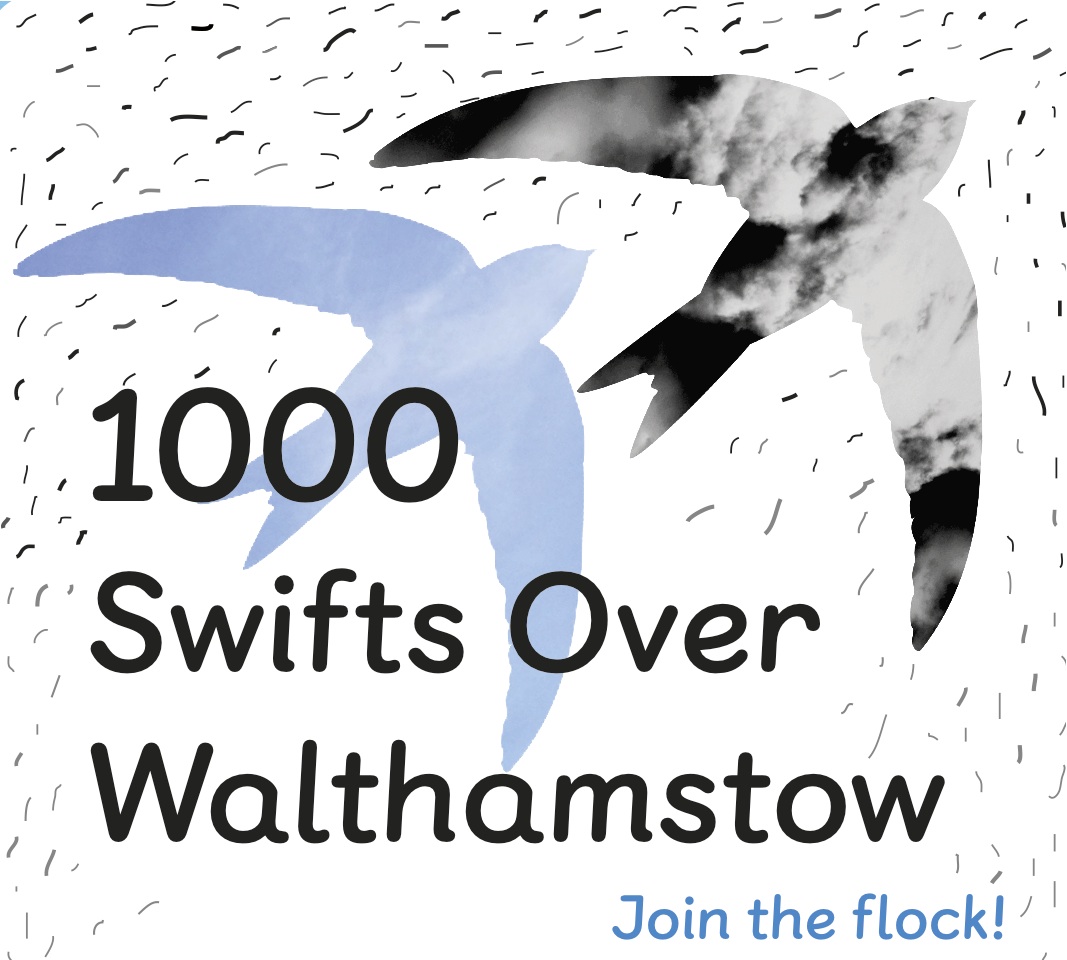 1000 Swifts over Walthamstow

Join the flock!
Walthamstow is getting a wetland - the biggest urban wetland in Europe. Although the land belongs to Thames Water the wetland has been created with public funds and it is part of our cultural commons. To celebrate the opening of the Wetlands and to ensure artists, makers and creators are fully involved with the site and the new gallery that is being created in the old Engine House, we have formed '1000 Swifts over Walthamstow' and we want to invite you to be involved.

Swifts are iconic to the reservoirs but they are also at risk as they are losing their nesting places in urban development. To be part of the flock, make a beautiful and unique Swift from sustainable or recycled material and attach it to your house or display it in the window nearest the street of your home, businesses, care home, community centre, school, local wasteland, tree or wall.
** Please state the address where you are exhibiting if different from your home address. If you are signing up as a business or as a group we just need the physical address of where the swifts can be found. Because there isn't an option on the form just add it to where it asks for your "home address".

We are hoping to have 1000 registered Swifts displayed by mid May in time for the Art Trail in June. Register your swift and receive a window sticker to display with an arrow pointing in the direction of the Wetlands.
All participant roads will be marked on a map as part of the Art Trail and there will be a prize for the person who finds the most swifts across Walthamstow. Makers are encouraged to share their skills and there will be swift-making workshops to look out for.
So regularly visit the social media sites to follow the flock!
Face Book: https://www.facebook.com/1000swifts/
Instagram: https://www.instagram.com/1000_swifts/
Twitter: https://twitter.com/1000swifts
Save