The Network for Developing Photographic Research invites you to attend the final event in our monthly series, '1000 Words'
About this event
The idea behind this event series is very simple: each speaker selects one photograph, uses it to write roughly 1,000 words reflecting on a key aspect of their research and presents it in the form of a ten-minute talk.
For the final event in NDPR's 1000 Words series, we have two brilliant speakers lined up whose talks engage with photographs using critical approaches of 'co-creation' and 're-storying'.
Our first speaker, Katie Vann (Royal Holloway University/Royal Geographical Society with IBG) will focus on an anthropological photograph of an unnamed Makushi man taken in 1884 by colonial administrator Everard im Thurn in British Guiana. She will use this to explore the extent to which archival research and contemporary community engagement can 're-story' colonial photograph collections.
Our second speaker, Katy Thornton (King's College London, IWM) will focus on about a conflict photograph taken by Tim Hetherington featuring youth combatants in Liberia in 2003. She will use this to reconsider the subjects of a photograph as a 'co-creators' and ask what can we learn about how young combatants in the Liberian and Sierra Leonean civil wars constructed performances influenced by both local and global visual cultures.
After both talks , there'll be time for a short Q&A where we'll welcome any questions, comments and reflections.
Please access via Zoom using the following link:
https://cardiff.zoom.us/j/82457633808?pwd=RC9QUHgxUzlyamRPN0NBcE1SajBHQT09
Meeting ID: 824 5763 3808
Password: 160400
Please note that both talks will be recorded and posted on our website (https://developingphotoresearch.wordpress.com/), so check those out if you're unable to attend on the day.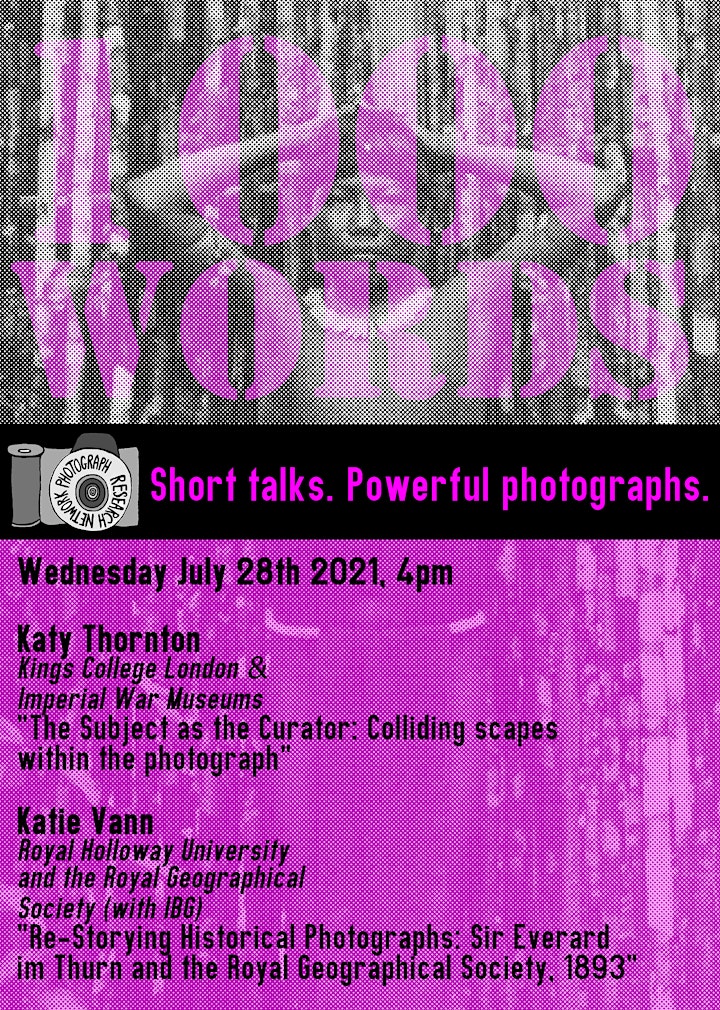 Organiser of 1000 Words: Short Talks, Powerful Photographs