About this Event
**PLEASE READ THE FOLLOWING BELOW **
Please register for a ticket via this Eventbrite page. The link to join the Zoom webinar is provided below:
You will receive the above link at the BOTTOM of your confirmation email in the "ADDITIONAL INFORMATION" section.
Pease ensure you have downloaded the Zoom app (FREE) on your phone, iPad, tablet, computer etc. before the event to be able to access the webinar
For the Q&A session, please send questions in readiness to:
BAMEhealthprosUK@gmail.com
Going Beyond Statistics- Impact of COVID-19 on BAME lives
As the cases of COVID-19 continue to increase across the world, evidence has shown that within the UK, those who are more at risk and are disproportionately affected by the virus are people from Black, Asian, and minority ethnic (BAME) communities.
Media reports showed that the first 11 doctors to sadly lose their lives to COVID-19 were all from BAME communities. The Office for National Statistics' (ONS) occupations and exposure to disease analysis looked at the characteristics of workers more likely to be in contact with other people, and therefore more frequently exposed to the coronavirus. One in five workers were found to be from black and minority ethnic groups, compared to the one in 10 of the working population, showing occupation is a determinant which increases the risk of mortality due to COVID-19.
This event aims to enhance better understanding of the risks of COVID-19 amongst the BAME community, provide insights on possible solutions to reduce such risks, and from understanding risks to developing & implementing impactful policy actions
There are a number of key things that will require immediate and long term action. Please view our full statement below which includes further details and signatories: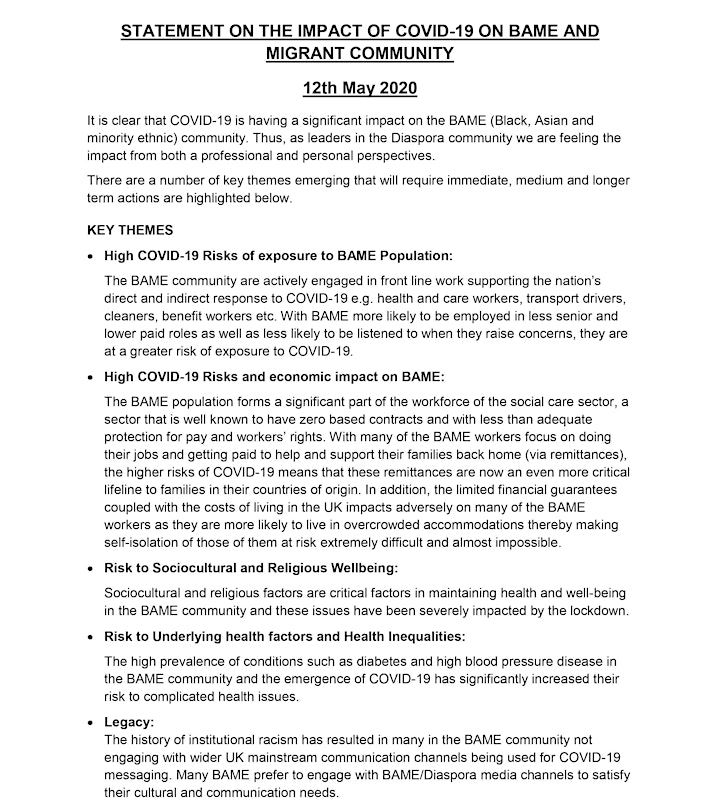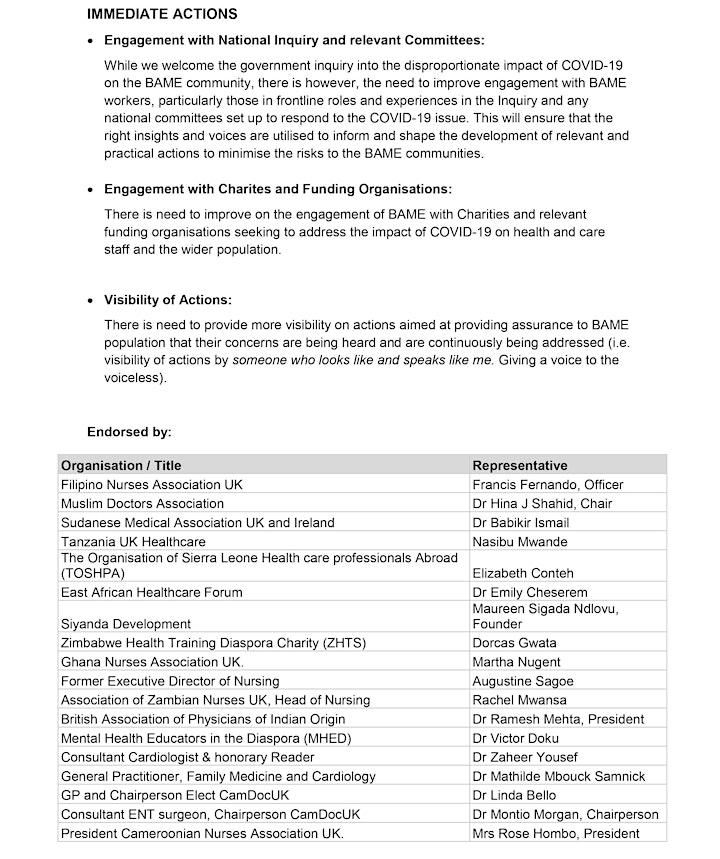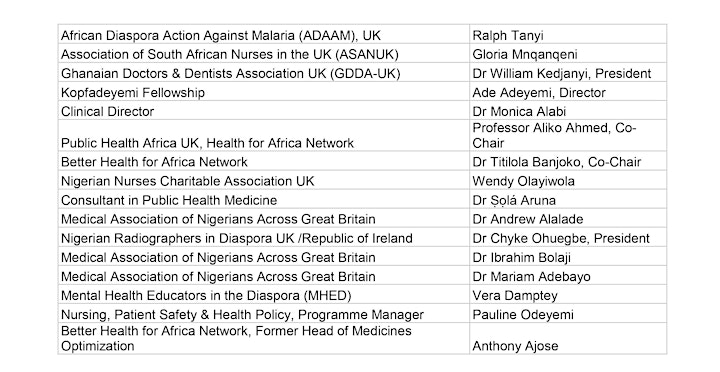 This event is brought to you by Better Health For Africa
Agenda
5.30-5.35pm – Zeinab Badawi opens
5.35-5.45pm – Prof. Aliko Ahmed sets context and invites Prof. Kevin Fenton
5.45-6.05pm – Prof. Kevin Fenton speaks about the government investigation he is leading- emerging issues and possible solutions
6.05-6.15pm – Zeinab Badawi leads Q&A in response to Prof. Kevin's speech
6.15-6.25pm – Dr Titilola Banjoko sets context to the diaspora impact in the UK and countries of origin
6.25-7.25pm – Zeinab Badawi leads an engagement and listening (Q&A) sessions from participants
7.25- 7.30pm – Prof. Aliko Ahmed/ Dr Titilola Banjoko- call to action
SPEAKERS:
Professor Aliko Ahmed- Speaker
Aliko is a public health physician, epidemiologist and global health strategist with about three decade of working experience in clinical, academic and public health practice. He is currently the Regional Director of Public Health England (PHE and NHS) for East of England, and previously the Director of Public Health for Staffordshire NHS & County Council. He has led and managed several major public health programmes with demonstrable improvements in outcomes.
His global health experiences include field work as a medical epidemiologist with MSF in Africa, supporting national disease control programme, and advising governments on evidence-based health policies and UHC. He has a special interest in translational research and sustainable health system solutions especially in Africa.
He is a member of several global health committees, Chair of UK Faculty of Public Health Africa Group, Co-Chair of the Global Health Bridge @University of Cambridge, and the co-convener of the Better Health for Africa Initiative. He is a senior fellow and professor at Chatham House, Cambridge and Staffordshire universities.
Dr Titilola Banjoko- Speaker
Dr Titilola Banjoko currently works as an executive director in the NHS. She has a clinical background. She successfully pioneered the formation of AfricaRecruit and FindaJobinAfrica.com.
She serves on the council of the Royal African Society; Trustee of Tropical Health and Education Trust, Board of Foundation for Women's Health Research and Development (FORWARD) and a Fellow of the Nigerian Leadership Initiative where she serves on its executive board.
In 2006 she was named as one of the Pride of a continent: Africa's gifts to the world, she has received numerous awards and endorsements over the last 10 years.
Professor Kevin Fenton, MD, PhD, FFPH- Keynote Speaker
Professor Kevin Fenton, MD, PhD, FFPH, is currently the Regional Director of Public Health England London and was previously the Public Health England National Director for Health and Wellbeing. In this role he oversaw PHE's national prevention programmes including screening for cancer and other conditions, Health Checks, national health marketing campaigns, public mental health, and a range of wellbeing programmes for infants, youth, adults and older adults. The Health and Wellbeing Directorate also leads PHE's Health Equity portfolio with a range of programmes and activities focused on addressing the social determinants of health, and promoting settings-based approaches to health improvement.
Professor Fenton was previously the director of the National Center for HIV/AIDS, Viral Hepatitis, STD, and TB Prevention (NCHHSTP), Centers for Disease Control and Prevention (CDC), a position he held for seven years from November 2005. He also served as chief of CDC's National Syphilis Elimination Effort and has worked in research, epidemiology, and the prevention of HIV and other STDs since 1995. Previously he was the director of the HIV and STI Department at the United Kingdom's Health Protection Agency.
He attended medical school in Jamaica, obtained his master's in public health at the London School of Hygiene and Tropical Medicine, and PhD in Infectious Disease Epidemiology at the University College London. He has authored or co-authored more than 250 peer-reviewed scientific articles and policy reports. He is a speaker in great demand and speaks Spanish and French.
Zeinab Badawi- Chair
Zeinab Badawi is the current Chair of the Royal African Society. Born in the Sudan, her family moved to London when she was two years old. Zeinab has extensive experience in television and radio, and is best known for her work on the BBC's 'Hard Talk', 'Global Questions' and 'World Debates'. Through her own production company she has produced and presented numerous programmes, including currently the definitive TV series of Africa's history in association with UNESCO.
Zeinab studied Philosophy, Politics and Economics at Oxford University and took a Masters Degree (awarded with a distinction) on History and Anthropology at SOAS - University of London. She has been awarded two honorary doctorates: from SOAS - University of London, and from the London College of Communications - University of the Arts London, for her services to broadcasting.
Her many awards include International TV Personality of the Year (the Association of International Broadcasters), the President's Medal by the British Academy for services to broadcasting, the May Chidiac Lifetime achievement award, and the MVISA Movie and Video Industry Lifetime Achievement Award. She has been named several times in the 'Black Power List' as one of Britain's top 100 most influential members of the black community. In 2018 she was one of the top 50 most influential African diaspora members according to African Leaders Magazine.