10th Anniversary Celebration of the Lau China Institute & China Week 2021 Closing Reception, 29th Oct 2021, Eighth Floor Bush House, Aldwych
About this event
The event will open with a silent auction of the selected pieces from the China Week Photography Exhibition: 'Seeing the Impacts of Climate Change' displayed throughout the week. The auction will feature guest speaker Yintong Bester, Founder and Director of Global SinoPhoto awards. Proceeds from the auction will be donated to Greenpeace Asia, an independent environmental charity. For more information about the charity, the exhibition and Yintong Bester, click here.
10th Anniversary & Closing Reception
The Lau China Institute is pleased to be hosting this celebration to mark the end of our inaugural China Week. 2021 is also our 10-year anniversary, which provides an opportune occasion for our students, researchers, alumni and supporters to come together and celebrate our achievements over the past decade.
At this event, we are honoured to be welcoming Dame Caroline Wilson DCMG, British Ambassador to China, to provide a virtual address to our China Week guests on aspirations for UK-China cooperation at the UNCOP26 on tangible climate action. We will also welcome special guest Dr Florian Schneider from Leiden University to provide a keynote address along with final remarks from the Director of the Lau China Institute, Professor Kerry Brown.
Please join us to mingle with old and new friends over canapes and drinks, as we thank you for your support and collectively look towards our future objectives in continuing to expand knowledge and understanding of China in the UK and abroad.
About the speakers:
Dame Caroline Wilson DCMG, British Ambassador to the People's Republic of China, British Embassy in Beijing
Caroline has been the British Ambassador to China since October 2020. Caroline joined the Foreign, Commonwealth and Development Office (FCDO) in 1995 after qualifying as a Barrister-at-law. She completed Mandarin language training at Beijing Normal University before taking up her first role overseas at the British Embassy in Beijing from 1997 to 2000. Prior to her appointment as the British Ambassador to Beijing, she had previously been the Europe Director at the FCDO from 2016 to 2019, Her Majesty's Consul General to Hong Kong and Macao from 2012-2016, and Minister Counsellor at the British Embassy in Moscow from 2008-2012. She has also formerly been the Deputy Director of the European Secretariat at the Cabinet Office and also Private Secretary to the Foreign Secretary from 2004 to 2006. Caroline speaks Mandarin fluently.
Prof. Kerry Brown, Director, Lau China Institute, King's College London
Kerry is a Professor of Chinese Studies and the Director of the Lau China Institute at King's College London. He is an Associate of the Asia Pacific Programme at Chatham House. He was formerly a Professor of Chinese Politics and Director of the China Studies Centre at the University of Sydney, Australia. Prior to academia, Kerry was a career diplomat, working for the British Foreign and Commonwealth Office as the First Secretary at the British Embassy in Beijing and then as the Head of Indonesia, Philippine and East Timor Section. He is also a graduate of the University of Cambridge. Kerry's main research areas include post-1949 Chinese history, Chinese international relations (particularly UK-China and EU-China relations), Chinese political economy, as well as Taiwanese and Hong Kong history and politics.
Dr Florian Schneider, Senior Lecturer, Leiden University
Florian is a Senior Lecturer in Politics of Modern China at Leiden University. He is the Managing Editor of the academic journal Asiascape: Digital Asia and is the author of China's Digital Nationalism and Visual Political Communication in Popular Chinese Television Series. His research interests include questions of governance and public administration in the PRC, Taiwan, and Hong Kong, political communication strategies and political content of popular Chinese entertainment, recent Chinese economic developments, as well as Chinese foreign policy. Florian's most recent work focused on the political contents of mainland Chinese films and popular Chinese television series, including their production process, censorship, broadcasting, and audience reception. Methodologically his work has combined critical discourse analysis, semiotics, and iconography, as well as the analysis of semi-structured qualitative interviews.
Yintong Betser, Founder, Global SinoPhoto Awards
Yintong is the Founder and Managing Director of ACTIVE Anglo Chinese Communications, a business and PR/marketing consultancy specialising in business between the two countries since 2001. This has enabled her to capitalise on her varied experience and draw upon her deep understanding of both Western and Chinese cultures, and to benefit her clients most effectively. Yintong is a regular contributor to the London Chamber of Commerce & Industry publication, London Business Matters, writing a column on themes and issues relating to China. She was also nominated as an ambassador for the Chamber. She is also the Founder of Global SinoPhoto Awards.
Hannah Bretherton, Impact & Engagement Manager, the Lau China Institute, King's College London
Hannah is leading the Lau China Institute's impact and engagement strategy, reaching new audiences by developing global partnerships, flagship events, digital media and publications. This includes leading the development of the inaugural China Week event series.
She is also the founder of The China Puzzle - a digital media channel designed to create constructive dialogue on China in the UK. Hannah has significant policy experience, having worked as an energy policy advisor for the New South Wales Government Department of Premier & Cabinet. She also led on policy advocacy and business-government engagement for the Australia-UK Free Trade Agreement in her role at the Australia-UK Chamber of Commerce.
Hannah began her career as a researcher at the Australia-China Relations Institute, the University of Technology Sydney, and went on to facilitate senior level strategic dialogue on China between business and government at China Matters. Her research has been published in peer reviewed academic journals including the Australian Journal of Politics and History, the China Economic Journal, and the Australian Journal of International Affairs. Hannah received First Class Honours in International Relations from the University of New South Wales and received two scholarships to study in China – at Lanzhou University and Shanghai Jiaotong University.
The event will be held on the Eighth Floor of Bush House, King's College London. Refreshments will be provided.
To tweet about the event, use the tags @lauchinainst on Twitter, and hashtags #ChinaWeek2021 #closingreception #COP26 #lauchinainstitute #10thAnniversary #kingscollegelondon.
For media and event inquiries, please contact lauchina@kcl.ac.uk.
This year's China Week forum at the Lau China Institute of King's College London is held in partnership with:
Chatham House (Asia-Pacific Programme)
Australian National University (ANU)
The China-Britain Business Council (CBBC)
The Great Britain China Centre
Society for Anglo-Chinese Understanding
Italian Institute for International Political Studies (ISPI)
China Biodiversity and Conservation Green Development Foundation (CBCGDF)
Oxford University Silk Road Society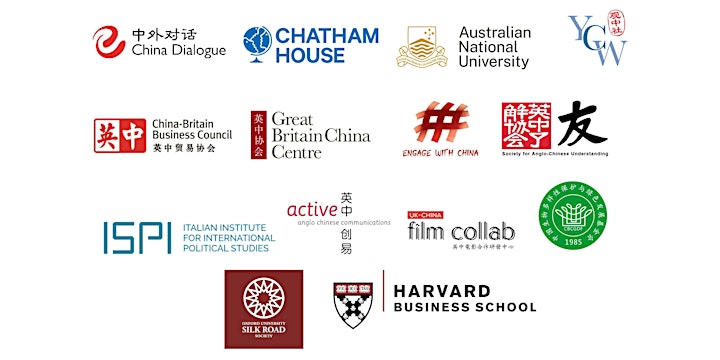 Organiser of 10th Anniversary Celebration & Closing Reception
The Lau China Institute is a global centre for the research, study and understanding of contemporary China. We aim to study both China and work with Chinese scholars and others. As such, we seek research collaborations and deeper mutual understanding with the People's Republic of China, ensuring we sit at the heart of King's strategic approach.
Established in 2011, we now have a community of core academics and postgraduate students, including roughly 30 PhD students. We are based within the School of Global Affairs, yet work across all nine faculties and beyond, to engage in multi-disciplinary and innovative research.
The Lau China Institute is based in Bush House, North East Wing, 40 Aldwych, London, WC2B 4BG, part of King's Strand Campus.