10th International Conference on Community-Based Adaptation (CBA10)

Friday, 22 April 2016 at 09:00

-

Thursday, 28 April 2016 at 12:00 (Bangladesh Standard Time Bangladesh Time)
Event Details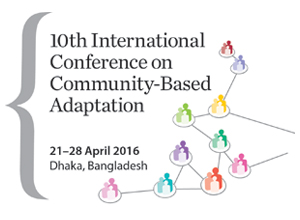 The International Institute for Environment and Development is pleased to invite registrations for the 10th International Conference on Community-Based Adaptation (CBA10).
This year marks the 10th anniversary of CBA Conferences.  The theme of this year's event is 'Enhancing urban community resilience'.
CBA10 aims to share and consolidate the latest developments in community-based adaptation practices, policy and theory across sectors globally. It aims to strengthen the existing network of practitioners, policymakers, planners and donors working on all levels of community-based adaptation, and enhance the capacity of practitioners, governments and donors to help improve the livelihoods of those most vulnerable to climate change.
The conference is being organised  in association with the Bangladesh Centre for Advanced Studies (BCAS), the International Centre for Climate Change and Development (ICCCAD) and the Independent University, Bangladesh.
IIED senior fellow Saleemul Huq said: "In 2016 we will look back over 10 years of CBA conferences for a retrospective evaluation. Over the years CBA conferences have focused on rural communities but, as half of the population is now urban, we have chosen 'enhancing urban community resilience' as the theme of CBA10".
Keynote speakers:
Confirmed speakers in the high level sessions include:
Prof. David Satterthwaite, senior fellow, Human Settlements Group, IIED

Dr Andrew Norton, director, IIED

Prof. Omar Rahman, vice chancellor, Independent University, Bangladesh (IUB)
---
Field visits
Optional CBA10 field visits will take place over three days ahead of the CBA10 conference, with a welcome and briefing dinner on 21 April. Participants will depart early in the morning of 22 April for visits to CBA projects in different ecosystems across Bangladesh, and will return on the afternoon of 24 April.
We will shortlist a number of CBA projects around Bangladesh at the beginning of the year. We will contact you in March 2016 with details and ask you to select your preferred field visit options.
---
Conference
The CBA10 conference will begin on the morning of 25 April. The three-and-a-half-day conference will include plenary and parallel interactive sessions, hands-on learning approaches, group discussions, high-level speaker panels, video competitions, poster presentations and more. The conference will close at midday on 28 April.
Download an outline programme (PDF).
---
CBA10 conference with field visits
22-28 April 2016, Dhaka, Bangladesh (includes welcome dinner on 21 April)
Fee: £1,000

Includes:
Registration to the field visits and three-and-a-half-day conference 

Field visit welcome and briefing dinner on 21 April

Travel to/from your chosen field visit(s)

Accommodation on nights of 21, 22 and 23 April

Breakfast, lunch, dinner and refreshments on field visit(s)

Dedicated field visit leader and support staff

Lunch and refreshments throughout conference

Conference opening dinner on 25 April, and

CBA10 conference pack.
Excludes: International travel, local travel apart from field visits, accommodation outside of field visits, visa, and travel insurance. There is no field visit only ticket option available.
CBA10 conference only
25-28 April 2016, Dhaka, Bangladesh
Fee: £700

Includes:
Registration to the three-and-a-half-day conference

Lunch and refreshments throughout conference

Conference opening dinner on 25 April, and

CBA10 conference pack.
Excludes: International and local travel, accommodation, visa, and travel insurance.

---
How to register
Follow the instructions above to to register for CBA10.
Spaces will be allocated on a first-come, first-served basis until 5 April. Spaces fill up quickly, so we encourage you to register early in order to secure your place.
Unfortunately we do not have funding available to sponsor participants for this event.
Once you have registered the CBA team will send you regular email updates, including logistics information, guidance on travel, accommodation and visa processes, as well as news and programme updates. If you have any questions about the conference or registration, email us at cbaconference@iied.org.

---
Travel
You are responsible for arranging your own travel, accommodation, visa and travel insurance. We will arrange discounts with local hotels and will publish details online in January 2016.
Calendar 
21 April: Field participants arrive in Dhaka for welcome and briefing dinner
22 April: Field visits day one
23 April: Field visits day two
24 April: Field visits day three/conference-only participants arrive in Dhaka
25 April: Conference day one and opening dinner 
26 April: Conference day two
27 April: Conference day three
28 April: Conference closing sessions (conference ends at midday).
If participating in a field visit you should arrive in Dhaka on or before 21 April. 
If attending the conference only you should arrive in Dhaka on or before 24 April.
---
Latest information
For full and up-to-date information, including details regarding travel, visas and accommodation, please visit our website: www.iied.org/CBA10
---
Registration and payment methods 
Payments can be made by Mastercard, Visa, Visa Debit and American Express credit cards. Please have your card details ready when registering, as well as your personal and passport information.
If you have any problems please email cbaconference@iied.org.
Upon completion of payment and registration you will receive a confirmation email from Eventbrite. Please keep this email for future reference.
Refund and cancellation policy
You will be eligible for a ticket refund if you notify the organisers before 22 March, 2016. The level of refund you will receive depends on the date of notice. If you are eligible for a refund the funds will be processed five days after the event has ended. You will receive:
90% refund if cancelled before 22 February, 2016 (10% admin charge)

50% refund if cancelled between 22 February and 22 March, 2016

No refund if cancelled after 22 March 2016.
The notification of cancellation should be made in writing to cbaconference@iied.org.
---
Disclaimers
All participants are responsible for securing their own travel insurance. Field visit participants 

may spend a lot of the day walking in hot temperatures. By registering for field visits, the 

participant confirms that his/her health is adequate

IIED reserves the right to postpone or cancel the conference or transfer it to another site if 

unforeseen circumstances warrant such action

In the event that the conference or field trip cannot be held or is postponed due to events 

beyond the control of the organisers, or due to events which are not attributable to wrongful 

intent or gross negligence of the organisers, IIED cannot be held liable by delegates for any 

damages, costs or losses incurred, such as travel, accommodation, insurance, visa 

applications and other related costs. Under these circumstances IIED reserves the right to retain 

the ticket fee of the participant

The event will be photographed and/or videotaped on behalf of the organisers for display, 

distribution and broadcast, including on television and via the worldwide web. By attending 

or participating in this event you agree to give your consent to be photographed and/or 

videotaped, and waive any claims regarding the use of your image or contribution.

By registering you agree to receive periodic emails from cbaconference@iied.org strictly 

related to important CBA conference announcements. We will not share your information with

any third parties but will continue to contact you after the event with future CBA

announcements. You can opt out at any time.
When & Where

Dhaka
Bangladesh

Friday, 22 April 2016 at 09:00

-

Thursday, 28 April 2016 at 12:00 (Bangladesh Standard Time Bangladesh Time)
Add to my calendar
Organiser
IIED promotes sustainable development, linking local priorities to global challenges. We support some of the world's most vulnerable people to strengthen their voice in decision making.