About this Event
Grant Cardone's Biggest Business and Sales Secrets Revealed...
Learn from the #1 sales expert, Grant Cardone and his team. Crack the code to quota busting sales secrets. Build your sales process, identify your immediate growth opportunities, and put together your plan for your 10X sales push. This Workshop is guaranteed to be the most comprehensive and impactful 3-hour workshop you have ever attended.
Official event page: www.10xyoursales.co.uk
What You Will Learn
#1 SALES SECRET & How To Overcome The Most Common Objections, PLUS:
Learn how to sell to Today's informed customer
Learn how to develop a bulletproof sales process
How to sell more product faster
How to become a top producer even if you hate selling
How to accelerate your sales in a new sales role
How to build trust and confidence with your prospect in an instant
Quota busting sales action plan
How to build a pipeline bursting with Prospects
How to become a master of the ONE call close
Brought to you by,
Your Wealth Education (YWE), in partnership with Grant Cardone and Thrive Assets, provides business, sales and marketing education to business owners and entrepreneurs across the UK. We are a team of experienced entrepreneurs, coaches, trainers and mentors with a passion for business and serving others.
"If you're tired of not making enough sales, losing out on deals, struggling to find enough leads, you and your team should attend this 1-day Bootcamp!"
Having become the UK's first Grant Cardone License partner, YWE's training events and bootcamps now deliver even more impact and bang for your buck!
We have the exclusive privilege of being able to deliver the best kept sales, business and marketing secrets and strategies developed by Grant Cardone himself (for a fraction of what you'd pay normally).
The 10X Your Sales Workshop is designed specifically for business owners, entrepreneurs and professionals looking to 10X their results!
This event is for people who are looking to level up their sales game and want to learn more about the amazing sales secrets that Grant Cardone has developed over 30 years of being in the game.
This event is going to be content rich. You will be blown away by what you'll learn in just one day and we intend for you to become our next success story in the months ahead!
You'll be trained on the day by one of Grant's top Certified Coaches based right here in the UK. He's personally closed over £20 million in sales in the last 3 years and is an expert when it comes to training and helping others succeed.
This event is strictly limited to a small number of people, as we want to over deliver and have enough time to go around the room and deliver a personalised training and coaching experience to make sure you get the most out of it.
Tickets Will Sell Out Fast!! So Don't Miss Out!
BOOK YOURS NOW!
-----------------------------------------
#SALES #MARKETING #BUSINESS #RESULTS #BUSINESSTRAINING #SALESTRAINING #SALES&MARKETING #COACHING #INVESTMENTS #EDUCATION #BUSINESSEDUCATION #GRANTCARDONE #PHONESALES #DIGITALMARKETING #INTERNETMARKETING #SPEAKING #ENTREPRENEUR #MOTIVATION #SELLING #OBJECTIONS #MONEY #INCOME
UPGRADE TO VIP AND GET LOTS MORE VALUE!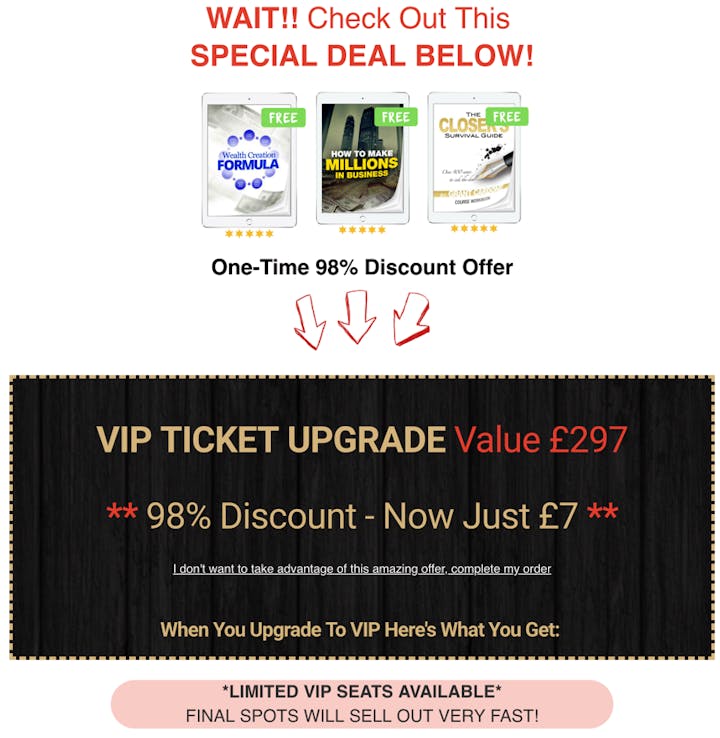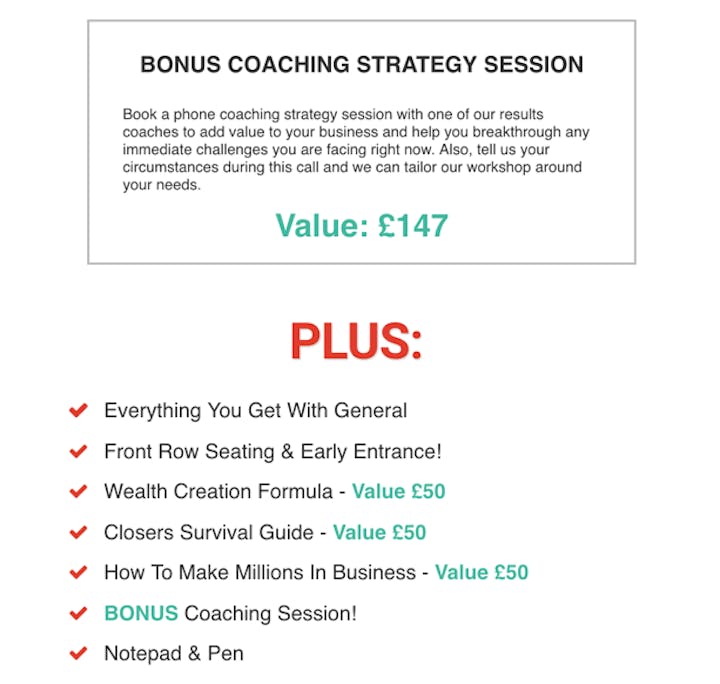 UPGRADE TO VIP PLUS TICKETS AND GET AMAZING VALUE FOR MONEY!