Sales Have Ended
Ticket sales have ended
Thank you for your booking. Access to this course will be emailed to you within 24 Hours. Regards Acumen Envision
Sales Have Ended
Ticket sales have ended
Thank you for your booking. Access to this course will be emailed to you within 24 Hours. Regards Acumen Envision
Technologies Covered: AWS Cloud formation, Azure resource manager, EC2, S3, Route53, VPC, Azure App Services, GCP and more.
About this event
Distance Learning Cloud Architect MasterClass Program
Includes: 11 Courses, Over 292 Hours of Virtual Live Instructor Led Training, 128 Hours Self-Paced Study, 6 Real World Projects, Assessment & Certification
Duration: 6-8 Weeks (Based on part time study)
Global Access: Virtual Live Classroom Courses available in multiple time zones weekday & weekend
Instant Access Enrolment
Overview
The Cloud Architect program is designed to make you an expert in cloud applications and architecture. It will enable you to master the core skillsets required for designing and deploying dynamically scalable, highly available, fault-tolerant, and reliable applications on three of the top Cloud platform providers — Amazon Web Services (AWS), Microsoft Azure and Google Cloud Platform. The program will give you an in-depth understanding of cloud services such as AWS Cloud formation, Azure resource manager, EC2, S3, Route53, VPC, Azure App Services, GCP and more. You'll acquire the knowledge and skills for passing cloud architect certifications such as AWS Architect and Azure Architect.
This program consists of a structured learning path designed by leading industry experts. You will have access to 60+ live instructor-led online classrooms, 100+ hours of self-paced video content, simulation exams, a community moderated by experts, and other resources that ensure you follow the optimal path to your desired role of Cloud Architect. The course includes 16+ real-world industry projects that let you work your way through the technical challenges associated with cloud computing.
What you will Lean
By the end of the program, you will be able to accomplish the following:
Understand the main principles of cloud computing and how they have been implemented in Microsoft Azure and AWS
Manage subscriptions, billing, and role-based access control regarding Azure users and groups
implement use cases and configuration options for Azure App Services and App Service environments
Design an Azure app service web app by using Azure CLI, Powershell, and other tools
Manage security and identity for Azure solutions implement AWS security and testing, and become an expert in AWS components such as S3, Dynamo DB, Elastic Beanstalk, and Cloud Formation.
How it Works
Once you enrol for the course you will receive a link giving you access the Learning Management Systems.
You will then be able to review each module in the leaning path and start to plan your study time and book your Live Class room session.
All of the project based session have virtual lab access setup will all software and tools pre installed.
Help is available 24/7 should you require any assistance.
Why Take the Course?
With the increasing focus on cloud computing and infrastructure over the last several years, cloud architects are in great demand worldwide. Many organizations have moved to cloud platforms for better scalability, mobility, and security, and cloud solutions architects are among the highest paid professionals in the IT industry.
According to a study by Goldman Sachs, cloud computing is one of the top three initiatives planned by IT executives as they make cloud infrastructure an integral part of their organizations. According to Forbes, enterprise IT architects with cloud computing expertise are earning a median salary of £ 85,000.
You are in Control of your Schedule and Courses
Plan you time and book onto the Live Instructor Led courses when you are ready via your Learning Management Systems Login.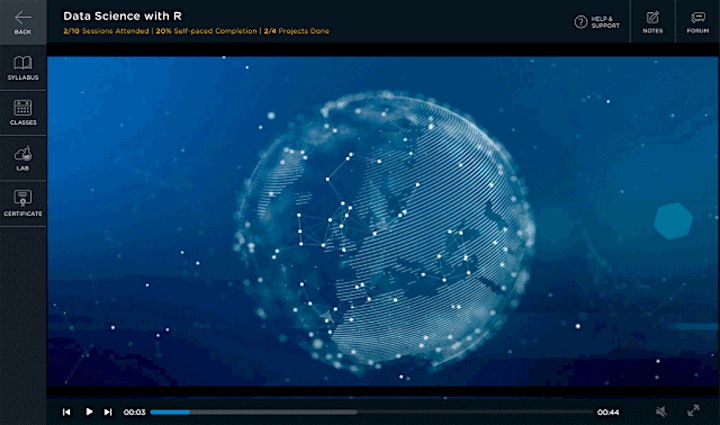 Structured Learning Path
All live Courses, Self Study and Projects are Planned in Sequence to ensure you are taking the course in the correct order and building up your skillset.