Event Information
Location
JJs Tuition
1436 London Road
Southend-on-Sea
SS9 2UL
United Kingdom
Refund policy
Contact the organiser to request a refund.
Eventbrite's fee is nonrefundable.
This CSSE style practice mock test has been specifically created by a retired examiner and myself to make it the most realistic 11+ exam.
About this event
11 Plus Mock Exams Southend, Chelmsford, Colchester - NEW CSSE STYLE PAPER
IMPORTANT UPATE - 11+ MOCK EXAMS FOR SOUTHEND, CHELMSFORD, COLCHESTER ARE NOW ALL ONLINE UNTIL FURTHER NOTICE
For the latest updates and to book please read on or visit here
Even though the mock tests are now all online not much has actually in terms of the actual exam itself. Your child will still sit a paper that is still unique to me (it is not a past paper). I still expect the exam to take place under strict like exam conditions. All I ask of parents is that when the exam papers arrived in the post (marked private) please do not give them to your child until just before the exam starts as cheating is not going to help them pass the real thing.
So apart from the 11+ mocks being held online and not in a designated examination room there isn't too much difference - your child will still get pre exam jitters and still be faced with a new exam paper to tackle. They won't be allowed to cheat by either you or myself and my fellow online invigilator who will be keeping a close eye on all the students just like in a real exam and like a real exam late arrivals won't be accepted and noise will not be tolerated. The only big difference is for the parents having to hold on to the exam papers until just before the start of the exam and making sure your child is logged in and online for the start of the exam - this adds to the authenticity rather us just saying here is an exam paper do it in your own time - we still want them to feel that examination pressure as they need to be accustomed to it for the real thing.
Nearer the time I will send all parents a Zoom link for the online mocks. It is very easy to use if you have not used Zoom yourself before but if you are unsure please let me know and I will assist you on how to use it (it is very easy so don't worry).
Another thing I have added this year from last year is CEM papers in addition to the usual CES papers. There are 5 different CSSE papers and 3 CEM papers and held across July, August and September. This gives you a bit of flexibility on dates and also great if you feel your child needs more than one 11 Plus mock exam to get them better prepared for the real thing.
All the dates and how to book can be found here
SECOND UPDATE
A couple of the 11 plus mock exams Southend & Chelmsford have already taken place and were a great success!
Even though I was prepared for any technical glitches there were none. I have a couple of back up plans in place involving tethering to my 4G smart phone should my own internet go down and if I have hardware failure I have a spare laptop, desktop PC and a tablet so all bases are covered my end technology wise.
If your internet goes down I do advise students at the start of each 11+ mock test to just carry on with the exam until your parent has either rebooted the router or got you tethered to their 4G etc - whatever normally works for you!
When it came to students asking questions I installed on the live video feed a "put your hand up" button so it would alert me but no disturb the other students, which incidentally is much less intrusive than what actually happens in real exam rooms! I then put the student in a break out room where they can talk to me privately from the other students and when that is over the break out room is closed and they are sent back to the main virtual room.
The early feedback so far has been very good from students and parents. This is the safest and best way to do the mock tests until we can all safely go back to normal.
Not convinced Still about doing mock tests online?
I completely understand your concerns about not getting an authentic experience from doing it online. Everything apart from the fact the students are in a room outside of the usual exam rooms we use is virtually the same!
They still get a hard copy exam paper which I send out in the post or email you over to print out at home.
The exam is still held under strict exam like conditions and so far nothing has gone wrong in the online exams that I have already done but if it does either my end or yours you will be pleased to know that I have hardware and internet backup plans ready to go at a moments notice and if your internet fails I make sure students know they are expected to carry on with their papers while you either reset the router or tether 4g from your phone to the device they are using in the exam to see me etc.
I am so confident that this will work for you and your child that I will offer the following:
MONEY BACK GUARANTEED IF YOU ARE NOT SATISFIED AFTER THE EXAM HAS FINISHED
All you have to do is let me know via email, text, phone call etc within 24 hours of the exam finishing. Please note after 24 hours I will start to mark the exam papers so unless I have not got to your child's paper yet you unfortunately will not get the refund. Also please note the refund is minus any postage costs (around £3 or £4) unless of course I emailed or hand delivered your paper - I only hand deliver in the Southend and Basildon areas for the 11 Plus mock exams - further afield and it gets posted or emailed to you.
Description:
The 11 Plus is the first big exam your child will probably ever take and whatever their ability they are going to feel a little bit stressed and worried about it as this is a new experience for them. They don't know exactly what to expect so it can feel daunting at first.
Unfortunately you only get one proper go at the 11+ so it makes sense to practice for it but sitting a past paper in a classroom that they are familiar with isn't going to help them as much as doing mock exams where you are in an unfamiliar environment and you are confronted with a practice test paper you have never seen before.
Unlike some providers we don't use past papers, with the help of an ex examiner we have created one ourselves with the focus being on the CSSE style paper. So we try to make these mock exams feel as close as possible to the real thing. We expect all the children to follow strict exam like procedures.
Even the most able child can lose marks because this new experience gets the better of them nerves wise and for some that can be the difference between a pass and a fail. Your child will feel nervous at the start but they will soon settle down and some of them will come out of the exams not being able to answer a question they know the answer to because their nerves got the better of them. That is completely normal so by going through a mock test they will be mentally and academically better prepared for the real 11 Plus!
Academically speaking the mock practice tests will help identify which areas they are weak in and which they are strong in. Either independently or with our help through one of our 11 Plus intensive revision courses topics can be revisited and revised more extensively and those topics they are very strong in can be worried about less - it is all about using our time wisely because most children do not want to spend all their time revising especially if they are already confident on the topic.
Feedback:
Reports will be sent out to each parent (a small p&p charge applies) or they can be collected for free. The mock exam papers will include a break down of their marks which include: raw scores and percentages.
Because you get back their marked exam papers it means you can look closely to see where they want wrong in those certain topics and if you want further clarification we do offer feedback sessions held on a one to one basis. Expanding on that we also offer intensive 11 Plus mock exams to really drill down in to those areas they might be weaker and they are held over 4 days concluding with a mock exam. More details about the revision sessions can be found here
Just to recap the service we offer are: CSSE & CEM 11 plus mock exams; intensive revision courses; one to one feedback sessions and private one to one tutoring in Southend.
Why Choose me?
As well as creating these mock exam papers from scratch using the CSSE syllabus, they have been created in consultation with a retired examiner to make sure they closely emulate the real 11 Plus exams. I myself not only specialise in tutoring 11+ students but have also run many mock exams over the years. I have also invigilated exams for schools and universities. Over the years I have also run and managed numerous 11+ intensive revision courses.
All this experience I believe leaves me in a good position to help your child navigate what must be a very worrying and stressful experience for them. I will help make them feel more at ease, more confident and more familiar with exam like conditions.
I hope by the time your child has done a mock exam and/or an intensive revision course they will have gained more confidence and focus when it comes to tackling the 11 Plus
I run mock exams from January time right up to the beginning of September and each one is different.
_______________________________________________________________________________________
All 8 Mock Exam Papers are all different and not available anywhere else
Please make sure your child in online 15 minutes early for the start of each exam.
PAPER A CSSE Friday 3rd July 2020 10am to 12.30pm
PAPER B CSSE – SUNDAY 5th July 2020 10am to 12.30pm
PAPER A CEM – SUNDAY 5th July 2020 2pm to 4pm
PAPER C CSSE – Wednesday 29th July 2020 10am to 12.30pm
PAPER B CEM – Friday 31th July 2020 10am to 12.30pm
PAPER D CSSE – Wednesday 19th August 2020 10am to 12.30pm
PAPER E CSSE – Saturday 5th September 2020 10am to 12.30pm
PAPER C CEM – Saturday 5th September 2020 2pm to 4pm
WHEN BOOKING PLEASE LET ME KNOW WHICH PAPER & EXAM BOARD YOU WANT
_______________________________________________________________________________________
The CSSE and CEM style 11 Plus mock exams I offer are used to help gain entry to the following Southend, Chelmsford and Colchester schools:
Westcliff High Schools, Southend High Schools, Shoeburyness High School (Grammar Stream), St Bernard's & St Thomas More High School (Grammar Streams), King Edward VI Grammar School, Colchester County High School for Girls and Colchester Royal Grammar School.
Length of Mock Exams:
English Paper (70 mins)
Break for refreshments and a snack (20mins)
Maths Paper (60 mins)
Payment:
Payment needs to be made in advance to guarantee a reservation for your child. You can pay via Eventbrite. Alternatively if wish to book more than one 11 Plus mock exam (discounts offered); booster sessions or a review session then please visit my website here
Refund Policy:
Happy to give refunds when at least 7 days notice is given. If for any reason you or your child cannot make the exam after this period then we may at our discretion offer an alternative date and if an alternative date is not possible for you then we will send you the exam to do at your convenience.
Next steps*:
After we have received your payment you will be sent a registration form. Contact details, collection details and any allergies your child might have when providing snacks and refreshments. For online 11+ mock exams we will need an email address to send the Zoom link and a postal address to send the exam papers to.
Parking*:
There is plenty of on street parking in Leigh/Southend. You can wait for your child in the waiting area, alternatively there are plenty of cafes and shops nearby.
Start times:
The 11 Plus mock exams generally start at 10 am sharp with registration 15 minutes before that. Please allow plenty of time to get your child to the exams as any late arrivals won't be allowed extra time. There are clocks in the rooms to let the children know what the time is. There are also boards displaying the start and finish time for each exam.
Please do not forget to leave a note when checking out about what date/paper you want to book.
If you have any questions please don't hesitate to contact me
P.S. Check out my Facebook page packed with 11 Plus exam tips or you can look at the updates section on my Google my Business listing
* 11 Plus mock exams are currently online so not all things like parking details apply at this present time.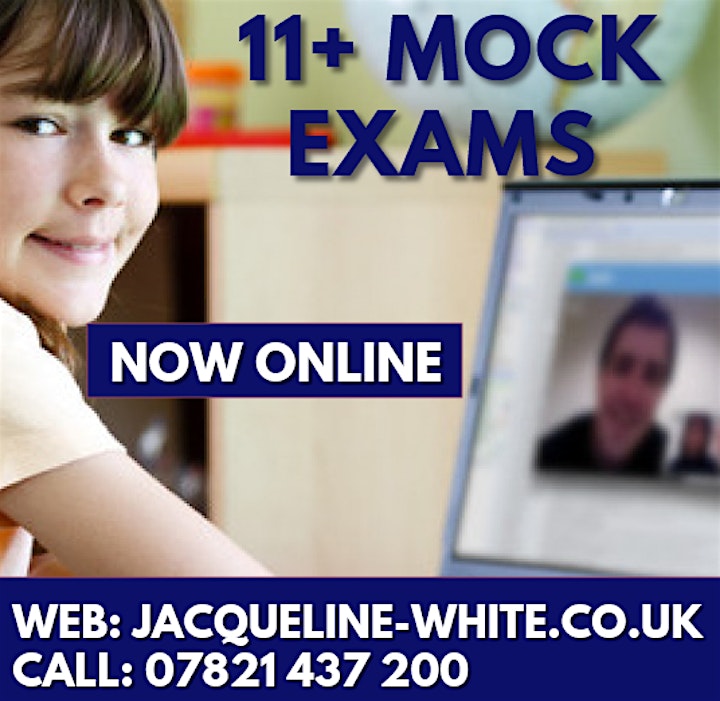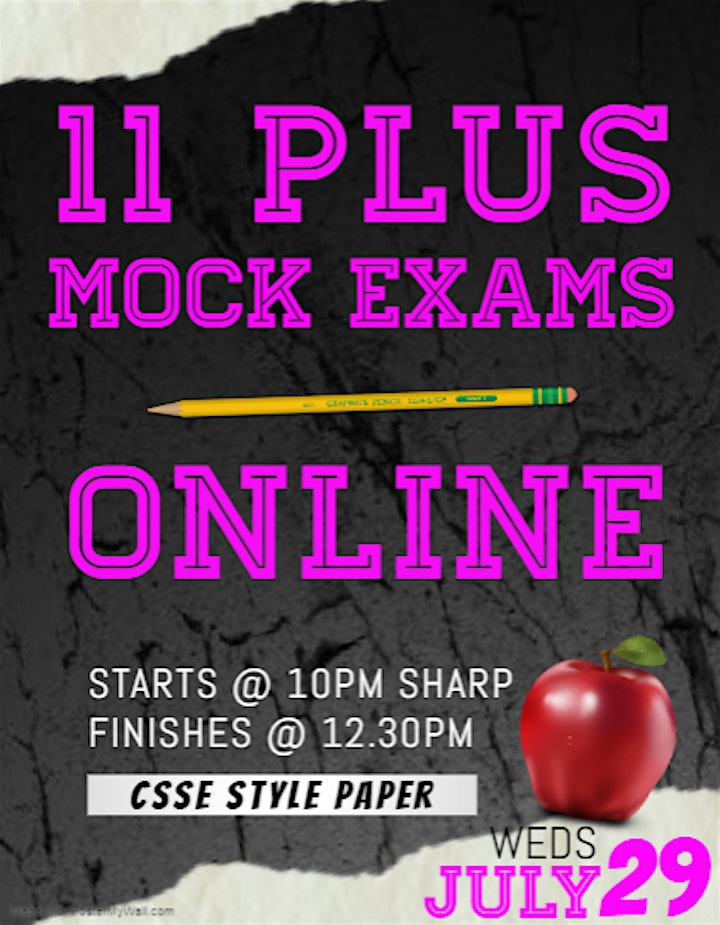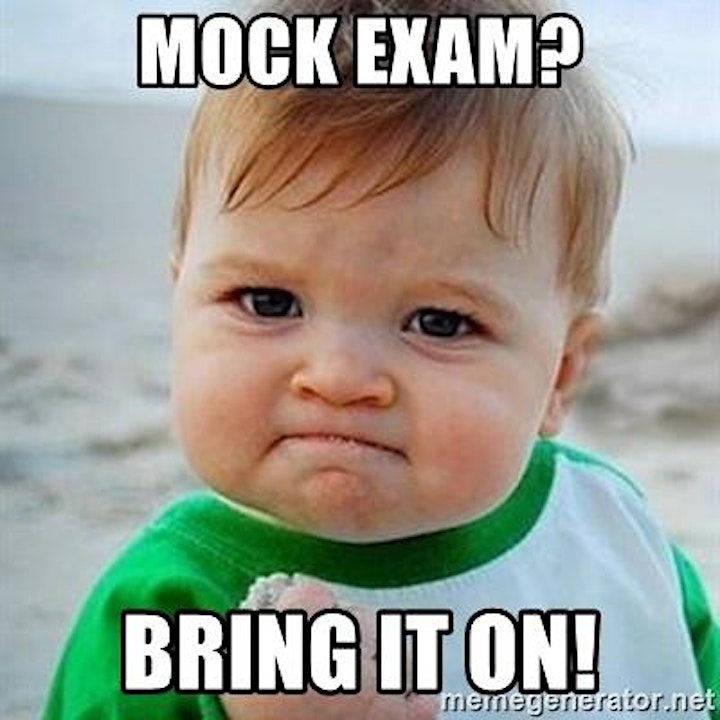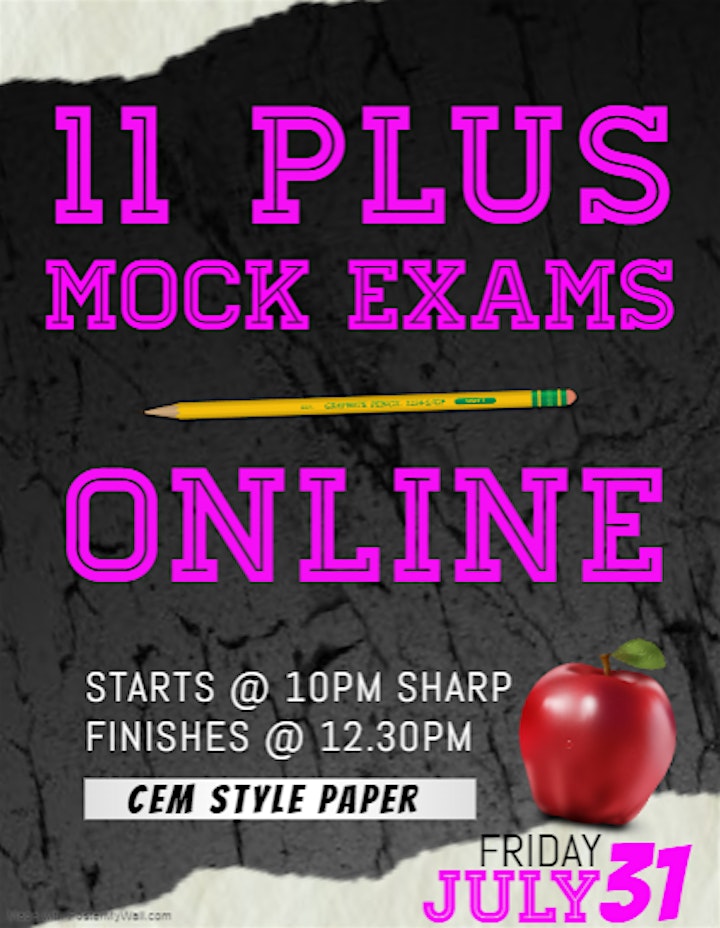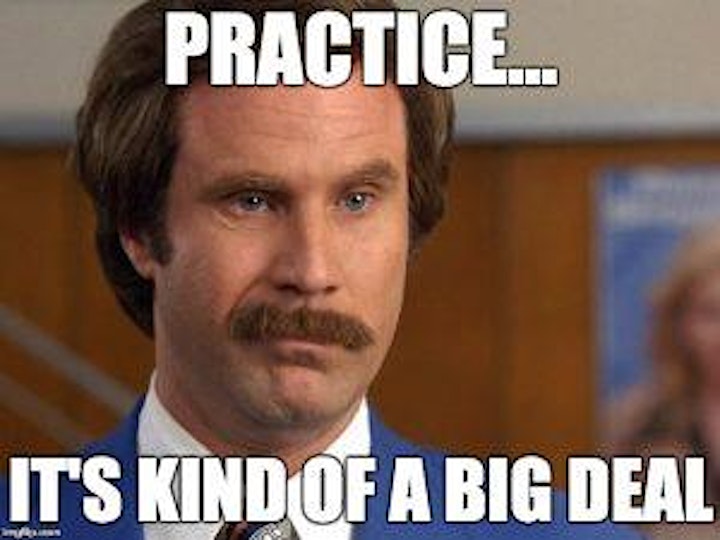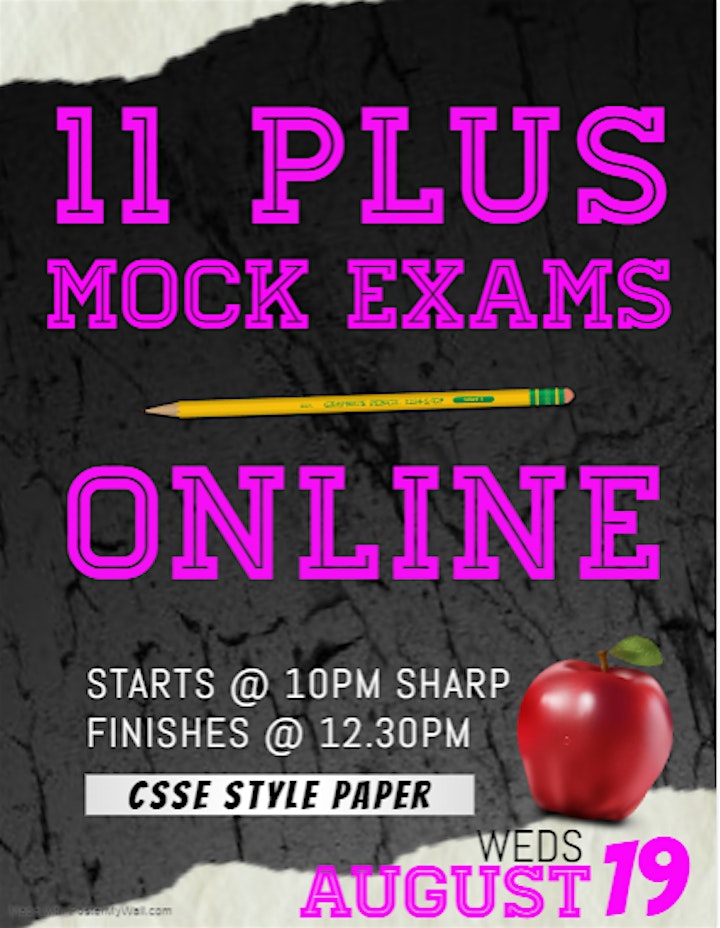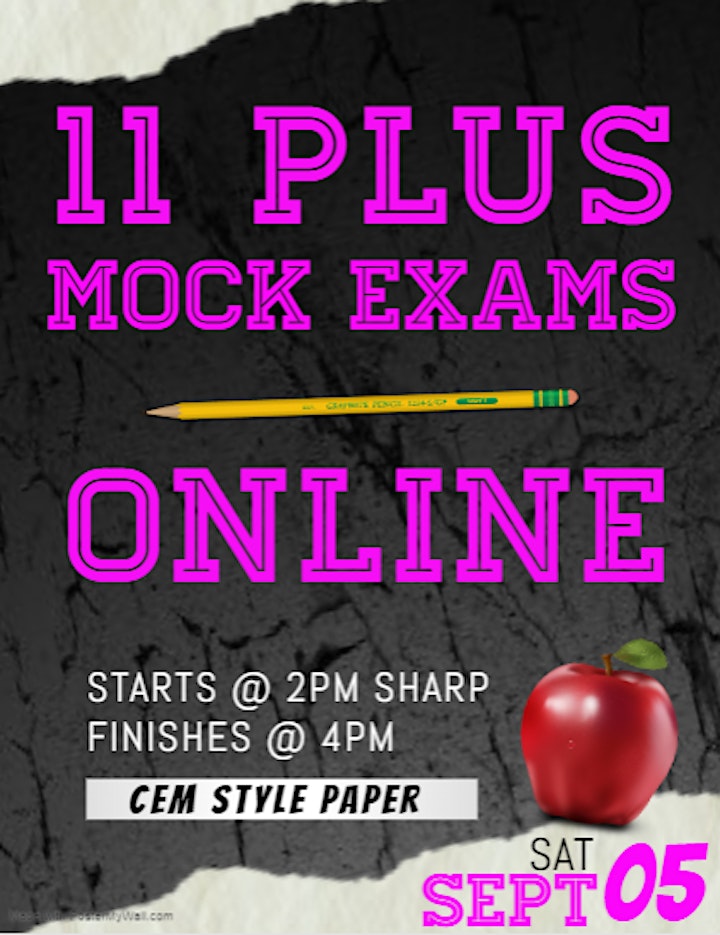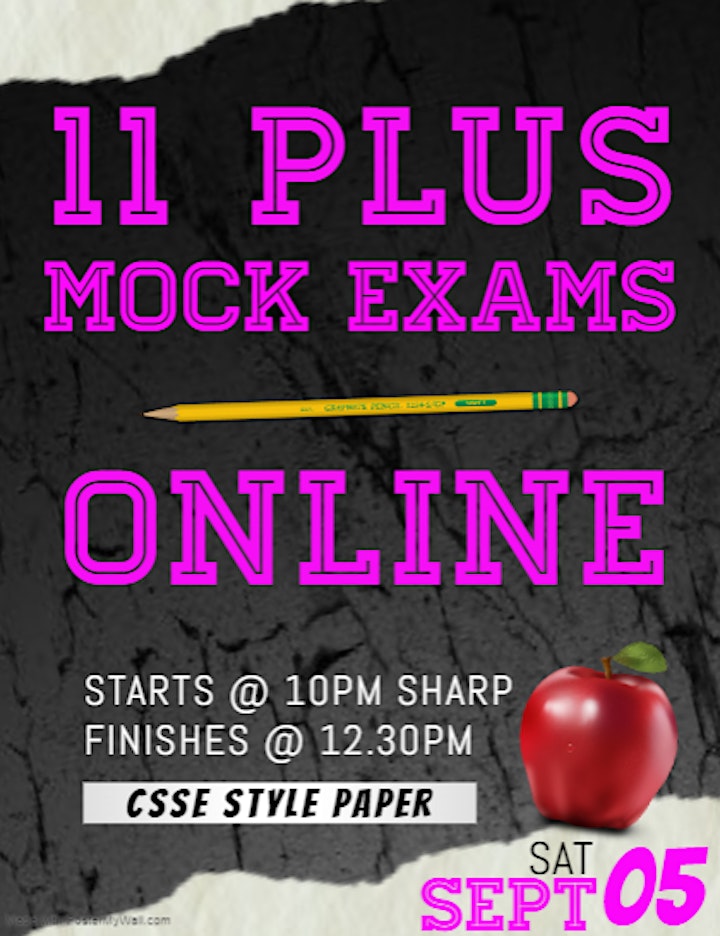 Location
JJs Tuition
1436 London Road
Southend-on-Sea
SS9 2UL
United Kingdom
Refund policy
Contact the organiser to request a refund.
Eventbrite's fee is nonrefundable.