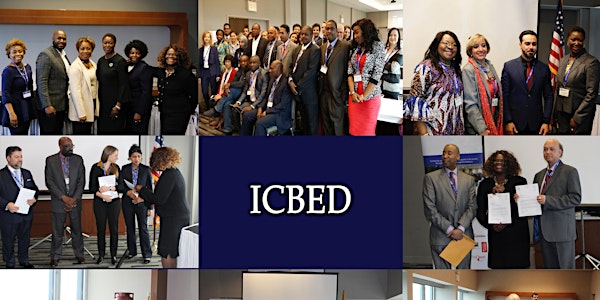 11th International Conference on Business and Economic Development, NY, USA
This conference seeks to explore a wealth of issues related Business and Economic Development
About this event
A JOINT CONFERENCE ORGANISED BY THE CENTRE FOR BUSINESS & ECONOMIC RESEARCH (CBER), UK IN ASSOCIATION WITH THE MEDGAR EVERS COLLEGE OF THE CITY UNIVERSITY OF NEW YORK, USA
Conference Sub-Themes:
1. Business and Economic Development Post COVID-19
2. Re-Engineering Business Education in The New Norm
Overview of the Conference
The world of business is undergoing a time of considerable stress, change and in some sectors unprecedented growth. Much of the conventional wisdom concerning business education and theory is being challenged and thus it is all the more important to endeavour to elucidate what is taking place. Economic certainties look increasingly vulnerable and existing formulas appear jaded and in some cases moribund. Where once academics were fixated with global brands and multi-nationals increasingly the role of SMEs is coming to the fore. Governments from Armenia to Somaliland are keen to find ways to stimulate business and thus create local employment.
Regrettably the global economic crisis is increasingly used as an excuse for poor performance at all levels thus limiting the search for routes out of it. It should not be seen as a destroyer but as a purifier, ensuring the survival and prosperity of the fittest. The business environment has changed and will be changing more than ever in years to come - some traditionally powerful markets have weakened while others have grown, cultural and geographical distances between people are shrinking, innovation in all aspects (technology, markets, finance, etc.) has become paramount for sustainable competitive advantage. The challenge of economic development is one faced by all nations and there is an extraordinary array of initiatives that are being put into place to act as 'economic pump primers'. Whereas once developed markets would have only been interested in how other developed economies are stimulating economic development, increasingly there is interest in how developing economies are proving fertile nurseries for imaginative and often successful initiatives. An added dimension is the role that new technologies can play.
This conference seeks to explore a wealth of issues related Business and Economic Development, contributions should therefore be of interest to scholars, practitioners and researchers in management in both developed and developing countries targeting a worldwide readership.
Organiser of 11th International Conference on Business and Economic Development, NY, USA
Centre for Business & Economic Research (CBER) was founded in London in 2006 with the aim of inspiring, recognizing and supporting excellence in business and Economic research Currently, the Centre has three main areas of endeavour: organizing an annual cycle of international academic conferences, producing academic journals, and offering bespoke consultancy projects both in the United Kingdom and further afield.
CBER works assiduously to facilitate international collaboration, providing an independent and credible source of advice, as well as contributing to academic debate and research. The Centre is fortunate to have a truly international following and is committed to encouraging knowledge sharing, foresight planning and greater interaction between academics, policy makers, thought leaders and those engaged in diverse commercial activities. Through both its own researchers and a network of specialists internationally it is well placed to provide targeted consultancy work aimed at providing fresh insight and understanding that is underpinned by creditable research methods and a thorough and objective approach.
CBER strives to ensure that it takes a holistic approach to its work, whilst remaining open to new methods, ideas and ways of thinking. Through its various endeavours it has become a conduit for knowledge sharing, particularly in respect of innovation in the field of business and economic development. Whilst much of what CBER does is focused on the challenges of the here and now, it sets considerable store by foresight planning, and is keen to play its part in combatting the scourge of short-termism both in the public and private sector. Its current portfolio of academic journals ensures that is alive to the latest research in fields ranging from business and economic development to retail and higher education management. The journals afford an opportunity for meaningful learning from sectors that each have their own distinctive business and economic dynamic. Furthermore, with revolutionary changes underway in the form of Artificial Intelligence (AI) and the Internet of Things (IoT) CBER believes that it is more important than ever to venture forth from our cultural and professional redoubts, hence the particular value and relevance of its international academic conferences, a number of which attract participants and observers who are policy makers, seasoned practitioners and thought leaders in their chosen field.
Whilst these are challenging times in many respects, they are also ripe with opportunities for learning and progress. CBER aspires to play a positive and purposeful role, one that facilitates fresh thinking and the desire to break new ground and forge a future that fosters greater confidence and a commitment to excellence.