Sales Have Ended
Registrations are closed
WE ARE SORRY, THE EARLY BIRD TICKETS HAVE SOLD OUT AGAIN. YOU CAN STILL SIGN UP, BUT HURRY, YOU DON'T WANT TO MISS YOUR NEXT OPPORTUNITY FOR THIS EVENT. VISIT OUR WEBSITE WWW.BACK2THETRENCHES.CO.UK
Sales Have Ended
Registrations are closed
WE ARE SORRY, THE EARLY BIRD TICKETS HAVE SOLD OUT AGAIN. YOU CAN STILL SIGN UP, BUT HURRY, YOU DON'T WANT TO MISS YOUR NEXT OPPORTUNITY FOR THIS EVENT. VISIT OUR WEBSITE WWW.BACK2THETRENCHES.CO.UK
Description
EXTREME OBSTACLE FUN MUD RUN!
A military style course designed to push you to your limits. You will need stamina, determination and camaraderie to battle the trenches and take on 70 plus obstacles. We are always adding more obstacles to add to the challenge..
You can run 6k 12k 24k
ALWAYS BE READY FOR THE UNEXPECTED IN THE TRENCHES!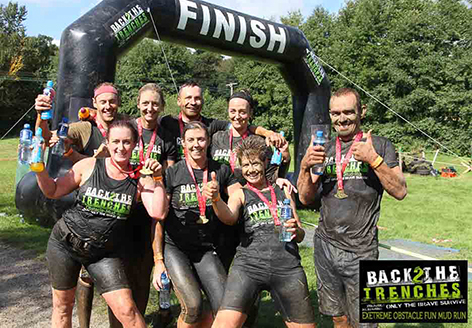 Dates for 2017
Sunday 11th June
THE BIG PUSH SUMMER

6k 12k 24k
Sunday 10th September
NO MAN'S LAND

5k 10k 20k
NEW FOR 2017 Sunday 5th November
THE BIG PUSH WINTER TEAM EVENT

7k

MORE ABOUT BACK 2 THE TRENCHES

Back 2 the Trenches race names are loosely based on events that occurred during the first World War where stamina, determination and camaraderie were demonstrated by brave soldiers.


THE BIG PUSH refers to the gigantic battle of the Somme in Summer-Fall of 1916. Rivaling Verdun in ferocity, scale and casualties; Somme was Britain's first real chance to open up THE WESTERN FRONT in World War I.