11th Native Spirit Indigenous Film Festival 2017 - OPENING NIGHT: AMAZONIAN VISIONS, SHAMANS & ICAROS

Thursday, 12 October 2017 from 19:00 to 22:00 (BST)
Event Details
TICKET ENTRY ONLY
Join us for our opening night at The October Gallery Theatre Showroom to celebrate Indigenous Peoples Day during this 10th Anniversary year of UNDRIP.

FIRST NATIONS CANADA feature strongly in this year's festival - we introduce a selection of Shorts by some of CANADA's top MediaMakers and Artists from North West Coast to Quebec including CAROLINE MONNET (Algonquin), SHAWN HUNT (Heiltsuk), BRACKEN HANUSE CORLETT (Wuikinuxv and Klahoose Nations).
JOSÉ NAVARRO presents AMAZONIAN VISIONS a puppet performance inspired by the Amazonian universe, it's people, living beings and landscape. A cross-pollination of different puppet techniques, fusion of soundscape, movement, visuals, and masks are featured in this show. Walk with us into the unknown as we journey through nature into the digital sphere.
KICHWA SHAMANS, KURIKINDI and SISA from the Ecuadorian Amazon, introduce you to the meanings behind ICAROS, and sing an offering to the festival, their own Icaros balancing male & female energy.
ICAROS: A VISION
'A film shaped like a shamanic journey, steeped in a psychoactive brew, exploring fear and destiny in the jungle of the mind.'
Her medical options exhausted, an American woman travels to a healing center in the Peruvian Amazon in search of a miracle. Shipibo-Conibo shamans minister to psychonauts seeking transcendence, companionship, and the secrets of life and death. Her perceptions and consciousness altered by the ancient plant brew known asayahuasca or yagé 'la purga', she bonds with Arturo, a young ayahuasca shaman who is losing his eyesight. In their hallucinogenic journeys together they attain a different sense of their destinies. Angelina learns to accept her 'susto': the disease of fear, while Arturo, in turn, realizes that he will be able to see in the dark and sing his traditional ceremonial healing songs, the Icaros.
Dir. Leonor Caraballo, Matteo Norzi / 2016 / Shipibo, Peruvian Amazon / 80'
Cast includes ARTURO IZQUIERDO from Ucayali community and Guillermo GUILLERMO ARÉVALO.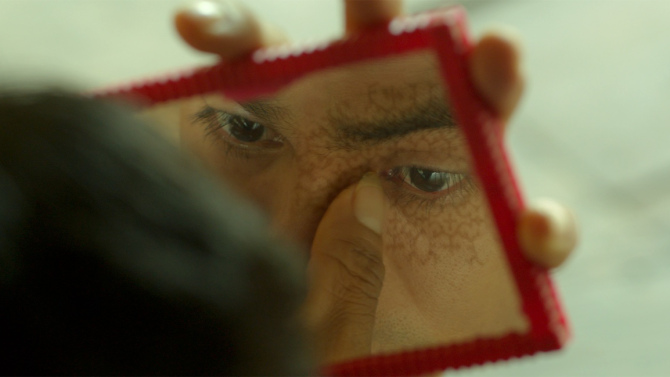 Aspects of the film are based on co-director Leonor Caraballo's true experiences, read Artistic Statement and see official Trailer http://www.icarosavision.com/about/

SHIPIBO CONIBO CENTER http://www.shipiboconibo.org/
Reviews
Beneath the drugs and theatricality of the shamanic rituals is the struggle to reconcile oneself with impermanency, which, when achieved, might be the highest plane of human grace. SLANT MAGAZINE
FILMMAKER MAGAZINE
ESQUIRE BEST MOVIES OF 2017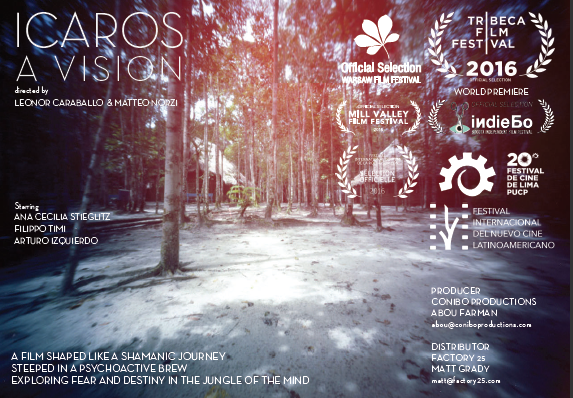 We look forward to welcoming you!


11th Native Spirit Film Festival 12-21 October 2017
20 Oct - 10th Anniversary of the UN Declaration on the Rights of Indigenous Peoples: Conference to review progress and challenges
Special thanks to Amigo Month Cultural Calendar for including this celebration of Indigenous People's Day.

When & Where

October Gallery
24 Old Gloucester Street
WC1N 3AL London
United Kingdom


Thursday, 12 October 2017 from 19:00 to 22:00 (BST)
Add to my calendar
Organiser
SOAS Native Spirit Film Society https://www.facebook.com/soasnativespirit/
collaboration with Native Spirit Foundation, an Independent organisation which supports education in Indigenous communities and showcases Indigenous Film, MediaMakers and Artists at Native Spirit Film Festival - the UK's original and only annual Festival of Films, talks and performances celebrating Indigenous culture in London every October.
info@nativespiritfoundation.org