11th Pakistan Achievement Awards International 2021 on 22nd October 2021. Please call for more information. 078 5074 2143, 020 3802 1813
About this event
After 10 very successful years; Alhumdulillah. We are proud to announce 11th Pakistan Achievement Awards International 2021 to be held on Friday 22nd October in London.
Pakistan Achievement Awards International (PAA) was found from a simple vision, to create an event to recognize and acknowledge immense contribution that Britons of Pakistani heritage are making towards the economy and progression of
Great Britain. In 2009, we launched PAA to extend the appreciation and honour the very highest levels of achievers in the nominated categories within the British and European Pakistani communities.
Eleven years of success has now given us the ability to recognize people from not only the UK. We have extended our wings to Europe and now are proud to reach out to an International audience. An event marked by celebrating the contributions and success stories of Pakistanis globally. This year's premier event will no doubt catch the attention of the British, European and International Pakistani communities along with the local, national and international media.
Our awards every year are dedicated to the heroes globally, starting from Her Majesty Queen Elizabeth II diamond jubilee, Women Empowerment, Empowering Youth, Late Abdul Sattar Edhi and in 2017, King George II, Late Ustad Nusrat Fateh Ali Khan, Education of Punjab, Prime Minister dams fund appeal. We will be dedicating our 11th year awards to the Tourism, Culture & Heritage of Pakistan.
On this occasion we would like to offer Your Brand/Company to become a official main headline sponsor for our most prestigious and biggest Pakistani calendar event 11th Pakistan Achievement Awards International 2021.
Please find below event details:
11th PAA 2021: Friday 22nd October 2021.
City: London.
TV Media Partners: Dunya News Media Group.
Radio Partners: Sunrise Radio UK, FM 107 Karachi, FM 101 Lahore.
Print & Online PR Partners: Page 3 Magazine, Pakistan Online & Hip In Pakistan, Daily UK Times London.
Hosted By: Ahmed Ali Butt & Natasha Hussain.
PR Partners: Media House Global UK
Organized by: Samara Production Events.
Supported By: UK Pakistan Business Council
Dignitaries and Celebrates attending and expecting: Member of Royal Family United Kingdom, Federal Ministers of Pakistan, British Ministers, Mayor of London, Showbiz Stars & Celebrities: Sohail Ahmed, Mujeeb Ur Rehman Shami, Humayun Saeed, Aijaz Aslam, Javed Sheikh, Ayesha Jahnzeb, Faysal Qureshi, Mikaal Zulifqar, Bilal Ashraf, Maya Ali, Mehwish Hayat, Amir Khan (Boxer), Faryal Makhdoom, Zaheer Abbass, UK, Lord's, MP's and others…
Please call for more information. 078 5074 2143, 020 3802 1813.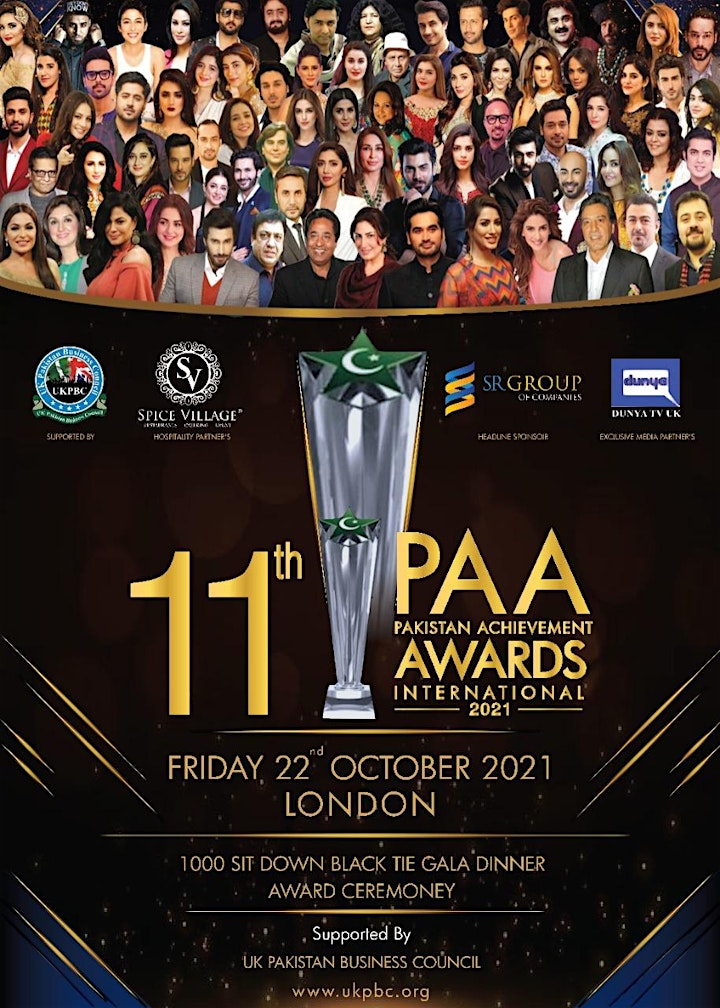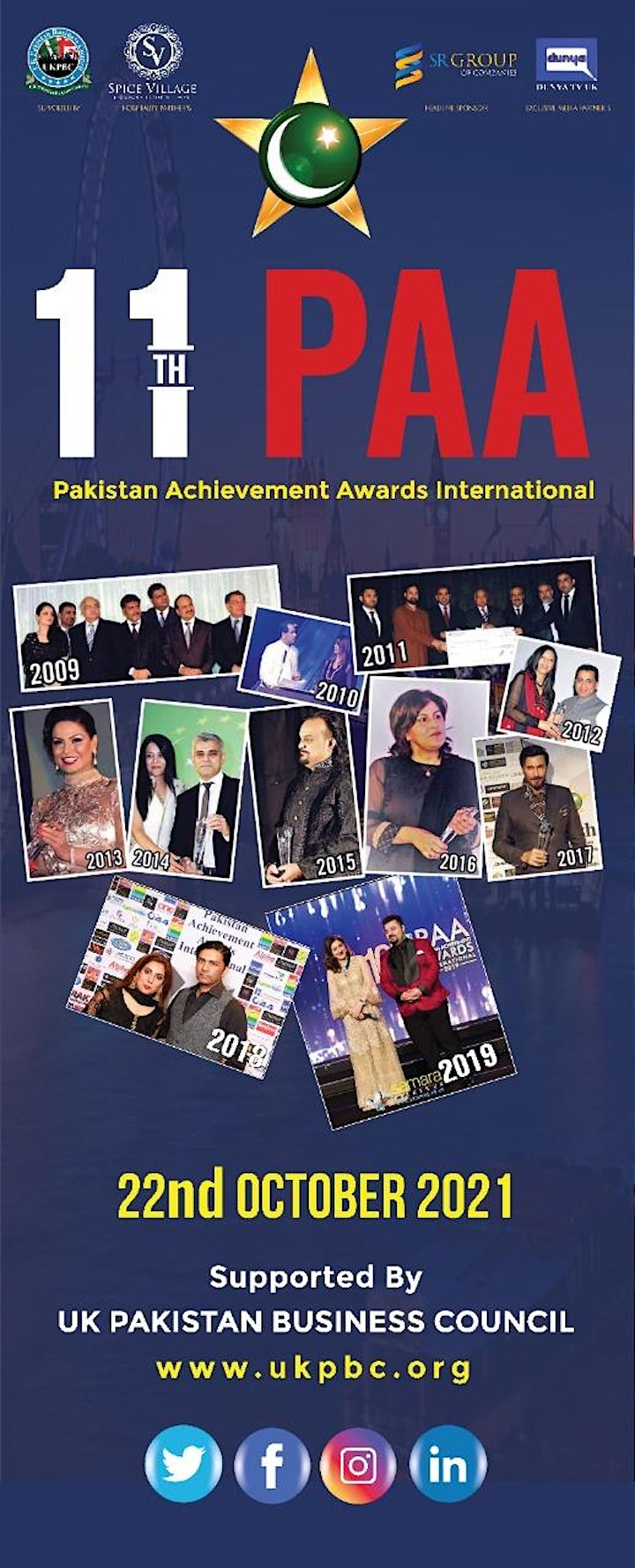 Organizer of 11th Pakistan Achievement Awards International 2021