Event Information
Location
St Austell Conference Centre
(located in St Austell Printing building)
Saint Austell
PL254EJ
United Kingdom
Description
FSB Cornwall launch new monthly networking service #FSBConnect
Announcing our new regular FSB networking service #FSBConnect. A high quality face to face networking event that doesn't encroach on your working day but provides great opportunities, new contacts and business information in an enjoyable and relaxed format. At a regular time and venue so you don't even have to think about where you need to be!
When: Regularly every 2nd Thursday of each month - 7.00am – 9:00am
Where: Always at: St Austell Conference Centre (map) Sat Nav postcode: PL25 4EJ
Please Note: It is vital to pay and book your place in advance as this is a popular event.Unfortunately we cannot cater for those who have not booked and we are not able to take cash on the door.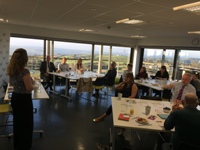 Description: Attendees will gather around cabaret style tables and each will be given two minutes to promote their business and hear others do the same. Then we will move you onto a second table where you can repeat the exercise to a fresh audience, all in a supportive, unpressured environment. There will be a theme to each event with a short address from an SME relevant speaker and of course time to mingle and circulate with your promotional literature and those all-important business cards! The breakfast costs just £10 including VAT and is payable on booking via this booking page

Why the hashtag? Well to compliment the all-important face to face meetings we also have a virtual networking event on the 3rd Thursday of each month 2pm-3pm on Twitter @FSBcornwall #FSBConnect. You can keep in touch with the people that you have met the week before, link up with their contacts and increase your reach to the thousands of business opportunities in the virtual networking world to boost your networking to the max. Join in or miss out!
Contact gioia.grobler@fsb.org.uk for more information
Location
St Austell Conference Centre
(located in St Austell Printing building)
Saint Austell
PL254EJ
United Kingdom