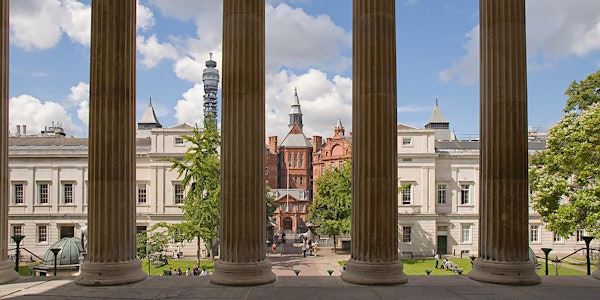 Science Centre Lectures UCL
Talks are aimed at sixth form students and teachers, but frequently attended by members of the public, teachers, academics and undergrads.
About this event
The Science Centre Lectures at UCL are back. We will be hosting virtual online lectures so we hope many more of you can join us for our early evening discussions on a huge range of science related topics. You will have to provide your own biscuits and water, but everything you know and love about the long running lecture series will be back.
The Science Centre was first established in 1987 by Dr Sadiq Kadifachi and it was incorporated into UCL in 1997. Videos of past lectures can be viewed in our archive, see https://www.ucl.ac.uk/physics-astronomy/outreach/science-centre-lectures. The Science Centre Lectures are free lectures on a range of scientific subjects for sixth form students and their teachers. They are held on Friday evenings throughout the academic year.
UCL Science Centre lectures for Schools
Summer Term 2022
All lectures are held on Fridays, on-line by Zoom, at 6.30 p.m.
This week:
The Science of NetZero CO2 emission in Today's Climate by Mr. Sean McQuaid.
The need to reduce carbon emissions in an affordable way has not gone away. National energy security in the present political climate seems more important than ever. This talk looks at how these three challenges influence politicians and impact the big engineering projects over the next thirty years. This in turn influences what science topics should be studied . Come and listen to help you decide what to study at university.
Sean has worked for 37 years as a geophysicist in the energy industry. His present focus is in developing ways to achieve net zero carbon emissions in a way that is equitable for the underprivileged.
6 May.
Holograms of the fast and frustrated : Electrons & Lasers.
Ms. Abbie Bray. Ph.D Research Student.
UCL Department of Physics & Astronomy.
13 May.
Viruses.
Dr. Robert W. Janes.
School of Biological and Chemical Sciences.
Queen Mary University of London.
20 May.
The Science of NetZero CO2 emission in Todays's Climate.
Mr. Sean McQuaid.
ERCE Evolution.
27 May.
The Atomic Structure of Diamond - not just a girl's best friend?
Professor Katherine Holt.
UCL Department of Chemistry.
3 June . No Lecture, Schools Half Term.
10 June. TBA
17 June. TBA
24 June. UCL- your universe lecture.
1 July .
Dr. Lorena Becerra-Valdivia.
Radiocarbon Dating in Archaeology.
Oxford Radiocarbon Dating Unit,
University of Oxford.