Event Information
Refund Policy
Contact the organiser to request a refund.
Eventbrite's fee is nonrefundable.
Tech Dissect w/ Mor Elian
About this Event
Saffron Members Club's Tech Dissect workshop for this month we have Mor Elian. Made for our community, Tech Dissect provides online sessions for all women, non-binary and minority genders in music tech!
November's special guest is Mor Elian
Live and direct from Berlin we welcome Mor Elian as our host for Tech Dissect this month. This will be a listening/A&R session, so submit your tracks to us in advance and share with our global community.
Mor Elian is a Berlin based DJ and producer originating from Tel Aviv and Los Angeles. Label owner at "Fever Am", and booker at "Into The Woods" underground parties in Los Angeles. We are so excited to have her host this online session, attendees will send us your music in advance, listen to each other's musical creations, constructively critique and support one another with personal and practical tips and advice.
SUBMIT YOUR MUSIC FOR A&R IN THE WORKSHOP:
We know that sharing your music can be a nerve-wracking thing, but we would like to invite attendees to submit one of their own original tracks for potential use in the A&R session for group feedback, If you would like to send in either a full track, a short clip, even just a drum loop, then please do so by 9am GMT on Monday 30th Nov.
Email lizzy@saffronmusic.co.uk with your chosen audio file, preferably as an MP3 with a link to it on either google drive, soundcloud or dropbox. Please do not send audio as an email attachment or as a Sendspace or Wetransfer file, if possible! Also, please include a sentence or two outlining what area you are looking for feedback or advice on, or, if you don't have a specific thing and just want general feedback then that's fine too! Please do not send in a track if you do not plan on attending the session itself.
It won't be possible to spotlight everyone's submissions in the session, so please don't feel perturbed if we don't get to yours. We hope that everyone who joins the session will learn some tricks and tips, build community links with other producers/music folk and strengthen active listening and critique skills.
------------
Saffron Members Club also has two other workshops this month -
Mix Nights Online with A.G
Creative Comms: Artist marketing and PR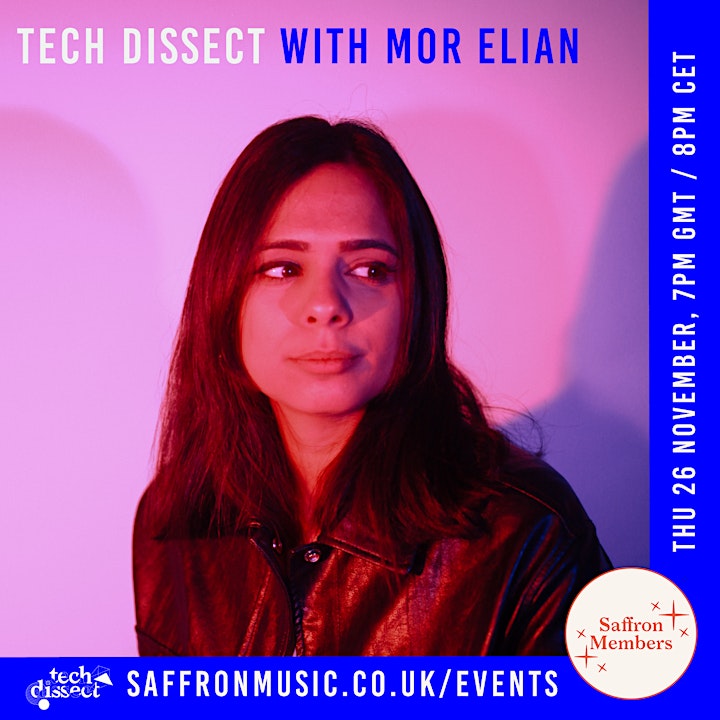 Date and Time
Location
Refund Policy
Contact the organiser to request a refund.
Eventbrite's fee is nonrefundable.