12th Native Spirit Indigenous Film Festival 2018 - AUSTRALIA | AFRICA BURKINABÈ RISING - ACTIVISTS & ARCHITECTS OF CHANGE

Thursday, 18 October 2018 from 18:00 to 21:00 (BST)
Event Details
Free - requested donations £5-10 at door towards festival costs - thx!
12th Native Spirit Indigenous Film Festival 2018
6pm STRONGFALA KALJA (STRONG CULTURE)  Dir Jarryd O'Keefe, 2017, Vanuatu. 4min
Chief Kalories Robert prepares for an enactment of a traditional warrior dance ceremony  honouring the ancestral culture of his people at their community-run Leweton Custom & Cultural Village in Santo. 
LILLIAN BOWEN  Dir Caden Pearson, 2016, Australia. 15min  cadenpearson.com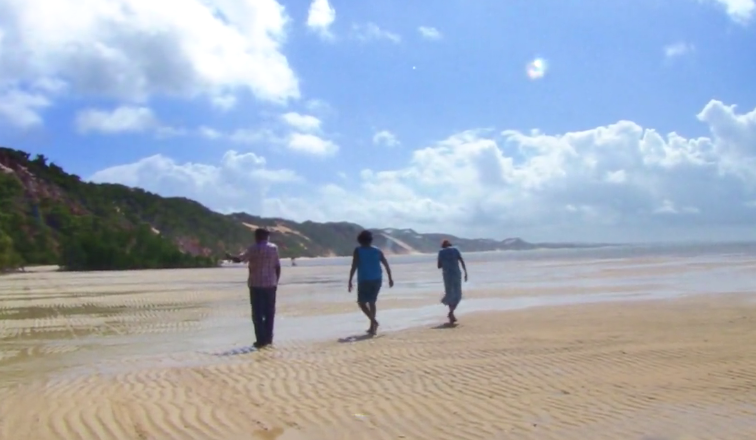 Lillian Bowen shares her passion for revitalising and preserving her native tongue,  Guugu Yimidhirr, one of Australia's Indigenous languages, ensuring it does not die out with the older generation in the small Aboriginal community of Hope Vale, far north Queensland.

NORMAN BAIRD AND BAMA DIGGER  Dir Caden Pearson, 2015, Australia. 14min
On the anniversary of WWI, Tamara Pearson sets out to discover more about her 'gami' great-grandfather Norman Baird, a Kuku Yalanji digger, who served in both world wars and was only truly free when fighting on the Western Front in WWII; at home he had no civil rights. Though they never met, Tamara discovers how much they have in common.

AFTER THE CROW FLIES Dir. Sonal Kantaria, 2016, Australia. 5min
Made in collaboration with Clarrie Cameron, a Nhanhagardi Elder who navigates through the stark landscape of Western Australia whilst discussing the effect of colonisation on his peoples and on the shape of contemporary Australia.

YARRIPIRI'S JOURNEY  Dir Simon Fisher Jnr, Jason Woods, 2017, Australia. 29min
Yarripiri the giant ancestral taipan created the Jardiwanpa Songline through his journey, bringing songs, law and the Jardiwanpa fire ceremony to Warlpiri people.

7.10pm  AFTER DARK INFERNO  Dir Alex Browning, Prod. Joy Gharoro-Akpojotor, 2018, African Diaspora. 3min alexbrowing.tv
A dreamscape built from strength and faith in this visceral experimental Short.

Q&A Director, Writer Alex Browning

7.20pm - short Break
7.30pm  FOUND IN TRANSLATION Dir Almut Dieden, 2018, Pretoria, South Africa. English Subtitles, 19min 
At Pretoria High Court everybody knows him: Royce Buda, South African court interpreter par excellence. Every day he interprets in up to 16 languages for judges, claimants, attorneys and witnesses. But his job is much more than just the literal translation of words: Buda is the link between diverse cultures and customs that clash at the High Court every single day. Since the end of Apartheid the same rule of law applies to all citizens – but can reality fulfil that promise? Buda juggles between the expectations of the legal system at court and those that come there to seek justice – but sometimes fail to find. In a country still struggling with the remnants of the oppressive Apartheid system, where stark social inequality divides an incredibly multicultural and multilingual society, Royce Buda interprets to build bridges.
7.50pm  BURKINABÈ RISING: THE ART OF RESISTANCE IN BURKINA FASO  Dir Iara Lee, 2017, Burkino Faso. French with English Subtitles, 72min culturesofresistance.org/iara-lee

A small landlocked country in West Africa, Burkina Faso is home to a vibrant community of artists, musicians, engaged citizens who carry on the revolutionary spirit of Thomas Sankara, killed in a coup d'état led by his best friend and advisor Blaise Compaoré, who then ruled the country as an autocrat for 27 years, til a massive popular insurrection led to his removal. Today, the spirit of resistance and political change is mightier than ever and it permeates every aspect of the Burkinabè life. It is an inspiration, not only to Africa, but to the rest of the world.
Special guest Burkinabè speaker: Dakissé Tiendrebeogo
_______________________________________________________

We look forward to welcoming you!
Latest Programme updates

Special thanks to Human Rights Consortium SAS, SOAS, BIMI, Bloomsbury Festival, The Crypt Gallery and XXL gratitude to the Filmmakers, Artists, Speakers and all volunteers and supporters who help promote Indigenous Cinema and make this festival happen.
Do you have questions about 12th Native Spirit Indigenous Film Festival 2018 - AUSTRALIA | AFRICA BURKINABÈ RISING - ACTIVISTS & ARCHITECTS OF CHANGE?
Contact Native Spirit UK
When & Where

Room 243, HRC, School of Advanced Study, Senate House,
Malet Street
WC1E 7HU London
United Kingdom


Thursday, 18 October 2018 from 18:00 to 21:00 (BST)
Add to my calendar
Organiser
Native Spirit is the UK's premiere Independent grassroots organisation promoting Indigenous Cinema, Media & Artists with an annual Film Festival every October and Year-round events.