12th Native Spirit Indigenous Film Festival 2018 - CANADA guest JULES KOOSTACHIN - ACTIVISTS & ARCHITECTS OF CHANGE

Saturday, 20 October 2018 from 10:00 to 17:00 (BST)
Event Details
"I think we're really on the precipice of entering what might be the first true golden age of Indigenous cinema." Jesse Wente, Anishinaabe writer, film curator.
Please note we are unable to reserve seats for Free events - arrive early to secure your place.
12th Native Spirit Film Festival of Indigenous Cinema: Canada
Native Spirit Film Festival 2018 present a rare opportunity to see International Indigenous Filmmakers with a focus on independent films and Shorts from Canada based around the theme Activists and Architects of Change, our special guest, acclaimed director, writer, advocate for social change Jules Koostachin (Cree from Moshkekowok territory, and a member of Attawapiskat First Nation) presents her film Butterfly Monument and  discusses her work in conversation with Filmmaker and Lecturer Max Carocci
*Playlist timings and sequence may be adjusted to accommodate Director Q&A.

10-1pm  Session I
INNU NIKAMU: RESIST AND SING  Dir Kevin Bacon Hervieux | 2017 | Innu, Canada | 92'
The Innu Nikamu Native Music Festival through the eyes of its founders and musicians. A story of healing, a duty of remembrance.
-Break 10 min-
TIME IS OUT OF JOINT (Todos los Muertos) Dir Victor Arroyo 2018 | Purhépechas , Mexico, Canada |25'
More than 40,000 acres of Indigenous forest in Michoacán, mx., have been appropriated by narco industries, turning it into a a composite site of hidden dynamics, cartel-drug crimes and state-sponsored violence, leaving no apparent material residue, however, still affecting the production of landscape.
The state of Michoacán, where most of the drug war takes place, is a strategic place for these transactions, promoting the fragmentation of Mexico's narco cartels as they continue to merge with federal and regional police, criminal groups and local guerrillas.
Blending performance with observational approaches and ethnography, this documentary provides a glimpse into Indigenous rural Mexico at the intersection between ecocide, narco­labour and enforced disappearance.
WAPIKONI SHORTS (note playlist sequence may change)
Selection of Shorts from Mobile Production Team Wapikoni Mobile, Quebec. The selection of works, with their intriguing stories and cared images (both photographic and animated), is aimed at discovering dynamic Indigenous voices, unique point of views as well as incredible talents stemming straight from indigenous communities.
PEWMAYIÑ (DREAMING) The Mapuche Communication and Cinema School of Aylla Rewe Budi The Mapuche Communication and Cinema School of Aylla Rewe Budi | 2017 | Chile | 10'
Pewmayiñ (Dreaming) takes us on a journey to the origins of the relationship between us, Mapuche, and the spirit forces of the land. Dreaming, a form of spiritual communication that gives sense to the Mapuche way of life, compels children to seek ancestral knowledge in the voice of their Elders, in the beauty of song, and in the fighting spirit of the papay (Elder women) and of a whole People.
CARRYING ON THE TRADITION Dir. Nimkie Peltier | 2018 | Anishnabe, Canada | 5'
Nimki is a young dancer from Wiikwemkoong. He has struggled with depression until traditional dancing reconnected him with his culture, his family, and himself.
NE KA MISTA ISHPENTENEMEK (THE WOMAN I RESPECT) Dir. Jean-Charles Piétacho | 2018 | Innu, Canada | 5'
An intimate conversation between the chief of Ekuanitshit, Jean-Charles Piétacho, and Hélène, the village's elder for whom giving birth was just an everyday event.
THE NOMADS Dir. Katherine Nequado | 2018 | Atikamekw, Canada | 10'
Elders from a remote Innu village recall their nomadic life.
THE WISTFUL Dir. Sinay Kennedy, Damien G. Haineault | 2018 | Dene, Canada | 6'
A young artist wishes he could have wings though he knows he'll never be able to fly.
MEGWETCH KIAJASHK (THANK YOU SEAGULLS) Dir. Jolene Chartrand, Austin Delaronde | 2017 | Canada | 5'
In Saulteaux, seagull eggs harvesting has been an Anishnabe tradition for many centuries.
BATAILLES (BATTLES)  Dir. Karen Pinette Fontaine | 2016 | Innu, Canada | 4' Trailer
At nightfall, Karen decides to leave the party where a friend is in the process of losing herself. A life metaphor, this battlefield.

MY FATHER'S TOOLS  Dir Heather Condo | 2017 | Mi'gmaq, Canada | 5'
In honor of his father, Stephen continues the production of traditional baskets. He thus finds peace in his studio, in connection with the man who taught him the work.
Wapikoni Mobile Shorts end 
-Break 60 min-

2-5pm  Session II
BUTTERFLY MONUMENT   Dir. Jules Koostachin Rick Miller  2017 | Cree, Canada | 29min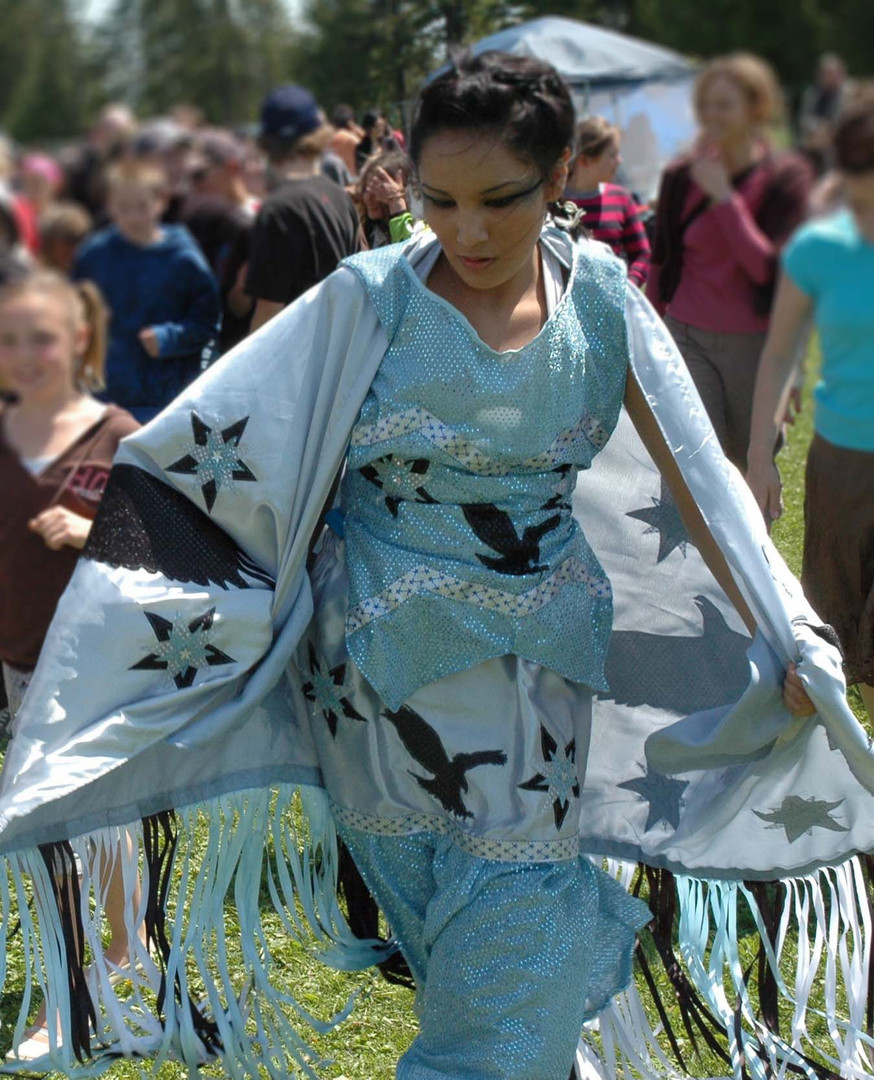 Butterfly Monument documents the creation a public memorial dedicated to the late Shannen Koostachin, a young Cree education advocate from Attawapiskat First Nation, Moskekowok territory. Through personal stories shared by Shannen's immediate family we learn about who Shannen was and what motivated her passionate crusade for equitable access to education for Indigenous children and youth. The film also documents director Jules Koostachin's efforts to lead the community campaign that made this public monument to her young relation a reality. Shannen was a trailblazer with Canada's largest youth-led activist group when she sadly passed away at the young age of 15. Her legacy is kept active by Shannen's Dream, a national campaign for improved First Nation schooling. The Butterfly Monument, Canada's first public monument honouring a Cree youth is located on the traditional territories of Timiskaming First Nation, in the City of Temiskaming Shores, Ontario.
2.30pm Director Q&A Jules Koostachin and panel with Max Carocci
3pm TURNING TABLES   Dir Chrisann Hessing | 2018 | Anishinaabe, Canada | 16min
In his hometown of Thunder Bay, Ontario, Joshua DePerry is known in the Anishinaabe community as a colourful 'fancy dancer' who impressively integrates contemporary dance moves at traditional pow wows. In Toronto, he is known as Classic Roots, an up-and-coming music producer and DJ who blends Indigenous sounds with modern techno and house music. His vibrant and optimistic personality is invigorating, and is particularly effective in First Nations communities, where he often works to encourage creativity and a greater sense of self-confidence in the youth. While he is deeply rooted in his identity and his community, he is ready to soar to new heights as an artist. He dreams of taking off to Berlin, the techno capital of the world, and prepares to take his career as an educator and entertainer to the next level.
6 WAPIKONI SHORTS:
THE THREE SISTERS COMMUNITY GARDEN Dir. Zach Greenleaf | 2016 | Mi'gmaq, Canada | 5'
Zachary Greenleaf, a young Mi'gmaq from Gesgapegiag, tries to reintroduce the «Three Sisters» - the traditional white corn, squash and beans used in Native gardens - in his community with the help of others.
AKI - THE LAND Dir. Craig Commanda | 2018 | Canada | 1'
A one minute silent meditation through the landscape of Mont Royal seen with an Indigenous lens.

THE MUSIC IN ME  Dir. Emilio Wawatie, 2016 | Anishnabe, Kitigan Zibi, Canada | 4'
For Emilio Wawatie, music is everywhere: under each one of its steps, in each one of his gestures. In nature as well as inside himself.
NACIMIENTOS (GIVING BIRTH) Réalisation collective - Panama | 2016 | Canada | 7'
In a landscape of colours and movements, an elder of the Panama Embera people shares the knowledge of her people surrounding births.
MOMMY GOES RACE  Dir Charlene McConini | 2017 | Algonquin, Kitigan Zibi | 6'
A touching portrait of the only female car racer in Kitigan Zibi Anishinabe Nation. Charlene McConini juggles being a super mum with derby racing she passionately undertakes with her boyfriend and Charlie, an experienced Quebecer driver.
HEAD'S UP  Dir. Abraham Côté | 2017 | Algonquin, Kitigan Zibi, Canada | 4'
A hilarious comedy about a guy named Tony who discovers that luck is a fleeting thing.
PHARMALARM   Dir Sera-Lys McArthur  2017 | Nakota, Canada | 6min
Karen is a pharmaceutical sales representative with an expensive habit to support. Will Dr. Brule be her knight in a shining lab coat?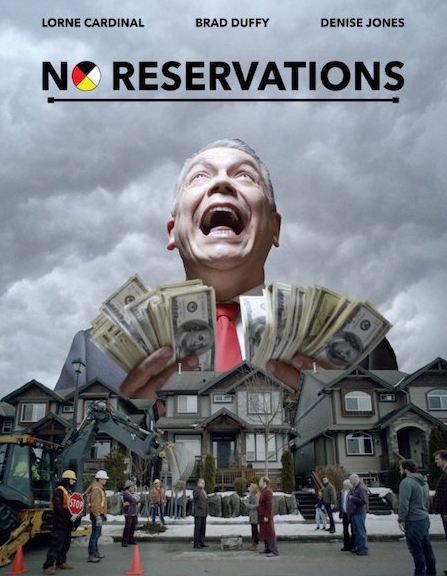 NO RESERVATIONS   Dir Trevor Carroll  2017 | Ojibway, Canada | 11min

What if the moccasin was on the other foot? Political satire about Standing Rock starring Lorne Cardinal. Protests erupt as an upper-middle class neighbourhood attempts to thwart the construction of a pipeline by an Indigenous Corporation.
http://www.norezmovie.ca/festivals/
FENCE Dir. Alexis Fortier Gauthier | 2017 | Canada | 9'
An Indigenous artist presents his work at a viewing in the city.  Overcoming the feeling he is instrumentalized by the well-intentioned gallery owner, he sparks interest in potential buyers. He returns to his community, proud to have proven his talent. 

BREATHS... Dir. Nyla Innuksuk | 2016 | Inuit, Arctic Canada | 5min
"The North is the place where I feel I'm completely myself." In this evocative documentary short, Inuit singer-songwriter and humanitarian Susan Aglukark weaves together stories of artistry, family, and belonging as she explores the complex cultural shifts of the last 50 years of Inuit life. Turning her lens on the turbulence of colonial transition, director Nyla Innuksuk examines the forces that shaped Aglukark's voice and how that voice is now being translated for a new generation of Inuit artists.  

ANAIYYUN: PRAYER FOR THE WHALE   Dir. Kiliii Yuyan | 2018 | Iñupiaq, Alaska | 8min
The story of an Iñupiaq whaling crew, living where the vast plain of ice meets the waters of the Arctic Ocean. During whaling, their lives are interminable periods of silent observation, punctuated by moments of terror. The ice hides its dangers—desperately hungry polar bears hunting humans, massive icequakes when sheets of ice collide. Here on the sea ice, the Iñupiaq wait for the whale. When the whale does offer itself, it will take the courage and skill of the whaling crew, riding on the icy waters of the Arctic by a skinboat, to catch it. But in the long moments standing on the ice, protected from the wind inside a fur-lined parka, a timeless gratitude develops. In those moments, the patient act of waiting transforms into a prayer for the whale.
THREE THOUSAND   Dir. Asinnajaq  | 2017 | Inuk, Canada | 14min (photo credit header image)
In this short film, Inuk artist Asinnajaq plunges us into a sublime imaginary universe—14 minutes of luminescent, archive-inspired cinema that recast the present, past and future of her people in a radiant new light. Diving into the NFB's vast archive, she parses the complicated cinematic representation of the Inuit, harvesting fleeting truths and fortuitous accidents from a range of sources—newsreels, propaganda, ethnographic docs, and work by Indigenous filmmakers. Embedding historic footage into original animation, she conjures up a vision of hope and beautiful possibilities.
_______________________________________________________

We look forward to welcoming you!
Latest Programme updates
Special thanks to Human Rights Consortium SAS, SOAS, BIMI, Bloomsbury Festival, The Crypt Gallery and XXL gratitude to the Filmmakers, Artists, Speakers and all volunteers and supporters who help promote Indigenous Cinema and make this festival happen.
Do you have questions about 12th Native Spirit Indigenous Film Festival 2018 - CANADA guest JULES KOOSTACHIN - ACTIVISTS & ARCHITECTS OF CHANGE?
Contact Native Spirit UK
When & Where

BIMI (Birkbeck Institute for the Moving Image)
Birkbeck Cinema
43 Gordon Square
WC1H 0PD London
United Kingdom


Saturday, 20 October 2018 from 10:00 to 17:00 (BST)
Add to my calendar
Organiser
Native Spirit is the UK's premiere Independent grassroots organisation promoting Indigenous Cinema, Media & Artists with an annual Film Festival every October and Year-round events.