12th Native Spirit Indigenous Film Festival 2018 - CANADA guest JULES KOOSTACHIN | USA TRIBAL JUSTICE - ACTIVISTS & ARCHITECTS OF CHANGE

Friday, 19 October 2018 from 18:00 to 21:00 (BST)
Event Details
The 12th Native Spirit Indigenous Film Festival

Special Guest Jules Koostachin from Attawapiskat Nation.
Screenings details below, and poetry reading from Jules' new book Unearthing Secrets Gathering Truths. Limited no. of signed copies available for our audience.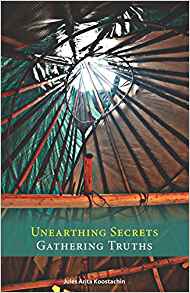 GAS CAN  Dir Mattias Graham, 2017, Treaty 4. Cree (Nēhiyaw), Canada. 15min
Gas Can is a narrative short film (15min) about the cycles of privilege and racism on the prairies. The film follows the story of Anthem, a Cree man moving to the city with his family. Along the way, they run out of gas and Anthem asks an old friend -- the Farmer -- for help. The Farmer agrees, but not unconditionally, and he turns his back on them when they need it most. Anthem and his family are left with no choice but to take back what was promised, and when the Farmer sets off after them in a rage he's left stuck when his own truck runs out of gas.

PLACEnta, Dir. Jules Koostachin, 2017, Attawapiskat, Canada. 17min  Visjuelles Productions
Jules sets out to find a place for her Cree Nation traditional placenta ceremony.

NiiSoTeWak, Dir Jules Koostachin, 2014, Attawapiskat, Canada. 16min
Tapwewin and Pawaken are 10-year-old brothers trying to make sense of the world, their family and each other. They're already grappling with some heady questions about identity. What does it mean to be a twin? What does it mean to be Cree? How do you define yourself when you're forever linked to someone else? The twins discuss these questions with their two elder brothers — 22-year-old actor Asivak and 20-year-old basketball player Mahiigan — and their parents, Jules and Jake.

FROM UP NORTH, Dir Trudy Stewart, 2017, Cree, Canada. 14min Watch Trailer
From Up North is a personal, poetic short documentary directed by Trudy Stewart based on her experience working for the Truth and Reconciliation Commission. Featured storyteller Noel Starblanket shares his experiences of attending the Lebret Indian Residential School. While listening to Noel's stories, Trudy reflects on her time listening to survivors' stories and her connection to the Indian Residential School legacy.

HEART OF GOLD (Mushkegowuk Cree cover) Midnight Shine, Cree, Canada. 4min music video/ lyric card
https://youtu.be/S5pFLa1tVKM Written by Neil Young. Last verse Mushkegowuk Cree translation by Adrian Sutherland. Produced by John-Angus MacDonald and Midnight Shine. https://www.midnightshineonline.com

7.30pm  TRIBAL JUSTICE, Dir Anne A Makepeace, 2017, Yurok, Quechan, California, USA. 87min Tribal Justice website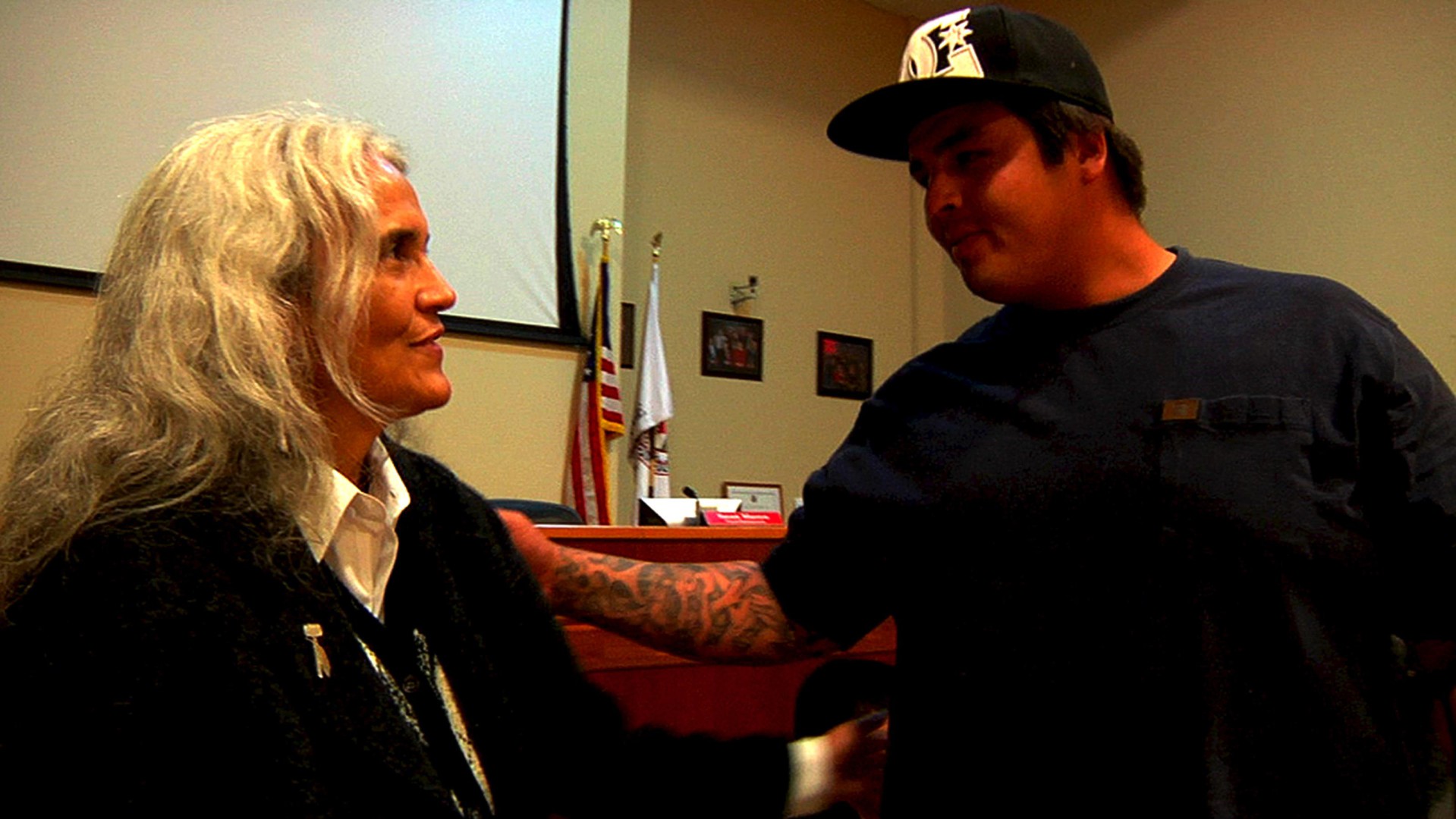 photo: Abby Abinanti, Chief Judge of the Yurok Tribe
The tribal courts both incorporate traditional values and hold up an example to the nation about the possibilities of alternative dispute resolution. [They] have much to offer to the tribal communities, and much to teach the other court systems operating in the United States.
          — The Honorable Sandra Day O'Connor, former Supreme Court Justice
Tribal Justice is a feature documentary about a little known, underreported but effective criminal justice reform movement in America today: the efforts of tribal courts to create alternative justice systems based on their traditions. In California, the state with the largest number of Indian people and tribes, two formidable Native American women are among those leading the way. Abby Abinanti, Chief Judge of the Yurok Tribe on the northwest coast, and Claudette White, Chief Judge of the Quechan Tribe in the southeastern desert, are creating innovative systems that focus on restoring rather than punishing offenders in order to keep tribal members out of prison, prevent children from being taken from their communities, and stop the school-to-prison pipeline that plagues their young people.

Abby Abinanti is a fierce, lean, elder. Claudette White is younger, and her courtroom style is more conventional in form; but like Abby, her goal is to provide culturally relevant justice to the people who come before her. Observational footage of these judges' lives and work provides the backbone of the documentary, while the heart of the film follows offenders as their stories unfold over time, in and out of court. Taos Proctor, a young Yurok man who was facing a third strike conviction with a mandatory life sentence when we began filming him in 2013, has become a landmark case in Abby's court. Over the past two years, we have filmed him struggling to remain clean and sober, and to rebuild his relationship with his partner and their young son. A teenage Quechan boy, Ryan Marks, is reunited with his extended family with the help of Claudette's court. In contrast, Isaac Palone, another Quechan teenager recently released from a group home, is facing two felony burglary charges. Because his case is in state court rather than tribal court, he is at great risk of being funneled into the school-to-prison pipeline. Meanwhile Claudette works to reunite a nine year old boy, Dru Denard, with his family by invoking the Indian Child Welfare Act. These and other stories unfold over time, engaging viewers with the dedication of the judges, the humanity of the people who come before them, and a vision of justice that can actually work.
Through the film, audiences will gain a new understanding of tribal courts and their role in the survival of Indian people. The film will also inspire those working in the mainstream legal field to consider new ways of implementing problem-solving and restorative justice, lowering our staggering incarceration rates and enabling offenders to make reparations and rebuild their lives.
_______________________________________________________

We look forward to welcoming you!
Latest Programme updates
Jules Koostachin participation thanks to Commonwealth Writers. Special thanks to Human Rights Consortium SAS, SOAS, BIMI, Bloomsbury Festival, The Crypt Gallery and XXL gratitude to the Filmmakers, Artists, Speakers, Volunteers and supporters who help promote Indigenous Cinema and make this festival happen.
Do you have questions about 12th Native Spirit Indigenous Film Festival 2018 - CANADA guest JULES KOOSTACHIN | USA TRIBAL JUSTICE - ACTIVISTS & ARCHITECTS OF CHANGE ?
Contact Native Spirit UK
When & Where

Room 243, HRC, School of Advanced Study, Senate House,
Malet Street
WC1E 7HU London
United Kingdom


Friday, 19 October 2018 from 18:00 to 21:00 (BST)
Add to my calendar
Organiser
Native Spirit is the UK's premiere Independent grassroots organisation promoting Indigenous Cinema, Media & Artists with an annual Film Festival every October and Year-round events. Our sister festival Native Spirit Taiwan runs in November.