12th Native Spirit Indigenous Film Festival 2018 - INDIGENOUS CINEMA DAY at SOAS - N AMERICA | MEXICO | AMAZON - ACTIVISTS & ARCHITECTS OF CHANGE

Sunday, 14 October 2018 from 11:00 to 18:00 (BST)
Event Details
The 12th Native Spirit Indigenous Film Festival

THREE 5 MINUTE ANIMATIONS MADE FOR Dualchas Na Cloinne (Children's Heritage) by WEST HIGHLAND ANIMATION supporting Oral Heritage, Digitisation of archive material and promoting use of the Scots Gaelic language. Dir Leslie MacKenzie, Scottish Gaelic, Scotland. Full project and Story Info here
AILIDH MAL 5min
Ailidh Mal made whisky in Kintail. The gaugers were after him.
FRAOCH 5min
Fraoch must play a deadly game to win the hand of the beautiful Findabair.
GILLE NA COCHLA CRAICINN 5min
A Boy of Deer Skin must influence many challenges before becoming a place among the Fingalians. 

Cof MEMORY Ciprian Costas | 2015 | Welsh | 4min
CoF (welsh for memory) is a short about a girl named Blodwen; who wakes up on a battlefield with no memory of what happened. A glowing daffodil stands out to her, giving her a glimpse of her past. Now she must set on a quest to find more of these flowers in order to uncover the mystery of her past. Inspired by welsh folkloric elements, this story explores the theme of identity in a symbolic manner and welsh musical lyrics.
SÁLBMA (HYMN) Dir. Katja Gauriloff | 2018 | Sámi, Finland | 6min
The music video for Sálbma serves as a reminder to all of the diverse Sámi peoples to find ways to honour our heritage, cherish our connections, and preserve our shared identity. Together, the Sámi will always be stronger than those who try to erase us. We are one.
TALES OF THE TRIBES: ABOTANI Arunachal Pradesh (2013) and THE IMMORTALS Nye Mayal Khung Sikkim (2010) Dir Tara Douglas | 2017 | India | 12min
Traditional and digital artists produced adaptations of Indigenous Indian stories: tales of mythical origins, tales of Humankind's interdependence with nature and the supernatural; tales of local heroes, landscapes and events.

THE PANGUNA SYNDROME  Dir Olivier Pollet | 2017 | Tok Pidgin, Papua New Guinea | 52min
On the island of Bougainville, an autonomous region of Papua New Guinea, the revolt continues. The Bougainville Crisis, a war waged by colonial powers to crush the indigenous resistance and protect their interests in the giant mine of Panguna may only be the tip of the iceberg. 20,000 lives were lost. The spirits of the land have been violated. And if the Bougainvilleans have come out, against all odds, victorious of the physical war, they now have to face a psychological one. The referendum on Independence planned in 2019 is inching closer. Whose future will be written and whose voices will count? In the North, the government is attempting the resuscitate Panguna. In the Centre, around the mine site, many are attempting to imagine an alternative reality, a new articulation of modernity inclusive of their traditional cultures and identity. They are leading a battle to break free mentally and physically from oppressive structures they have been subjected to for over two hundred years. After the physical fight comes the time of the spiritual one, calling for the (re)conquest of the self.

7TH GENERATION   Dir John-L Voth, 2017, Oglala Lakota Sioux Nation (Lakota Language) USA. 45min Trailer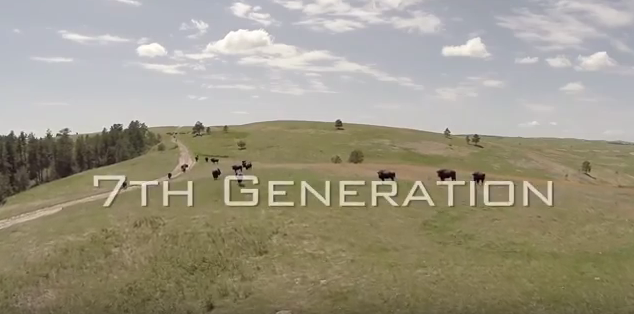 Jim E Warne (Oglala Lakota), advocate and educator, tells his story of the 7th Generation touching many levels of history including: Wounded Knee - Black Elk - Indian Policies - Boarding Schools - Mt. Rushmore - Crazy Horse, and the unknown experiences of past generations. This documentary addresses historical and current perspectives from Lakota elders and community members with a focus on a positive future for all of our youth - the 7th Generation…
SOUP FOR MY BROTHER   Dir Terry Jones | 2016 | Seneca Nation (Iroquois), USA |  10min  Trailer
Today is a special day for Jimmy's brother, Danny. As Jimmy prepares a batch of soup for his brother, we learn this documentary is about tradition, brotherly love and loss. Filmed entirely on Seneca Nation Territory located 50 miles south of Niagara Falls.
SUN AND THE GREAT FROG   Dir Joseph Erb | 2017 | Cherokee, USA | 5min
A Cherokee Eclipse Story in the Cherokee Language. A great frog tries to swallow the sun.
Joseph Lewis Erb is a computer animator, film producer, educator, language technologist and artist enrolled in the Cherokee Nation. Erb created the first Cherokee animation in the Cherokee language, 'The Beginning They Told'. He used his artistic skills to teach Muscogee Creek and Cherokee students how to animate traditional stories. Most of this work is created in the Cherokee language. He has spent many years working on projects that will expand the use of Cherokee language in technology and the Arts. Erb teaches at University of Missouri in Digital Storytelling.
EMPIRE STATE  Dir Terry Jones | 2017 | Seneca Nation (Iroquois) | USA | 5min
"As an Elder goes about preparing wild onions and corn, the outside world infiltrates through the TV: the fall of the Twin Towers, the hit on Baghdad, and the first death of a Native American soldier overseas. A subtly poignant film that simply told gives strength to the old man and to those who bear witness." - imagineNATIVE Film + Media Arts Festival (2017)
RAVEN'S MEMORIES   Dir David N. Bernatchez | 2018 | Huron, USA | 8min
A great Huron chief - Oné Onti, chef Max Gros-Louis - reminisces about Wendake's Reserve.
Q&A Director David N. Bernatchez
MUD (Hashtł'ishnii) Dir Shaandiin Tome | 2017 | Diné (Navajo), USA | 11min
Mud is about Ruby's craving for connection with her son, which is hindered by her alcoholism. This story explores the overwhelming control that addiction holds over the addicted and those who love them, and the powerlessness of individuals and society to cure this illness. How does one heal the genetic destiny of a family? In a hopeless spiral, addiction promises relief from the pain that it causes, with the ultimate cure being death caused by the medicine. On the reservation, drinking is a large problem, especially for those traveling to border towns to consume. Gallup is a border town that has one of the highest rates of deaths due to exposure. While this film is a statement of social justice, it is even more so a story of compassion for those whose voices are lost.
FOLK HEALING AND DEATH Dir Natasha Redina | 2017 | Nahuatl, Mexihka | 4min
This short film questions what impact beliefs surrounding death have on the way in which an individual chooses to live. It captures and portrays the visually rich and diverse cultural tapestry that Mexicans have woven around death as a rite of passage and offers insight into Mexican curanderismo (folk-healing).
ALMA AND ESPERANZA Dir Itandehui Jansen | 2012 | Mexico | 17min
Alma & Esperanza is the story of a girl and her grandmother who meet in a moment of grief. Alma is a ten-year old girl living in the United States. Esperanza is her 75 year old grandmother living in an indigenous community in the Mexican mountains. The girl and her grandmother have never met before. But one day, Esperanza receives a devastating phone call. Alma has lost her mother and will travel to her grandmother's village. The girl and her grandmother have no common language and are not able to communicate. Nevertheless they are able to find closeness without words.
NKWÍ NAYÀ TÓNKO: WORD COMMITMENT Dir Ismael Vásquez Bernabé | 2016 | Mexico | 19min
The documentary tells the story of Francisco Núñez, a reciter and flautist of the Chareos dance in the Nanguè community of San Pedro Amuzgo, Oaxaca. He acquires the position of playing the flute by the Nkwí nayà tónko, with which he obtains the "commitment of speech" to respect and fulfill this work until he dies. Francisco's greatest concern is that at death no one else is interested in inheriting the position of playing the flute in dance and tradition is lost because of the lack of interest in the new generations.
SOWING STRENGTH Dir Sonia Håkansson Rivero | 2016 | Otomi, Mexico | 16min
"Xochicuautla is not for sale, Xochicuautla is loved and defended!" is the motto sung by the indigenous community of Xochicuautla in defense of their Sacred Otomi Forest. After ten years of resistance and despite the fact that the fate of its cultural heritage depends on weak laws, the protagonists of this story show us how through their worldview they have been able to sow new seeds of hope.
THE SUNSET OF THE SHOOTER OF BIRDS  Dir Julieta Garcia | 2016 | Otomi, Mexico | 15min
An ancestral dish allows us to venture into the customs of a people close to disappearance. The life of three women whose old traditions are eroding and contrasting to modernity. Time passes by, memories fade and oblivion consumes them all, unless a proper light shines abov
MAGALYS  Dir Frédéric Julien, 2017, Mojeño, Bolivia. 50min.  Trailer
Haunted by a heavy family secret and anxious to escape her mother's fate, a young Indigenous journalist makes a short film to break the silence and try to free herself from her family legacy of violence and oppression. But as the intimate projections to confront her relatives to the truth multiply, she still hesitates to pass on her story to her daughter for fear of traumatizing her.
Paralleling the destinies of three indigenous women living in the confines of the Bolivian Amazon, 3 Magalys offers an homage to female resilience while underscoring the healing power of cinema.
THE RIVER OF THE KUKAMAS  Nika Belianina, 2018, Kukama, Amazon Peru. 7min Trailer
Being born from the spirit of the River, Kukama people have a special connection to the water. The river shrinks and grows throughout the year, affecting the lives of its citizens. Filmed at its widest state at the end of the rain season, Pablo Taricuarima Pinedo, one of the organizers of the Yrapakatun association and festival, tells us about the challenges Kukama people face today.
4.40pm TIMBO  Peiman Zekavat, 2017, Munduruku, Amazon Brazil. 9min  Trailer
Construction of dams by energy companies in the Brazilian Amazon are destroying the heart of the world's largest rainforest, and severely affecting Indigenous peoples. The dams flood an area the size of London, Paris and Amsterdam combined causing a large amount of toxic plants to dissolve in the water, leading to severe poisoning or even death among the local tribes. These plants are commonly known as Timbó.
Q&A Director Peiman Zekavat

5pm IN SEARCH OF HOPE: THE STRUGGLE FOR MEMORY AND PEACE IN MEXICO 

Dir

Laura Mishelle Muñoz Gonzalez

, 2018, Mexico. 37min

Intro / Q&A Miros Gonzalez
An arts-based research project which explores issues around memories, justice and struggles for truth and peace in Mexico. In the country, various initiatives, cultural projects, artists and activists take part in movements to demand justice, many of them looking for their family and beloved ones disappeared. This documentary presents the visions of agents in 3 projects El Museo Casa de la Memoria Indomita (The Museum of Indomitable Memory), Bordamos por la Paz (We embroider for Peace) and Huellas de la Memoria (Footprints of Memory).
_______________________________________________________

We look forward to welcoming you!
Latest Programme updates
Special thanks to Human Rights Consortium SAS, SOAS, BIMI, Bloomsbury Festival, The Crypt Gallery and XXL gratitude to the Filmmakers, Artists, Speakers and all volunteers and supporters who help promote Indigenous Cinema and make this festival happen.
Do you have questions about 12th Native Spirit Indigenous Film Festival 2018 - INDIGENOUS CINEMA DAY at SOAS - N AMERICA | MEXICO | AMAZON - ACTIVISTS & ARCHITECTS OF CHANGE ?
Contact Native Spirit UK
When & Where

SOAS University of London, DLT Lecture Theatre
10 Thornhaugh Street
Russell Square
WC1H 0XG Bloomsbury
United Kingdom


Sunday, 14 October 2018 from 11:00 to 18:00 (BST)
Add to my calendar
Organiser
Native Spirit is the UK's premiere Independent grassroots organisation promoting Indigenous Cinema, Media & Artists with an annual Film Festival every October and Year-round events.