12th Native Spirit Indigenous Film Festival 2018 - PACIFIC SHORTS +NEXT GOAL WINS

Monday, 15 October 2018 from 18:00 to 21:00 (BST)
Event Details
 The 12th Native Spirit Film Festival of Indigenous Peoples
6pm PACIFIC SIX SHORTS 
Pacific Voices is the culmination of a craft development programme by Commonwealth Writers. Six writer/directors from Tonga and Papua New Guinea attended script development workshops with local script editors before developing their own scripts and shooting their own films, with the assistance of Brown Sugar Apple Grunt Productions (NZ).
THE RED BALL  Amelia Fakahikuo'uiha Liliu'okalani Fonua Helu, 2017, Tonga, 7min
The arrival of a drunk uncle precipitates the loss of a young girl's family home.
KORIVA  Euralia Paine, 2017, Papua New Guinea
A young girl from the city tries to participate in traditional village wife against her father's wishes.
FAKA'ANAUA  Sio Sateki Malani Wolfgramm, 2017, Tonga
A young girl learns to cope with death during the preparations for a funeral.
THE EDUCATION OF GRAYSON TOKI  Glenill Burua, 2017, Papua New Guinea
A young man tries to find himself in rural Papua New Guinea.
MY MOTHER'S BLOOD  Katherine Reki, 2017, Papua New Guinea
A young boy witnesses the brutal killing of his mother and sets out to take revenge.
THE BLACK PEN  'Ofa-Ki-Levuka Guttenbeil-Likiliki, 2017, Tonga
A newly trained counsellor at a women's refuge comes face to face with the real challenges of investigating a case of child sexual abuse while juggling the demands of her personal life.
IN PURSUIT OF VENUS [INFECTED]  Lisa Reihana | 2015-17 | New Zealand
5min preview clip of Lisa Reihana's stunning 26-metre wide installation which animates and reimagines the famous 19th-century decorative wallpaper 'Les Sauvages de la Mer Pacifique'. View the full installation at The Royal Academy of Arts, London Oceania show. www.inpursuitofvenus.com/

Lisa Reihana is a multi-disciplinary artist whose practice examines the representation of history. Born in New Zealand and of Ngāpuhi descent, her works communicate complex ideas related to community, Maori identity, hybridity, sexuality and gender.Reihana has exhibited extensively in New Zealand and abroad, including representing New Zealand at the Venice Biennale in 2017 with the large scale video installationin Pursuit of Venus [infected] (2015-17), featured in the RAs Oceania exhibition.In 2014 she was awarded an Arts Laureate Award by the Arts Foundation of New Zealand and this year she was made a Member of the New Zealand Order of Merit.
7pm  NEXT GOAL WINS  Trailer
Dir Mike Brett, Steve Jamison | 2014 | Samoa | 97'
Writer and Artist SARA TAUKOLONGA of The Pacific Islands Society of the United Kingdom and Ireland (PISUKI) will recite an English translation, and then sing in Tongan a poem entitled 'Katenia', composed by Queen Salote, The longest reigning monarch of Tonga (1918-1965)

In 2001 American Samoa lost 31-0 to Australia, the worst defeat in international football history and a result that led to headlines all over the world. A decade later and the team are still at the bottom of the Fifa rankings with just two goals scored in 17 years. With qualification for the 2014 World Cup approaching, Dutch coach Thomas Rongen is brought in to try and help turn round the team's fortunes.

Any documentary lives or dies by its subjects and one has to believe directors Mike Brett and Steve Jamison probably couldn't believe their luck during the filming. Rongen, a maverick coach who played alongside George Best and Johan Cruyff, is motivated by a personal tragedy that inspires him on a daily basis.
The team's star defender, a tough tackler in the Vinnie Jones mould, is Jaiyah Saelua. Saelua is a fa'afafine, the third gender specific to Samoan culture. Ultimately this no-nonsense defender becomes the first transgender player ever to compete in a World Cup qualifier, a victory in the truest sense of the word.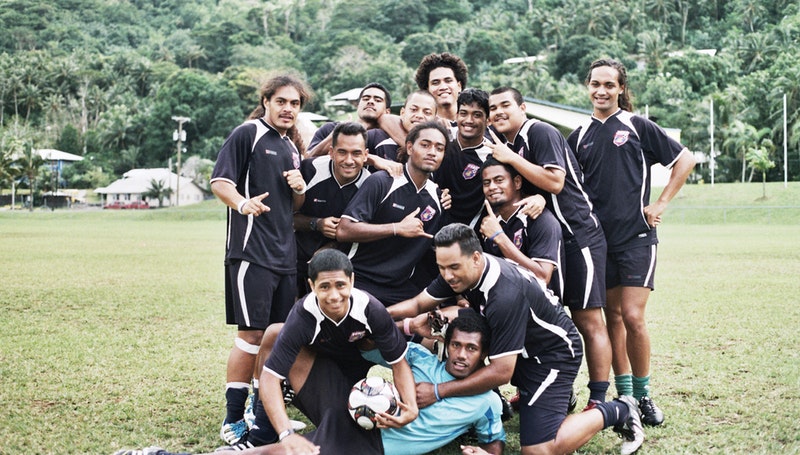 For a sports film to work, we have to root for the protagonists. This American Samoa team, though technically anything but gifted, has real guts and a genuine desire to prove they are more than a mere punchline.
Perhaps no figure sums up the team's indefatigable quite like their goalkeeper, the man between the sticks for the infamous 31-0 hammering. He comes out of retirement for the qualification campaign and is living proof that failure can be character building so long as one doesn't become completely dispirited.
The football is poor, the country is beautiful and the players are beacons of hope. This is a film about courage in the face of adversity that is more stirring than any big-budget blockbuster. review by Darren Richman

_______________________________________________________

We look forward to welcoming you!
Latest Programme updates
Special thanks to Human Rights Consortium SAS, SOAS, BIMI, Bloomsbury Festival, The Crypt Gallery and XXL gratitude to the Filmmakers, Artists, Speakers and all volunteers and supporters who help promote Indigenous Cinema and make this festival happen.

Do you have questions about 12th Native Spirit Indigenous Film Festival 2018 - PACIFIC SHORTS +NEXT GOAL WINS?
Contact Native Spirit UK
Save This Event
When & Where

Room 243, HRC, School of Advanced Study, Senate House
Malet Street
WC1E 7HU London
United Kingdom


Monday, 15 October 2018 from 18:00 to 21:00 (BST)
Add to my calendar
Organiser
Native Spirit is the UK's premiere Independent grassroots organisation promoting Indigenous Cinema, Media & Artists with an annual Film Festival every October and Year-round events.