Event Information
Location
Lakota Bristol
6 Upper York Street
Bristol
BS2 8QN
United Kingdom
5 Room Jungle and DnB Mega Rave across Lakota and Coroners Court
About this event
5 Room Mega Rave across Lakota and Coroners Court
Jungle Syndicate is back with our yearly birthday party with our biggest event to date.
We're taking over Lakota and Coroners Court with 5 rooms of Jungle, DnB, Hardcore, Breakcore, Oldskool and everything in between!
Full lineup:
Lakota Main Room // Jungle / Drum & Bass
>> John B (Blue Note Set)
>> Bailey b2b Equinox
>> Ricky Force (Doomed Planet album launch show)
>> Bkey b2b Smyla
>> Grief (Bristol debut)
>> Pixl b2b Raggamuffin
>> Sketch b2b Tiny Taste
Lakota Room 2 // Oldschool Jungle & Hardcore
>> Foul Play, 2 Bad Mice & Trax (Moving Shadow)
>> Pete Cannon
>> DJ Seduction
>> Innercore
>> DJ Azure
Lakota Room 3 // 160 / IDM / Jungle
>> Culprate
>> FFF
>> dgoHn
>> L Major
>> Vulpes
>> S.Murk
>> Tropical Selecta
Coroners 'Core 1 // Dark Drum & Bass / Crossbreed
>> DJ Hidden b2b Eye-D
>> Limewax (Classics Set)
>> Counterstrike
>> Switch Technique
>> Visceral
>> Dr Bastardo
>> G Zus b2b L Tech
>> Doomham
Coroners 'Core 2 // Hardcore / Breakcore
>> The Outside Agency
>> I:gor
>> Deathmachine
>> Khaoz Engine
>> Skitzaph0nic
>> Anorak
>> [Insert Gore]
>> The Panger
Advance tickets only.
Limited capacity.
Big love
Jungle Syndicate
---
LAST ENTRY: 00:00
________________
This is an 18+ event - ID will be required
WHAT TO EXPECT:
🎪 Huge headliners 🎪
Bristol's finest support acts
🎧 The beating heart of Bristol's underground music scene, est. 1992 🎧
WIN FREE TICKETS:
Follow us on our socials to be automatically entered into a monthly prize draw to win tickets! Each account followed counts as x1 entry, so to boost your chances make sure you drop each one a follow.
Lakota: @lakota.bristol
Wide Eyes: @wideeyesuk_
Viva La Disco: @viva.la.disco
Shutdown: @shutdownuk_
Updates, offers and free tickets via:
Email: https://mailchi.mp/lakota/newsletter-opt-in
FB messenger: https://bit.ly/FB-UPDATES
---------------------------------------------------------------------------------------------
🌮 Ritual Kitchen is Lakota Garden's exclusive kitchen 🌮
We have gathered the best chefs in town to provide out of this world multicultural street food. Come down and enjoy the best of times with your favourite people. Better yet, make it a ritual.
From authentic Mexican tacos, to Sicilian pizzas, we've got options for all diets and the moods of the moment!
--
Although it is no longer mandatory, Lakota encourages all attendees to undertake a negative lateral flow test within 24 hours of the event.
For further details check: https://lakota.co.uk/lakota-covid-policy/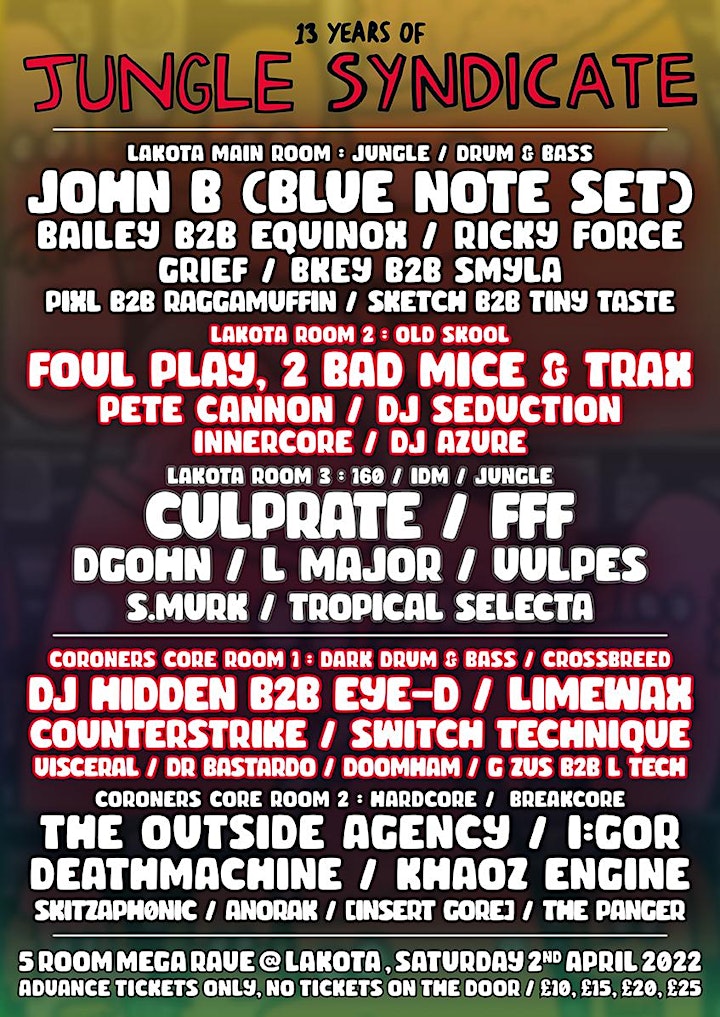 Date and time
Location
Lakota Bristol
6 Upper York Street
Bristol
BS2 8QN
United Kingdom