Of all the things to discuss with our teens on, sex and relationships are perhaps the ones that parents are the most apprehensive about.
About this event
Of all the things to discuss with and educate our teens on, sex and relationships are perhaps the ones that parents are the most apprehensive about. How do we know it's time to bring it up? How much detail do we go into? How do we broach the topic and how can we communicate most effectively around it?
With teenagers typically seeking advice from peers or the internet, and often being exposed to pornographic content and social media from a relatively young age, this can become increasingly challenging. However, it remains of high importance when it comes to communication with and guiding our own children.
In a rare intimate online conversation, retired child and adolescent psychiatrist, analytical psychologist and author Dr Begum Maitra is going to share her insights and practical advice for parents. The conversation, with psychologist and family therapist Dr Kalanit Ben-Ari, and will tap into this topic, including:
The modern-day challenges we face as parents
Knowing when to bring the topic up
How to broach the topic of sex, porn and relationships with teenagers
How to educate teenagers around consent
The difference between male and female teenagers, plus heterosexual, homosexual and bisexual teens.
Do you have a question about how to speak to teenagers about sex and relationships? If so, please send your question in advance to info@getthevillage.com and we will try our best to raise it in the conversation.
The conversation will last for 40 minutes, followed by 20 minutes of live Q&A time. It is aimed at parents of teenagers, but parents of those who are younger or older might find it useful as well.
Price: Minimum donation £1 (guide price £15)
To support parents in this time of extraordinary circumstances we are offering access to this group for a self-selected fee. This is a radical inclusion policy to open learning and support to all parents. The guide price for this event is £15, however, we appreciate that income varies greatly in different locations and circumstances. Please contribute what you can to help us maintain inclusive parenting workshops.
This event will be hosted on the Zoom platform. A meeting link will be sent an hour before the event.
This event is part of a four session series. You can sign up for each conversation separately by clicking the following links:
Wednesday 10th February 2021: Raising teenage girls: What you need to know
Wednesday 17th February 2021: Screens and teens: What you need to know about raising teenagers in the digital era
Wednesday 24th February 2021: Navigating self harm amongst teenagers
This event will be hosted by The Village, a parenting community empowered by professionals. For more information visit www.getthevillage.com, where you can sign up for a free membership.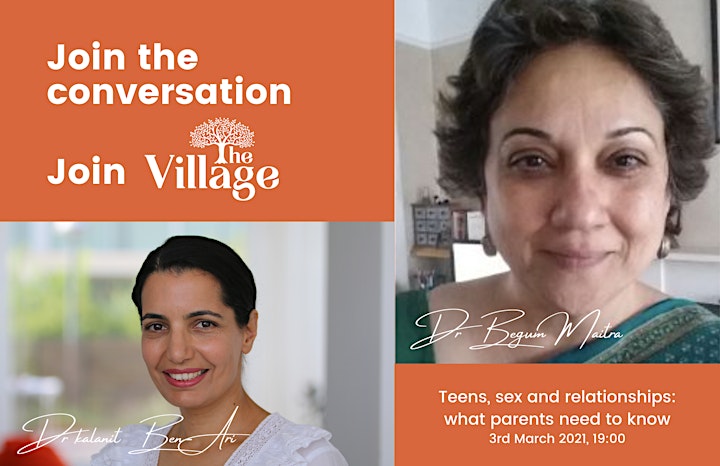 About Dr Begum Maitra
Dr Begum Maitra is a Jungian analyst (Analytical Psychologist) in private practice. While she now works mainly with adults her long experience as NHS Consultant Child and Adolescent Psychiatrist, including over 2 decades as an independent expert advising courts about children's needs, brings an ability to work with families and couples/parents when necessary. She is perhaps best known for her publications in the fields of critical child psychiatry, and in how cultural difference affects all areas in the field of mental health. Her publications include Culture and Madness: A Training Resource, Film and Commentary for Mental Health Professionals, and Critical Voices in Child and Adolescent Mental Health (co-editor), and many contributions to books and journals.
She trained as a psychiatrist in India and worked for many years as a consultant child psychiatrist in the NHS in London. Since leaving the NHS in 2010, Begum has continued her focus on culture in several areas of work – namely, in the assessment of children and families particularly when children are believed to be at risk, in individual therapy, and through workshops, lectures and conferences for voluntary and statutory organisations.
Dr Begum's decades of clinical experience, with her deep understanding of the human journey, has created a very unique, wise, and gentle approach to facilitating emotional change and growth with her clients.
About Dr Kalanit Ben-Ari
Psychologist and author Dr Kalanit Ben-Ari has worked as a family and couples therapist for over 20 years. She has a private clinic in Hampstead, London, and is the mother of two girls.
She gained her BA and MA in Social Work (Clinical Child Development) at the University of Haifa, Israel and was awarded a doctorate in Psychology at the Institute for the Study of Children, Families and Social Issues at Birkbeck, University of London.
Based on her extensive research and clinic work, Dr Ben-Ari has written two books. One is aimed at parents, Small Steps to Great Parenting - an Essential Guide for Busy Parents, and one is aimed at children, The Lost Book. She also frequently teaches and lectures on a variety of parenting topics for both the public and to professionals.
Dr Ben-Ari's expertise are regularly used in the press - she has been featured by the likes of the BBC, Stylist, Metro, Evening Standard and Refinery29, and has been a guest on podcasts including Cosmopolitan UK's All The Way With and The Parent Hood.
Kalait and Begum have worked together for many years. They come from a different therapeutic school of thought, and as a result, their conversations are often rich, stimulating and thought provoking. We believe it is time to open these conversation to the public, who might enjoy it as much as they do.