13th Annual Healing Our Broken Village Black Mental Health Conference
13th Annual Black Mental Health Conference: From Resistance to Transformation
About this event
You are invited to join us for our 13th Annual Black Mental Health Conference - Healing Our Broken Village - to be held at the New Testament Assembly Tooting on Thursday 28th October 3.00pm - 7.30pm - followed by a shared meal.
Since our last live Conference in 2019, the COVID pandemic has revealed again the health and social inequalities that our BME communities are impacted by, affecting and disrupting their lives. The Black Lives Matter movement that sparked global protest last summer has also put into an historical context the ongoing discriminations and injustices experienced by our black friends, neighbours and fellow citizens. The last 18 months has also seen the beginnings of our Ethnicity and Mental Health Improvement Project (www.emhip.co.uk), launched at our 2019 Conference, which has made some significant progress but also experienced implementation challenges, which has enabled us to reveal some of the performative behaviours of the health system that prevent genuine improvement and progress to be made.
At the Conference this year we will be acknowledging the Black Lives Matter movement and the important contributions that people of colour have made in the long campaigns for rights and equality; it is their strength and commitment that has enabled us today to have programmes such the EMHIP project, which is a continuation of our communities struggle for truth and justice.
We will also be giving an update on the EMHIP project and our Key Interventions, and this within the context of the current changes underway in the NHS where addressing Health Inequalities is a core issue to be addressed.
We will be joined by guests from across our communities to share their stories and experiences, and to offer insights and leadership to our collective campaign for improved mental health and well being for our black communities.
Key Note Speakers include:
Ajibola Lewis
The Olaseni Lewis Campaign for Justice and Change
Dr Colin King
Whiteness and Race Equality Network
Professor S P Sashidharan
University of Glasgow
Vanessa Ford
Chief Executive, South West London & St. George's Mental Health NHS Trust
David Bradley
Chief Executive, South London and Maudsley NHS Foundation Trust
Black Minds Matter Present
Further announcements will be made over the next few weeks via our social media channels.
Conference 2019 Short Film : https://youtu.be/62Ct1NuEZpY
Conference 2020 Online Film : https://youtu.be/tV2OdPvVx28
For more information please contact ruth@wcen.org.uk
A Wandsworth Community Empowerment Network Event
in partnership with South West London and St Georges Mental Health NHS Trust and the New Testament Assembly Church Tooting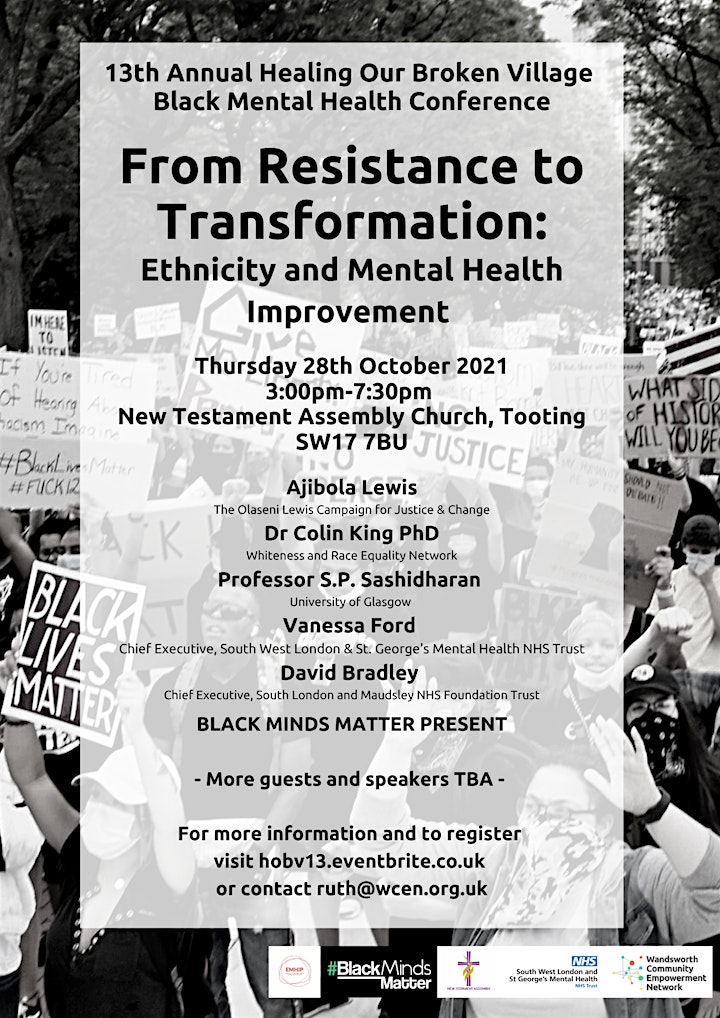 Organiser of 13th Annual Healing Our Broken Village Black Mental Health Conference